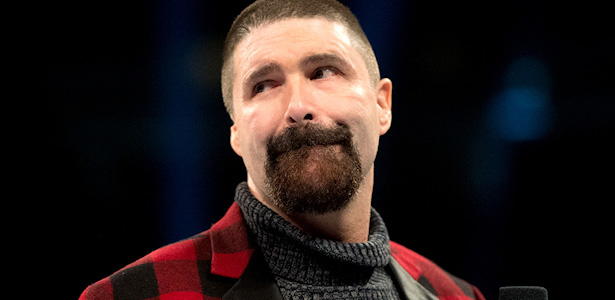 – Mick Foley underwent hip surgery today and posted the following photo while in recovery:
Thanks for all the well-wishes, kind words and prayers for my hip surgery. Spirits are high after a visit from Buddy the Elf in recovery! 🎄 pic.twitter.com/xHeiUZs5Th

— Mick Foley (@RealMickFoley) April 20, 2017
When a fan asked if the surgery was why Foley was written off television, Foley responded with, "Perhaps. Those last five months were really killing me."
PWMania.com would like to offer our best wishes to Foley on a speedy recovery!
– Foley took to his Facebook page to remember Chyna, who passed away one year ago. He wrote the following:
"A YEAR WITHOUT CHYNA
It has been exactly one year since we lost the "Ninth Wonder of the World". I have been sitting up in my hospital bed, looking at photos, remembering Joanie, thinking of how lucky I was to have been her friend. I love this photo of Joanie and my daughter Noelle, probably from 1999 – because I think it is symbolic of the beautiful blend of strength and kindness that defined Chyna. She was iconic. She was sweet. She was fragile. She was a nerd. She was my friend. She had the best laugh in the world. RIP Joanie.
Feel free to leave a comment about your favorite Chyna moment or about Joanie below. Please be nice."