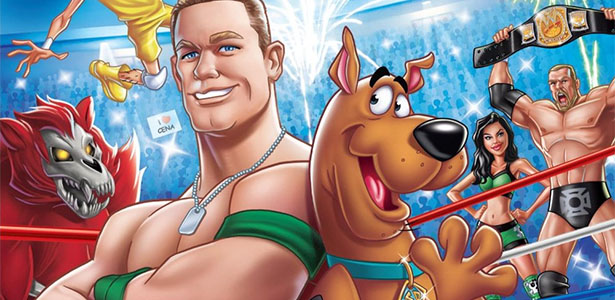 The following extras will be featured on WWE Studios' "Scooby-Doo: WrestleMania Mystery" DVD and Blu-ray that comes out on March 25th. Amazon.com have already slashed prices, currently offering discounts on the DVD/Blu-ray and eligible for free shipping. You can order the title via Amazon.com by clicking here.
* Behind the Scenes with Scooby-Doo and the WWE Gang: A behind the scenes look at the voice recording sessions with the cast of WWE.
* Wrestle Maniacs: Bonus "A Pup Named Scooby-Doo" Episode.
Both DVD and Blu-ray will have a run-time of 1 hour and 24 minutes, including extras. A new synopsis and artwork has also been released:
"This all-new original movie delivers endless action with Scooby-Doo, Shaggy and the rest of the gang! The mystery begins when Shaggy and Scooby win tickets to WrestleMania and convince the crew to go with them to WWE City.
But this city harbors a spooky secret – a ghastly Ghost Bear holds the town in his terrifying grip! To protect the coveted WWE Championship Title, the gang gets help from WWE Superstars like John Cena, Triple H, Sin Cara, Brodus Clay, AJ Lee, The Miz and Kane.
Watch Scooby and the gang grapple with solving this case before it's too late."
(Source: WrestlingDVDNews)