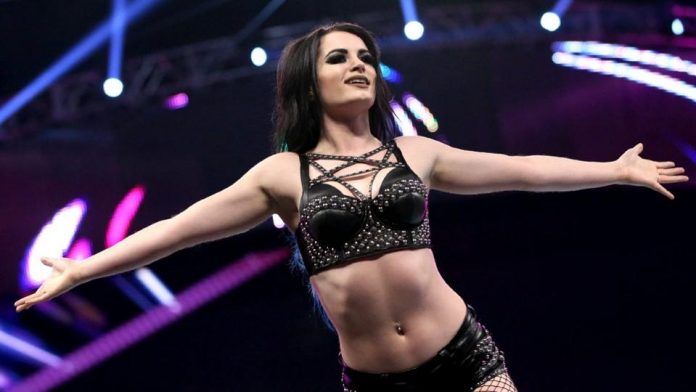 SmackDown LIVE General Manager Paige is backstage at Raw tonight at the Jacksonville Veterans Memorial Arena in Jacksonville, Florida.
No word yet if she is appearing on the show or just there filming material for Total Divas, but she has been posting videos on her Instagram Story of herself backstage getting her makeup done.
Tamina, who has been absent from WWE since January due to injury, is also backstage at Raw and apparently working in some fashion tonight. One of the videos Paige posted on her Instagram Story is of Tamina sitting in a makeup chair.
The last time we saw Tamina compete inside a WWE ring was during the first-ever Women's Royal Rumble Match on January 28. She entered the match at No. 7 and lasted 1:34 before being eliminated by WWE Hall of Famer Lita.
Thirteen days after the Royal Rumble, Tamina revealed in an Instagram post that she underwent surgery.
According to WWE.com, Tamina underwent successful surgery for a right shoulder supraspinatus tear on Jan. 31. There's still no official word on her recovery timetable, but she was expected to face six to eight months of rehab following the procedure. Six months have passed since the procedure, so it's quite possible that she's been cleared to return to action.
News of Tamina's injury was first revealed on Edge and Christian's podcast, E&C's Pod of Awesomeness. The day before Tamina revealed on Instagram that she had undergone surgery, Edge said that Tamina worked the Women's Royal Rumble Match with a torn rotator cuff (the tear occurs in the supraspinatus tendon). Her participation in the Women's Royal Rumble Match was apparently in doubt on the day of the show as she was removed from WWE's graphic hyping the match during the Royal Rumble Kickoff.
Tamina apparently had been dealing with the injury for a while as she stopped working regularly in early December.
Nia Jax, who hasn't appeared for WWE since Extreme Rules on July 15, is not backstage at Raw tonight, according to PWInsider.com. She's apparently been out dealing with an undisclosed injury as she revealed last Tuesday on her Instagram that she was at home doing rehab.