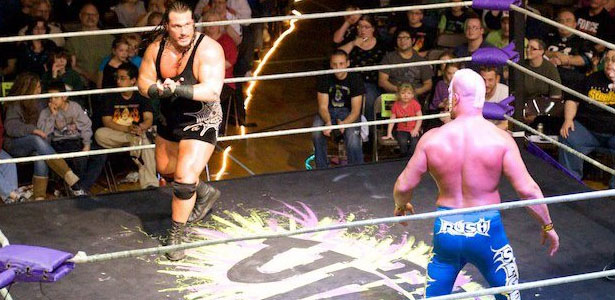 If you're like me, you believe that the hottest indy wrestling lives in New York (DGUSA/Evolve) Florida (F.I.P.), California (P.W.G.) Illinois (A.I.W.)  Ohio (A.A.W.) and Baltimore (R.O.H.), and you'd be right. I'm asking for you to give me a chance to tell you why Central Pennsylvania has indy wrestling, just as good, if not better, than all of those places! Having recently moved back to Hershey, Pa. from Austin, TX. I was pleasantly surprised to learn that Classic Championship Wrestling, Lancaster Championship Wrestling, and The Ultimate Wrestling Experience, are all based here in central Pennsylvania, and all three are very, very good! I enjoy watching all of the other indy feds I mentioned earlier, on iPPV, or on demand streaming, online. I'll continue to do so, but I always wished I could see some great indy wrestling live, without having to travel for hours, into other States. My wish has come true! Now I don't have to settle just for sitting in front of my computer screen in order to see awesome, indy wrestling. Now I can travel just a few miles, into Harrisburg, Lancaster, or Marysville, and see top quality wrestling. I now want to share what I've discovered with the World!
The UWE, or The Ultimate Wrestling Experience, is based in Linglestown Pa. running out of "Sports City Harrisburg," a facility that can hold just slightly over 2,000 people. The U.W.E. has an incredible presentation, with a great looking wrestling ring, complete with a very colorful logo, that covers the ring apron. They have a nice sound system, and a good ring announcer. The wrestlers come from the back, through a nice curtain, separated from fan accessible areas of the facility. I hate watching a wrestling show, where fans walk in and out of the same curtain that the wrestlers come in and out of, to get to the ring, for their matches. That just screams low rent
The U.W.E. uses top name indy talent, former WWE, WCW, TNA, and ECW "superstars, to draw in people that are only familiar with those names, but they also boast a large roster full of local, home grown, wrestlers that are just as capable as the known wrestlers they bring in. I could go on about AJ Styles, Kevin Nash, The Honky Ton Man, and others, that often appear for the U.W.E., but that's not what gets my attention. The local talent, like Eddie Smooth, Sage Strong, and Kevin Murphy, is why you, as an indy wrestling fan, should faithfully support the U.W.E. Recently, fan favorite Smooth turned on his supporters, and joined the hated "Hollywood's Finest" who helped him hand Sage Strong (a perfect blend of Sting, and The Ultimate Warrior, into one package) his first loss in The U.W.E., he will now face mega indy superstar, Sonjay Dutt, on the next U.W.E. supercard, "Knight of Glory III, on March 15, in Linglestown, a can't miss show that also includes Nash, coming in to be the special enforcer, in a four corners match, between Sage Strong, The Mercenary, Kevin Murphy, and Ryan Kolby, and in their first meeting ever, The Phenomenal AJ Styles takes on AR Fox!
Not to be outdone, Lancaster Championship Wresting, is held in beautiful downtown Lancaster, Pa. in the Lancaster, Host Resort. Just like the U.W.E., The L.C.W.is known for big crowds, of excited fans, that they draw to every single show. Also like the U.W.E. they know how to use some former big name wrestlers to attract the casual fans (Jake Roberts, Bret Hart, etc) but again, it's their home grown stars that make their cards top notch. Names like Bill Bain, The Red Scorpion, and Eddie Smooth (hey he's wanted everywhere!) make L.C.W. an awesome home for wrestling. The Lancaster Heavyweight Champion (a beautiful title belt, you have to see to appreciate) is none other, than the Franchise, Shane Douglass, the former, long time, original, and first, ECW champion. The L.C.W. is set to have a huge card, on February 15, at the Host Resort, where former ECW, WWE, and TNA star, Rhino, will challenge Shane Douglas, for the Lancaster Heavyweight Championship. This is absolute star studded card that shouldn't be missed by true indy wrestling fans.
Lastly, Central Pennsylvania has "Classic Championship Wrestling." Based out of the Marysville Lion's Club, C.C.W. is more "hardcore" based than the U.W.E. and L.C.W. but still very good. Again, they will bring in top wrestling names, like Jake Roberts, X-Pac, and others, for the casual fan, but the stars are their home talent.
Guys like Vargus, Cremator, Lobo Loco, and yes, Eddie Smooth (he's so everywhere!) will keep you on the edge of your seat, each and every match. You really never know what these guys are going to do. To be fair, I'm not sure C.C.W. shows are for small children. While they aren't vile, by any means, you will hear a fair amount of cursing. It's simply a harder style, and presentation, than are the U.W.E. and L.C.W. but that's okay, there's nothing wrong with Central Pennsylvania having a variety of wrestling to support!
C.C.W. has a great card lined up for this coming Saturday, January 25th, in Marysville, at the Legion, that will see THREE title defense. In one, three man tag match, both the heavyweight, and tag titles are on the line. Also the Traditional, and Cruiser weight titles will be defended! If you love edgy, indy wrestling at it's finest, make sure to be there.
So as you can see, while my DVD racks are full of P.W.G, R.O.H. and DGUSA wrestling shows, my butt will be in the seats of wrestling just as entertaining, when I attend every show of U.W.E, L.C.W. and C.C.W. because this is Central Pennsylvania, and indy wrestling LIVES here! I hope you'll read all of my reports, and come on board for some great indy wrestling, that you may have not heard of yet. You can thank me later.