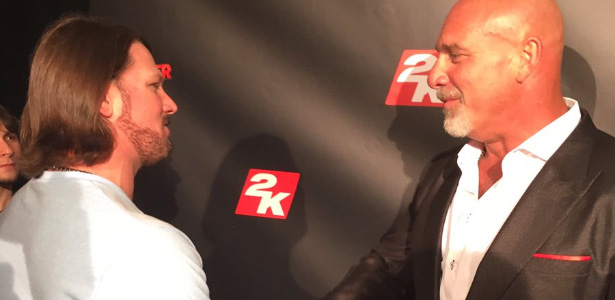 Photos From The WWE 2K17 Media Event In New York City, Goldberg Meets AJ Styles, Brock Lesnar
It appears there was no face-off between Bill Goldberg and Brock Lesnar at Friday night's WWE 2K17 media event in New York City, at least as of this writing. Goldberg did meet AJ Styles and other WWE stars, plus reunite with Shinsuke Nakamura.
Below are photos from the event, which features rapper Lil' Jon. Stay tuned for more updates from the event.
.@Goldberg looking sharp at the #WWE2K17 #SummerSlam event! @thechrisdenker pic.twitter.com/WROV8i50s7

— WWE 2K17 (@WWEgames) August 20, 2016
.@AJStylesOrg stopped by to say hi to @Goldberg. #WWE2K17 pic.twitter.com/QYtU6nZgda

— WWE 2K17 (@WWEgames) August 20, 2016
.@mikethemiz and @maryse0uellet chat on the red carpet! #WWE2K17 pic.twitter.com/dW7Wx1rXm2

— WWE 2K17 (@WWEgames) August 20, 2016
.@XavierWoodsPhD chats with @FightOwensFight for @UpUpDwnDwn! #WWE2K17 pic.twitter.com/RGGqz5fAHY

— WWE 2K17 (@WWEgames) August 20, 2016
Realest guys in the room! @WWEAaLLday21 @BigCassWWE #WWE2K17 pic.twitter.com/oYx2UWA5mA

— WWE 2K17 (@WWEgames) August 20, 2016
.@ShinsukeN chats with @yukes_official! #WWE2K17 pic.twitter.com/5lriPxVf7j

— WWE 2K17 (@WWEgames) August 20, 2016
.@SashaBanksWWE shows off her title! #WWE2K17 pic.twitter.com/zGqCp9z6FL

— WWE 2K17 (@WWEgames) August 20, 2016
It's not intimidating at all to talk to #TheBeast @BrockLesnar and @HeymanHustle ?. #WWE2K17 pic.twitter.com/FXiEoA4lQN

— WWE 2K17 (@WWEgames) August 20, 2016
.@LilJon spinning in #SuplexCity! #WWE2K17 pic.twitter.com/ci1SAHEoLy

— WWE 2K17 (@WWEgames) August 20, 2016
Playing the NEW #WWE2K17 @SIRStage37 at the #SummerSlam kick off party! #WWEGames pic.twitter.com/s0M9cdmPsO

— Charlotte (@MsCharlotteWWE) August 19, 2016
#WWE2K17 Press Event. pic.twitter.com/0Vo6ot9dYw

— Tubby Emu (@TubbyEmu) August 20, 2016