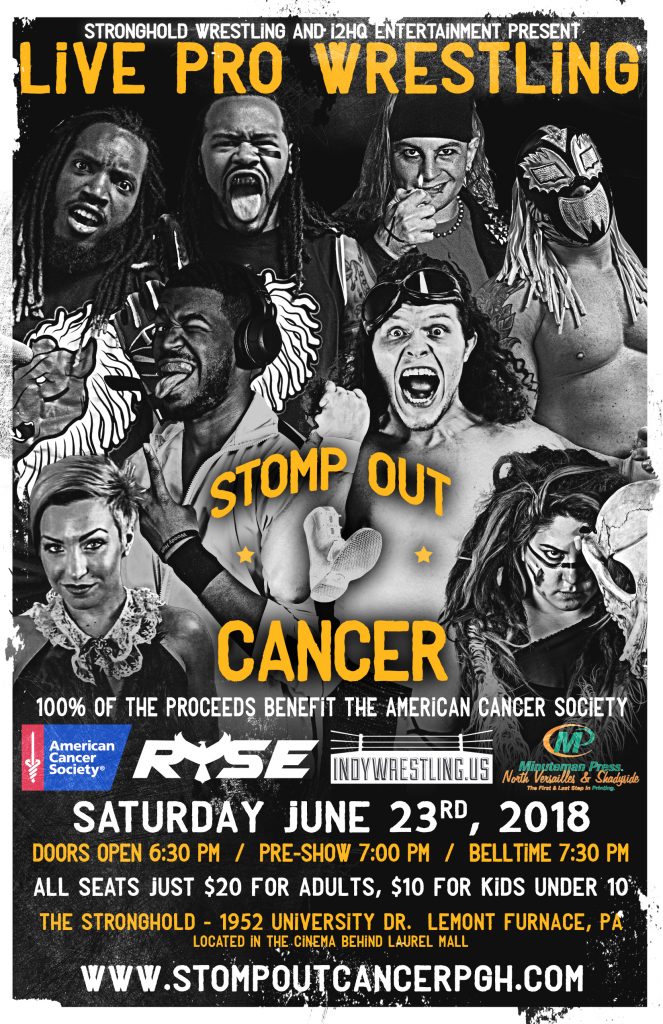 The statistics of the amount of people affected by cancer and the ripple effect it has on those around are staggering. The horrible disease impacts patients from every aspect of life, regardless of notoriety, income level, or background. Basketball coach, Jim Valvano took to the stage in 1993, and during his acceptance speech for the Arthur Ashe Courage Award, he inspired the world with a phrase that lives on even today. "Don't give up, don't ever give up." Valvano passed away just two months later, but his legacy lives on through the Jimmy V Foundation, an organization dedicated to cancer research.

But, a national television stage isn't necessary to combat the awful illness.
Matt and Kenny Tressler, two brothers that are lifelong professional wrestling fans, are among the most well-known faces in the Pittsburgh area. Attending independent events for over two decades, the siblings are often spotted at shows nearly every weekend. Over the years, they became involved with several different groups in a variety of roles, and thus networked to know many involved in the sport on the local scene. As is sadly the case with many others, the Tresslers saw cancer impact their family in a devastating way. Originally, their grandmother fell ill with the disease, which prompted them to step up as caregivers to her for the last few years of her life as she battled breast cancer. A short time later, their mother, Mrs. Tressler, passed away suddenly after a brief bout with cancer at the age of just 54 in 2011.
Matt and Kenny wanted to make a different and to honor the late Mrs. Tressler, who worked for nearly twenty years as a nurse, before he untimely passing. The brothers decided to use their passion for professional wrestling to contribute to the fight against cancer, and organized "Stomp Out Cancer," a fundraising event that contributed proceeds to the American Cancer Society last year. The event saw Pittsburgh veteran and owner of Ryse Wrestling, Brandon K offer his venture to showcase the show, and the efforts of stars from around the tri-state area to make the venture as success.

"We saw the impact that cancer can have on someone. After my mom passed away, we said we wanted to try and start helping out the American Cancer Society by running a show. When Brandon moved into the Stronghold, we mentioned it, and he was all for it and it became a reality," Matt explained.
The stellar event saw talent from the past, present, and even future stars showcase their skills. The show was such a success, both for the funds it donated and for the entertainment it provided the fans that rallied toward the great cause that buzz began for a follow-up.

"We had a great response for last year's show as workers we have befriended over the last 23 years were on board to help make the show a great success. We were able to raise $2680.00 from the sell of shirts, sponsors, and tickets. It was great seeing all of Pittsburgh wrestling come together with no egos, just a great group of guys being united to help raise money for a great cause," Matt said.
With last year's event unanimously praised as a tremendous success, the Tresslers put their passion to work again, and organized "Stomp Out Cancer 2," another fundraiser that will see proceeds go to the American Cancer Society, on June 23, 2018 at the Stronghold Arena in Lemont Furnace, PA. Once again, grapplers from every major promotion in the Pittsburgh area will work together in an effort to benefit a great cause. The hype is already building for what should be a memorable night.
Stomp Out Cancer 2
Saturday June 23rd, 2018@StrongholdWres1
Lemont Furnace, Pa
Team Land (@dEReK_DiReCTioN @EddyOnly8 @FrankeFantastic @dancrockingham ) vs. Team Burgh (@apexofcombat , @TheAndrewPalace ???, ???)
Lee's #1 draft pick!!!! pic.twitter.com/yVuwqYyyOh

— StompOutCancerPGH (@StompOutPGH) June 5, 2018
"This year the response has been great again as fans and wrestlers seem to be excited to come together for the common goal. We have tripled our sponsors with over 25 this year and again, were able to sell over 100 shirts where a portion of them goes to the charity. The toughest part is trying to fit everyone who wants to donate their time on the show, but the most rewarding would be seeing everyone united and working together and being able to make the donation to the ACS," Matt commented.
With dozens of items donated for raffles from local sports teams and businesses, "Stomp Out Cancer 2" really is a collaborative effort from many people that want to make a difference toward a great cause. Grapplers from around the tri-state area are scheduled for the event, including Super Henti, Lee Moriarty, Andrew Palace, Honey Badger, Duke Davis, Ganon Jones, Shawn Phoenix, and many others.
Stomp Out Cancer 2
Saturday June 23rd 2018
The Stronghold
Lemont Furnace, Pahttps://t.co/WPcyRGJXtf #HENTAIvsPHOENIX#HEROvsFAN@xShawnXphoenix @SuperHentai2 pic.twitter.com/1Aqpl9VRmV

— StompOutCancerPGH (@StompOutPGH) June 13, 2018
Even villainous manager, BC Steele is enthusiastic about the potential of the fundraiser saying, "Stomp Out Cancer is an all-star game of sorts for independent wrestling in the tri-state area. You have guys teaming up that you may never see again. There's a lot of talent from other areas that don't get to this area often. It's a vast array of different types of talent, different types of performers, and a nice mix of youth and veterans. There's a great way to see the professional wrestling in the Ohio, West Virginia, and Pennsylvania area and it's Stomp Out Cancer 2."
Regardless of it's on a national stage or a local squared circle, the fight against cancer can help toward research that will hopefully save lives. On June 23, 2018, the Pittsburgh wrestling scene will come together with a common goal to contribute to a great cause that will benefit the American Cancer Society.
For more information, you can go to https://www.facebook.com/stompoutcancerpgh
What do you think? Comment below with your thoughts, opinions, feedback and anything else that was raised.
Until next week
-Jim LaMotta
E mail drwrestlingallpro@yahoo.com | You can follow me on Twitter @jimlamotta