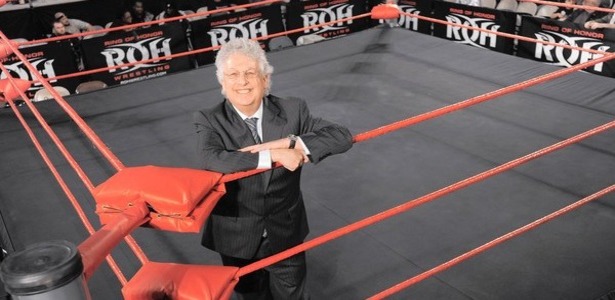 – Ring of Honor's COO Joe Koff spoke to John Pollock of The Fight Network's Live Audio Wrestling podcast last night about this Friday's 12th Anniversary Show event, the following days HonorCon fan interaction event, the ROH product, the current stance on iPPV's and whether they'll be coming back, and the internal reaction to Matt Hardy's arrest earlier last month.
Here are some excerpts from the interview.
On ROH's production compared to WWE's: If you want to have spectacle, if you want to have a ton of mic work and a giant jumbotron… I just don't want to be that, we can't compete with that. I don't want to be their style of wrestling, I can't necessarily afford to be their style of production, and you know if that wrestling fan tuned into Ring of Honor I can see why they'd be kind of disappointed, because we don't have that style of production and our guys are athletes, our guys are physical, our guys are flying and our guys are well honed, well tuned, and their not giants. Their just well proportioned athletes. And we do everything in the ring, we don't do that much on the mic because I want to give our viewer and our fan, wrestling. Because that's what they tune in for when they watch Ring of Honor.
On if ROH will return to iPPV: You know from a fans perspective obviously it's not live, but considering how fast we turn around VOD's (Video on Demand), I'm pretty impressed with that. You know one of our biggest competitions is the Internet. In the old days you ran an event and you had to wait until next week to find out what happened, but now their at the event and their tweeting out the results. And one of the things I'm proud about in Ring of Honor is, not once have I read a tweet from a fan at the show saying their not enjoying it or that it's a bad show. Because the product is so pristine, so strong, so good… and I just don't want to let the consumer down, so obviously we'd love to do it live, but with the technologies and the variables I just don't think it's worth letting the fan down. The Rolling Stones have had that problem, the WWE has had that problem.
On this Saturday's HonorCon event: HonorCon comes to Philadelphia because Ring of Honor was Philadelphia and Ring of Honor is Philadelphia, and it's just… everyone is so excited, it's going to be a great event and I mean I just overheard a phonecall one of my guys was having about HonorCon and with every phonecall it just keeps getting better and better for the fan. And just for everyone to know, it's a free event. There's going to be an arm wrestling contest, there's going to be a Q&A where the fans can ask the wrestlers questions and after that there's going to be a very big announcement, and that's going to be for the fan, and we're very excited about it.
You can listen to the interview by clicking here, it starts at the 71:00 mark.