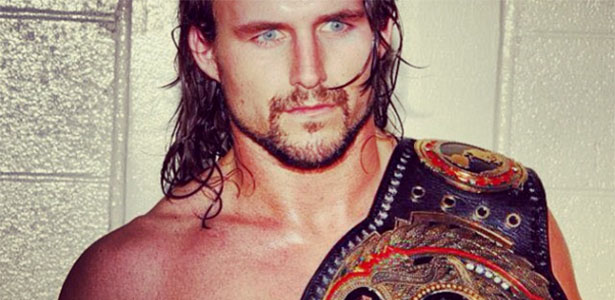 – Ring of Honor have revealed ahead of time, that Adam Cole and Jay Briscoe will meet on Friday, April 4 in New Orleans, Louisiana during WrestleMania Weekend, at Supercard of Honor VIII, to determine once and for all who is the real ROH World Champion in a Ladder War.
Adam Cole and Jay Briscoe's feud started almost a year ago at Border Wars, when following a defeat at the hands of Briscoe for the ROH World Championship, Adam Cole threatened to Superkick him from behind. When Briscoe turned around Cole opted not to do it, restraining himself and exiting the ring, Briscoe stating it was the best decision he'd ever made because he did not want to cross him.
In the proceeding months Jay Briscoe would be stripped of the ROH World Championship due to injury, legitimately suffering a separated shoulder at the hands of Rhino in a brawl during the SCUM angle before he'd won the ROH World Championship from Kevin Steen at last years Supercard of Honor. Briscoe put off rehabilitation until the summer when he took a leave of absence, leading to rumors that he and brother Mark had left the company when it turned out that hadn't been the case.
Adam would would be entered into the ROH World Title Tournament which he would emerge victorious from at Death Before Dishonor XII, defeating Michael Elgin in the final. ROH began running videos looking at Jay Briscoe slowly becoming more unhinged, refusing to acknowledge that he was no longer the ROH World Champion. When asked to return the title belt to the winner of the tournament, Briscoe said he would only do it if the winner won like a man; Cole won every round clean, and Briscoe stayed true to his word.
However, after handing Cole the title, Jay turned around to leave the ring, and the new ROH World Champion seized the moment by Superkicking Jay Briscoe in the back of the head in the exact same position he had threatened to do five months prior at Border Wars.
Jay Briscoe vowed revenge, interrupting ROH shows and attacking Cole, before being temporarily banned by ROH COO Joe Koff until he had been medically cleared by doctors to compete. Before Glory by Honor in October, Briscoe would be cleared in a video featured on Ring of Honor's YouTube channel, leading into the event, where after Michael Elgin had pinned Adam Cole to earn a shot at Final Battle for the ROH World Championship during the Champions vs. All Stars eight man tag team main event, Jay Briscoe emerged with a sack. Briscoe would strike both Elgin and Cole before revealing his own customized World title, stating he was the "Real World Champion".
Ever since this Jay Briscoe has been out to prove he is the "Real ROH World Champion", issuing open challenges with the unrecognized title on the line, even defending it against Cole last month at State of the Art in San Antonio, TX, where he emerged victorious. Now Briscoe and Cole will end their rivalry in one of ROH's most notable matches, Ladder War, the fifth of its kind in the company and the first since Kevin Steen defeated El Generico at Final Battle 2012 to retain the ROH World Championship.
Supercard of Honor VII takes place on Friday, April 4 and Saturday, April 5 during WrestleMania Weekend in New Orleans, Louisiana from the Alario Center, Westwego, LA.