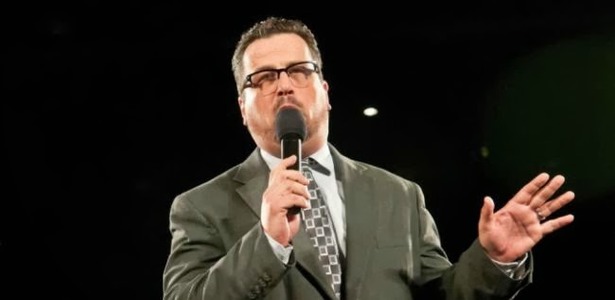 – As PWMania.com reported, ROH color commentator and former ECW World Heavyweight Champion, "The King of Old School" Steve Corino was a guest on the most recent Shining Wizards podcast and discussed a number of topics including how Ring of Honor has changed over the years, his days working as a jobber on WWE TV, his ECW title run, ECW on TNN, how ROH fans differ from ECW fans and much more.
Here are some excerpts from the interview.
On how ROH has changed through the years: It's so different. I think that people tend to forget how different it is. ROH is not Gabe (Sapolsky), Doug (Gentry) or Rob Feinstein's ROH anymore. It's a television product for Sinclair Broadcasting. It's basically their brand for their Television stations and I think it's on in 88 different markets, but it's really become a television product. Some of the loyal fans from 2002-2010 say we've lost what we were going for and they just have to realize that it's a different product. Gabe, Doug, and Rob's vision was awesome and so was Cary (Silkin) and Adam Pearce's and now with corporate backing it and with Hunter Johnston as the booker, it's still great, it's just a little bit different. It's a different world.
Does Sinclair have any say in on-air product for Ring of Honor? I'm sure, but I don't know that. It's very quiet about how things work in the office. It's a "don't ask, don't tell" thing also, and things are good, so why poke the bear if we don't need to?
On Matt Hardy in Ring of Honor: A lot of people don't understand why Matt Hardy was brought in, but they have to understand the television business side of it. Matt Hardy, for a lot of years, was on the WWE and they were in front of 3-5 million people a week. People know who Matt Hardy is and if you can get an extra 10% of those people watching your show (ROH) just because Matt Hardy is on there – it's not that Matt Hardy is being featured, it 's just that fan that says he only watches WWE and who do does Ring Of Honor have, and you say "Michael Elgin, Kevin Steen, Steve Corino, and Nigel McGuinness," and they've never heard of them, but then you say you have Matt Hardy. They'll say they remember Matt Hardy and his brother Jeff and they watch the show and see Matt. But then they see these guys like the Adam Cole's, Michael Elgin's, Jay Lethal's, and Tommaso Ciampa's and Kevin Steen's, and they say, "Wow this is what we want to watch." I think that's part of the influence.
On Daniel Bryan in the WWE: We over-think sometimes as fans. I watch Raw and Smackdown as a fan. I never try to over-analyze and say they're doing this or that wrong. There is no doubt that Daniel Bryan is so over, right? But, you don't think WWE knows this? You don't think a money making machine like WWE doesn't see what's going on? I think us as wrestling fans want Daniel Bryan to be in that main event spot right now, whereas the WWE says we're making money off this guy right now. Let's string it along and see how far we can go because we're going to need a main event for Wrestlemania 31.
Stone Cold Steve Austin was over at King Of The Ring 1996, but go back and see how long it took him, as they strung him along, and people wanted to cheer, and they were cheering him at Survivor Series 1996 with Bret (Hart). They were cheering him in every match, and finally they did the turn and put the rocket up his ass a little bit after WrestleMania 13 and he didn't get the belt until the next WrestleMania, so you have a year and a half where they knew he was over and he was going to make big money for them and they just took their time, and I think that's what they're doing here with Daniel.
They know he's over and he's not going anywhere. Think about how genius it was putting him with The Wyatt family for 3 weeks. They literally turn him heel and the crowd said no way. The fans feel like Bryan is one of them and he is doing everything they would do if they were wrestlers. I think it's great. To me, if I'm Vince McMahon or Triple H or Stephanie McMahon, I have it in my mind how Daniel Bryan vs. CM Punk is my main event for WrestleMania 31.
You can listen to the entire interview by clicking here.