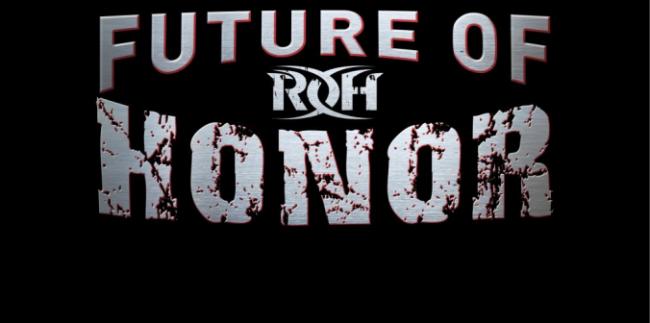 – Last night Ring of Honor held their first "Future of Honor" show from the Big Spring Event Center, Newell, Pennsylvania. It is the inaugural show of the Future of Honor cards which will be used to exhibit ROH dojo graduates, trainees, independent stars trying out and seminar stand-outs. It will also feature main roster talent.
The following are the results of the show. It will be released on VOD sometime this week for a low price.
(1) #AllEgo defeats Zizou Middox
#AllEgo is independent stand out and AAW: Pro Wrestling Redefined regular Ethan Page. Page is from Canada and is known for teaming with Josh Alexander as Monster Mafia, and with Michael Elgin as Men of the Year. Middox is the younger brother of WWE Superstar, Justin Gabriel.
(2) Brutal Burgers (Bob Evans & Cheeseburger) defeat Moose & Stokely Hathaway
Bob Evans is a trainer at the ROH dojo, Cheeseburger occasionally appears on ROH TV and events and was a participant in the Top Prospect Tournament. Moose is better known as Quinn Ojinnaka, a former offensive guard for the New England Patriots. Stokely Hathaway is currently on ROH television as RD Evans' personal referee and sign holder, Ramon.
(3) Jenny Rose defeats Mandy Leon
Jenny Rose is a regular women's wrestler on the independent circuit and a graduate of the ROH dojo. She also trains in Japan and has featured for promotions such as SHIMMER and Absolute Intense Wrestling. Mandy Leon is an ROH dojo student, this was her first ever match.
Proving Ground Match
(4) Jay Lethal defeats Jay Diesel
Said to have been a very good back and forth match with Diesel impressing. Jay Diesel is an ROH dojo graduate and the head of Ring of Honor's security team.
(5) Vinny Marseglia,Nick Blackwell & Jimmy Nuts defeat Sam Shields, Tim Donst & Ken Phoenix
Vinny Marseglia has previously featured on ROH TV in squash matches, he is trained by Spike Dudley. Nick Blackwell and Jimmy Nuts are from the ROH dojo. Sam Shields is a veteran on the indies, Tim Donst is a well known indy talent formerly of CHIKARA and Ken Phoenix is a trainee of both Lance Storm's academy and the ROH dojo.
(6) KONGO defeats Psycho Mike Rollins
KONGO competed in the Top Prospect Tournament, plays a Samoan savage. Psycho Mike Rollins is a former WWE developmental talent from Canada who has worked a couple ROH dark matches in recent months.
(7) The Briscoes defeat Team Benchmark (Bill Daly and Will Ferrera)
Bill Daly was supposed to be featured in the Top Prospect Tournament but pulled out. He is known for being sponsored by several fitness groups. Will Ferrera is from the ROH dojo.
Main Event
ROH World Championship
(8) Adam Cole defeats Delirious w/ Florida Keys
This is only Delirious' third ROH match in two years. He is not only the booker of ROH but is also the head trainer of the ROH dojo.