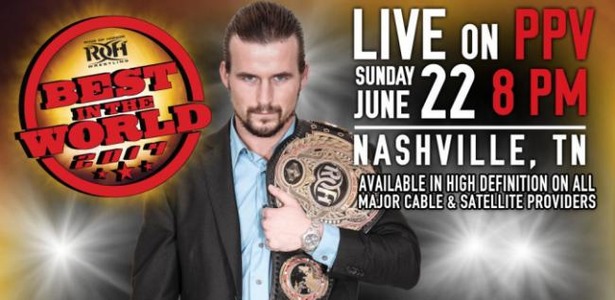 – Ring of Honor made their big announcement earlier today, that on June 22, they will debut on traditional PPV and will be available on all major cable and satellite providers. This makes ROH only the fourth wrestling company in history to have such a PPV deal, along with WWE, WCW and TNA, as ECW was only picked up by select PPV providers. ROH will continue their iPPV's through uStream which start next month with Global Wars on May 10 and War of the Worlds on May 17.
Here's the full press release from ROHWrestling.com.
Baltimore, MD (April 17, 2014) – Ring of Honor Wrestling Entertainment, LLC ("ROH") today announced that they have agreed to deliver live Pay-Per-View programming starting with Ring of Honor: Best in the World 2014 emanating from Nashville, TN on Sunday June 22nd at the Nashville Fairgrounds.

For the first time ever, fans will be able to experience a marquee ROH event live at home via all major cable or satellite providers and witness next generation wrestling innovation, epic rivalries and world championship bouts.

Ring of Honor: Best in the World 2014 will feature the likes of: Matt Hardy, Kevin Steen, the Briscoe Brothers, ROH World Champion Adam Cole, "Unbreakable" Michael Elgin, Jay Lethal, as well as, Playboy cover girl and the first woman of ROH, Maria Kanellis and other elite wrestlers from ROH.

The start time for Ring of Honor: Best in the World 2014 is 8 p.m. EST / 5 p.m. PST with a runtime of 3 hours. The event is rated TV-14 and will be available in High-Definition. The suggested retail price is $24.95 (SD).

In conjunction with ROH's debut on live Pay-Per-View, ROH has moved Ring of Honor: Best in the World 2014 from Saturday night to Sunday. Customers that have already purchased tickets for Saturday can use those tickets for Sunday. If unable to attend, ROH will provide a refund. Tickets should be mailed back to: Ring of Honor Wrestling, 2000 West 41st St., Baltimore, MD 21211. Contact: help@rohwrestling.com for questions or more information.

"We are thrilled to announce that ROH is now available live on Pay-Per-View via cable and satellite," said Joe Koff, Chief Operating Officer of ROH. "Fans hungry for the best wrestling in the world will now have access to their favorite brand of wrestling from the comfort of their couch in stunning high definition, which is something our customers have been demanding for some time. We're happy to deliver on that starting this June with Best in the World."

For more information on Ring of Honor, visit: www.ROHwrestling.com
Follow ROH on Twitter: @RingofHonor
Like ROH at: Facebook.com/RingofHonor

Check your local listings to see where you can watch Ring of Honor TV each and
every week or subscribe and watch online at: www.ROHWrestling.com.