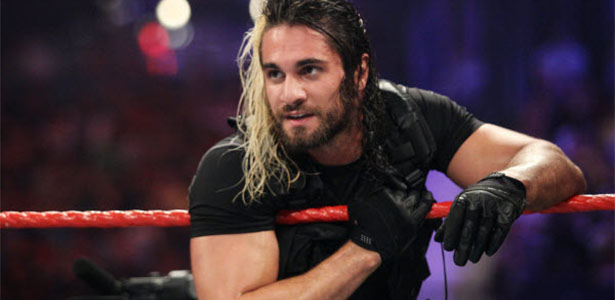 WWE Superstar Seth Rollins recently spoke with Jonathan Snowden of Bleacher Report to promote the new Greatest Factions DVD. Below are some highlights:
Bleacher Report: It's pretty remarkable I'm talking to you about the great WWE Factions. A few years ago, you were on the indy scene, as far away from the WWE as you could imagine. Now you're being compared in a big DVD release to the Fabulous Freebirds and the Four Horsemen. Have you had a chance to really process that?
Seth Rollins: You know what, man? Even if I really had the opportunity to sit back and really take that information in, I don't know if it would ever become less surreal. You're talking about guys who are legends in our business, who really paved the way for people like myself and Dean and Roman. That's pretty impressive, to even be in the same breath as those guys. It's just pretty wild.
Bleacher Report: When you go into a match there's a different pace. It's frantic and almost looks out of control. How did you go about telling these veteran opponents, guys with seniority in the locker room, that the match you were about to have is a little bit different than what they are used to? Is that hard to do as the new guy?
Rollins: It was mostly trial by fire. You get out there and, once you steal the show a couple of times, you start to earn the trust of those guys you're talking about. They start to see that what you do works, and if they don't have a better answer for you, they've just got to trust. It's kind of like that in any working environment.
The guys know what they're doing. They know how to work. They've been doing it for a long time. And when you come in with a new idea, people are going to be skeptical. But once they see that your style works too, that there's multiple ways to stack this ice cream and it all tastes delicious in the end, they're going to be more willing to work with you. That's just the nature of politics I guess, right?
Bleacher Report: Every faction that is on this new DVD has one thing in common—their demise. I know you may not be ready to think about this, but have you thought at all about the days to come, when The Shield is just a distant memory for you?
Rollins: You know, you say that, but I don't know if these factions are all ever really dead. Because when Shawn (Michaels) and Hunter (Triple H) get back together and you get that "Are you Ready?" pumping on the Titan Tron, or when you get Scott (Hall) and Kevin (Nash) together and they put up the "Too Sweet" to each other, or you put Arn and Ric in the same room, they're definitely not enemies.
It doesn't always have to end badly. There's a lot of longevity that comes with having a gang of friends with you throughout your career in this business. So there's no telling when The Shield will run its course. If it ever will. We're just happy riding this wave of success right now, trying to make this place a better place for everybody, wrestlers and fans alike, and we're going to keep doing that until we can't do it anymore.