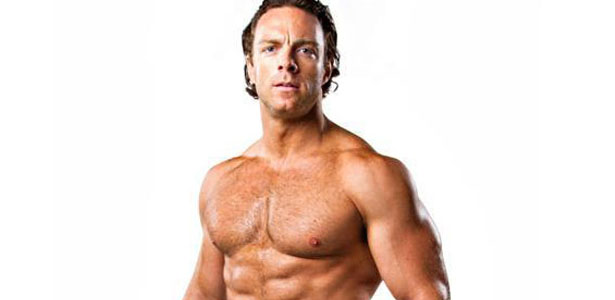 "Let me talk to ya." This man above you is the great Shaun Ricker. You may know him as Ricker, or you may have heard of him under the moniker Slate Randall. A little over a year ago, WWE signed him to a development deal and in my eyes, he was meant for NXT greatness. A little over a day ago, he was released from WWE without ever appearing on any form of WWE programming to my knowledge. Ricker was wasted for a year training in Orlando without any exposure to the WWE audience. In my eyes, he was stored in the basement of the WWE warehouse until "they" said, "Best of luck in your future endeavors." I hope you already knew, or are about to learn about this guy because I have some grade A quality beef with whoever pulled the plug on this charisma machine. Shaun Ricker is a good wrestler, a great talker and a guy that I thought was made for WWE TV. Now that he's been released without a second thought, you should be aware of Shaun Ricker more than ever. If you are already, great. We're friends. If you don't, you will be shortly. I promise you, if you stick with me for a little bit, you'll be scratching your head going, "Huh? Why did they release him?" I bolieve WWE missed the Gravy Train. Dummies.
As you may have noticed from above that was indeed the late great Hall of Famer, Paul Bearer. However, in NWA Championship Wrestling from Hollywood, he was known as Percy Pringle III. The manager who brought The Undertaker in the wrestling industry, but also managed Kane, Foley, Austin, Rude and even Vader has some momentum and pull from an audience. Whether you called him Moody, Bearer or Pringle, the man was one of the most unique managers the industry has seen. Shaun Ricker was his last protege. He was the last member of the Percy Pringle Dynasty. Ricker's goal was to be in the top echelon of NWA Hollywood with Pringle. Their partnership was outstanding because it was old school in a fresh way. As Pringle supplied the experience and wrestling knowledge, Ricker was the charismatic wrestling machine that was thriving from the rub. Ricker was good, but Percy Pringle made him great. Before Pringle, Ricker was a part of the tag team "The Natural Selection" with his partner, Brian Cage. The pair had been Tag Champions in another promotion, and would become NWA Heritage Tag Champions in Hollywood. After they lost the titles because Cage didn't show up to a defense which turned the match into a 2 on 1 handicap match against Ricker. As most teams do, Cage and Ricker feuded throughout Ricker's run in NWA Hollywood. As Ricker moved into the Pringle partnership, he would challenge for the NWA World Heavyweight Championship multiple times, but never securing the victory for the title. This run continued until Moody's death in early 2013. While WWE may have been celebrating his life through The Undertaker/Punk feud, Ricker celebrated by sharing the last televised appearance of Moody.
After Moody's death on March 5th, 2013, Ricker returned from vacation to pay tribute to his friend and he made his presence and goal crystal clear.
Don't believe everything you are told on WWE TV. While The Undertaker had perhaps the closest tie to Paul Bearer and his dedication was shown with Punk and culminated in the brightest lights on the grandest stage of them all at Wrestlemania 29. In the shadows, Ricker was paying tribute with the same passion and exactly two months to the day of Moody's death. On May 5th, Ricker won the Red Carpet Rumble to win the NWA World Heavyweight Championship for the first time.
I know the actual match is a little long if you didn't watch it. I suggest you at least watch the promos because Ricker's story is phenomenal. I see Ricker as the hidden diamond of Moody's career. Don't believe everything WWE tells you. The Undertaker is immortal with Bearer on WWE programming and behind closed doors, but Ricker's story of the kid who watched him then grows up to become his last protege and finally wins the Championship after the death of what was clearly a friend and a hero to him is just as valuable a story in my eyes. Speaking of heroes, Ricker would later on appear on The Rock's TNT series, "The Hero". Honestly, I didn't watch it, but he was rubbing elbows with Rock and it was clearly only a matter of time before Ricker got his deal with WWE. He got it last year and then, he spent it hidden away because who ever was in charge either didn't see value with him, or didn't have the space for him. As a result, he was released yesterday after never wrestling a match on actual programming.
I really hope you are with me on this now. I hope you went from not knowing this guy at all to realizing that WWE just released a star. I can't go back and watch any of those promos without thinking about how this guy sweats charisma. If you have a chance, look up some of his other matches and promos that you'd like to see. Just based on what I've shown you, Ricker can talk for days. It's funny he was on Rock's show because I see a ton of Rock in him. Substitute jabronies for dummies. His "Huh?" catchphrase is just like "What?" in a lot of ways. Add the gravy train and fact of life catchphrases and Ricker is a guy who in my book, will talk himself to the top of the ladder in WWE. He's not a great wrestler, but he is damn good. He tells stories in the ring and while he isn't flashy, he gets a good finished product. Sound familiar to an unnamed 15 time Champion? Ricker is a good hand and maybe I'm wrong. Maybe he gets lost in the WWE system. Perhaps, he was the problem and didn't want to conform to their style. It is possible that the two just didn't fit, but my angle here is that Shaun Ricker has star power and charisma coming out of his mouth every time he speaks. Ricker has something and it seems like a good wrestler's career is going to go unnoticed by so many people. I want to justify that as much as I can because I see a lot of talent. I see a diamond. If I were Ring of Honor, I'd jump on him. I hope they do. I hope the people in WWE realize what they let go. I hope they will scratch their heads, thinking to themselves, "Huh? Why did we release him." That is my hope because it was an insult to release him. It was an insult to hold him back and THAT is just a fact of life, dummies.
What do you think? Comment below with your thoughts, opinions, feedback and anything else that was raised.