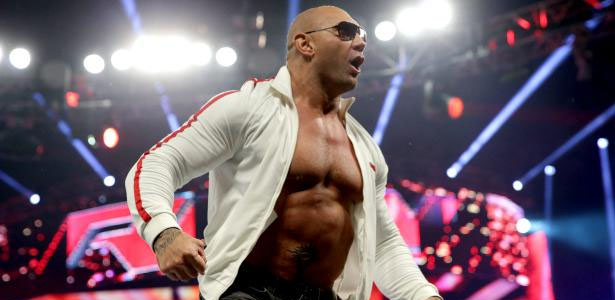 Welcome PWManiacs! My name is Justin Watry. I am here to share some of my wrestling opinions, as well as answer any questions you wish to throw my way. As long as comments are respectful and polite, I will happily respond. Keep in mind that we are all wrestling fans here, and these columns only reflect MY opinions. Without any more stalling, you can begin reading….
Batista Returns To Raw!
Something about this fell flat once he came out. The Authority should NOT be playing for cheers anymore. That was bothersome in the summer and fall of 2013 as well. Time to be FULL blown heels! Enough with the WWE Network pandering and being nice with the good guys on camera. Triple H and Stephanie McMahon hugging Batista got this off to a bad start. Then his quick showdown with Randy Orton was premature. Do that AFTER the Royal Rumble! If these are really going to feud up to Mania, why start that now? You couldn't wait one week? The stuff with Alberto Del Rio was really good. That was simple, straight forward and to the point. I would have much rather he did JUST that segment on Raw.
Royal Rumble Favorites
On that note, Batista has to be the favorite to win the Rumble this weekend. He has to be. CM Punk is a long shot at best being the #1 entrant. I think he will have a nice showing, maybe lasting to the final four. However, winning the whole thing from the first spot? Not sure I buy that. Kane will probably eliminate him late, leading Daniel Bryan and Batista to be the REAL favorites. Batista is a great choice for all the obvious reasons. Bryan is a favorite for all of the other obvious reasons. Even though he is not officially announced for the 30 man main event Sunday, you have to believe he will enter. WWE keeping that a surprise will only make the fans cheer him EVEN MORE than usual. Good! Keep it a surprise. Save him for the #30 spot too. Once that music hits, they will go bonkers…
Pay-Per-View Buys?
This is going to be interesting. Last year was obviously easy money with CM Punk vs. The Rock for the WWE Title. This year does not have that same spark. Another quick tangent is how the WWE Network will change fans' outlook. Do they plunk down $50 because of the network coming? Will they save that cash for the six month commitment coming next month? Maybe they plan on skipping Elimination Chamber so will feel okay buy this PPV event? The Rumble sells itself and Randy Orton/John Cena should draw some kind of buzz, but I am curious to see how this show will be perceived with their network launch just around the corner…
TNA Impact Wrestling
Very quickly: I am not watching/reviewing their show for the time being. I gave them the final two months of 2013 and first few weeks of 2014. That was more than enough to know it was bad television. Come late February or early March, I will likely pop back in to check out the Lockdown build. Since TNA Impact Wrestling is being discussed, here is an email I received this week.
Question from reader Brian: "Does TNA have a clue anymore? I don't watch regularly but I do read the results online and two things just show me that this company is going down the drain. First was Hulk Hogan leaving the company. He simply walked away with the owner of TNA, Dixie Carter, clutching his leg, begging him to stay. Now all signs are pointing to Hogan involvement at Wrestlemania 30. So the last image of Hogan in TNA is Dixie Carter pleading with him to stay and him simply walking out and going to the competition?! How does that make the company look good? Then, Dixie teases that she has signed the American Wolves (Davey Richards and Eddie Edwards) to a contract. As I don't watch TNA or ROH on a regular basis, I have heard the hype for these guys and actually tuned into Impact to see them in action. Lo and behold, they are wasted in a backstage skit and then I read the spoilers for the next week and they don't wrestle again! Why should I bother watching this sad excuse for a company when they obviously have no idea what they are doing?"
A: Ouch!… Well, you can watch whatever you choose. If that is TNA, go for it. If that is WWE, good for you. If that is American Idol, be my guest. If that is Walking Dead, okay. As for the two topics at hand, I will have to agree.
When Hulk Hogan left TNA, I think a lot of fans believed it was all just a story line. I mean – his final appearance was Dixie Carter begging and pleading for him to stay?!?! No way would that be legitimate. That would look terrible if The Hulkster just left for WWE WrestleMania XXX. Well, as we inch closer to the grandest stage of them all, I think it is safe to say our worst fears were true. The final image of Hogan in TNA is Dixie begging him to stay. Unreal. All I can say is 'good for Hulk.' He has creative control and an outstanding contract no matter where he goes. I would not expect any less for his departure. Good for Hulk; bad for TNA.
I do not follow Ring of Honor. I am very honest with that. Thus, Davey Richards and Eddie Edwards do not carry a lot of interest from my end. I just simply do not know them. That being said, their debut in TNA was them standing them in a backstage segment with (who else?) Dixie Carter. Then the following week…nothing. Okay, so much for that. The good folks over at ProWrestling.net report their deals are for only one year. Well, that just wasted two weeks. No excellent match to introduce fans. No epic run-in to save another wrestler. No promo to explain their motives. Just them standing around with Dixie backstage. Does not really make much of an 'impact' if you ask me.
Jake Roberts/Ultimate Warrior Drama
*sigh*… You would think these two would be on their best behavior right now. The Ultimate Warrior is headed to the WWE Hall of Fame. Jake The Snake Roberts just had a nice Raw cameo after being in turmoil the past few years. If I were them, Twitter would be OFF! Why even speak up? We all love opinions, but there is a time and place. Lay low. Let wrestling fans LOVE your returns to WWE and truly appreciate the journeys to 2013/2014. Do not be controversial or cause headaches. Seems so simple.
WrestleMania XXX
I have been wanting to write a huge WrestleMania XXX preview column before the Royal Rumble but have decided not to. It is easy to write such a column AFTER the Royal Rumble when everything starts to become clear on television. However, this year feels different. With so many matches teased and all the moving parts, there are literally dozens of strange pairing that may take place. Off the top of my head:
Triple H vs. CM Punk, Triple H vs. Daniel Bryan, Daniel Bryan vs. CM Punk, Undertaker vs. Daniel Bryan, Undertaker vs. Brock Lesnar, Undertaker vs. STING, Brock Lesnar vs. Batista CM Punk vs. Randy Orton, Brock Lesnar vs. Daniel Bryan. Brock Lesnar vs. John Cena, Batista vs. Randy Orton, Undertaker vs. John Cena, Daniel Bryan vs. John Cena, Hulk Hogan and John Cena vs. anybody, Batista vs. John Cena, Chris Jericho possibly returning, Sheamus coming back, Roddy Piper teasing something…
…and those are just the main event options! Buckle up folks. The Road to WrestleMania XXX is about to get interesting!
What do you folks think? Post your thoughts, opinions, questions, feedback and comments below.
Email: jw_bball_615@hotmail.com | Twitter: @JustinWatry
Thanks.