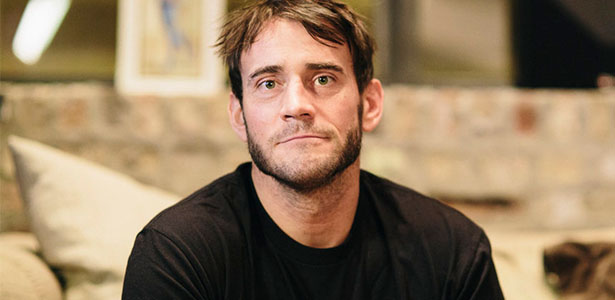 Well, well, well…I was all set to write my HUGE column on Sting. Everything was paid out and in place. The rumors were roaring about a possible deal, and it was going to be great. Come Wednesday night, my column would be published. Then plans changed in a hurry. All of the stuff about Sting has (predictably) gone nowhere and attention shifted.
Out of the blue, Sting was no longer the most talked about man in professional wrestling. Nope. That distinction quickly went to CM Punk. For those still in the dark, reports are running wild that he has quit WWE. Sometime Monday afternoon, he pulled a "walk out" and has left the company. WWE no longer follows him on Twitter. His promotional appearances are gone. Details are still coming in and will surely get more specific in days to come.
Now, there are two questions that I want to address as well as every other side bar this story takes for now. Obviously, there will be more in the near future to discuss. If you are a fan of lengthy columns, get ready. Go grab a drink. Have a snack handy. Put some music on. Relax and read…
Question from Jon: "So cm punk=Steve Austin 2002. Where do you see this going ?"
A: Yep… That was my first reaction as well. Upset over a story line? Not happy with things or life in general? Stress piling up? Injuries taking its toll? Getting up there in age? Contract and career winding down? Screw it. Just leave. Ditch the Raw taping and tell the boss you are going home. Not necessarily quitting or retiring. Just "I'm going home."
Sorry to all the Punk defenders reading, but there is no excuse for quitting like that. None. I do not care if you are the champ, mid-card talent, 3MB, or JTG sitting in the back. If you have a problem, you talk it out. Work some kind of plan out and go from there. Just giving the fans in attendance and wearing Punk merchandise the middle finger and going home is wrong. He spit on them in grand fashion. If I had been at the arena wearing a Punk shirt and read the news the next day, I would be pretty upset. It is wrong. As WWE would put it, Punk took his ball and went home.
Where is The Rock to give a passionate speech when you need him?
Now to a few quotes from Stone Cold Steve Austin about his own personal 'walk out' from 2002 and regretting it:
"If I had to come up with just one of them, I'd say how I handled the Brock Lesnar/Atlanta deal a little bit differently then I did."
"It was a bad decision made and I wish I would have handled it a little different then I did. Really, that's about the only thing I'd change if I could go back in time. But, as we know, right now, we can't."
"i wish i had not walked out of the company when i did…bad decision"
Those are quotes from Stone Cold Steve Austin in various interviews (not from me) about his walk out in 2002.
Years later, Stone Cold understood just how badly he handled things. Did not like his position on the card. Was frustrated with the creative direction. The entire Brock Lesnar situation. Injuries. Personal life crumbling. Everything piled up, and he just quit…not even showing up to the building. Absolutely the WRONG move. Stone Cold admits as such.
Sadly, Punk seems to have done the same. He always did want to impersonate the Steve Austin rebel persona, right? Well, there you go. He may think he is 'right' in his actions. I am sure his diehard legion of fans will come to his defense as well. In a year, two years, five years, or whatever, he will know he was wrong. Moving to the next email…
Question from Brian: "Wow. So i woke up this morning to reports that CM Punk has walked out of the WWE. Despite this being very upsetting, I wanted to get your views on the reported reasons for his sudden departure (especially since this doesn't look like a work, considering how outspoken Punk is about his passion for the business). Can you really blame Punk for feeling this way? That guys like him and Daniel Bryan worked hard for the past year, put on the best matches, worked every night, got better reactions then the guys working the top of the card, and when the time comes for Wrestlemania to roll around, they are thrown to the side for HHH's buddy to come in and hotshot himself into a Wrestlemania main event. Especially considering that Batista was never that strong of a draw and as evidenced by the Royal Rumble, does not seem to be in the proper conditioning for a strong main event at Wrestlemania. Add to that the fact that he clearly gets rattled when the crowd turns against him and doesn't seem to know how to brush it off, and his obvious ego (I'm in the main event at Wrestlemania, deal with it), how could someone like Punk not be p****d off that guys like him and Bryan got passed over? And yes, I know at the end of the day that it's Vince's company and he can do what he wants, but doesn't it send a horrible message to the rest of the locker room to allow a guy like that to come back and destroy everyone's hard work? It's obvious that this is not what the fans want, and I think it's counterproductive to business for the situation to go down like this."
A: Punk is to blame. He is wrong… You do not walk out of your job. He happily collects his millions and does his own thing. We all understand that. He punched a fan and is considered cool. He goes off on fans on Twitter, and that is considered funny. He called somebody a offensive term at a live event, and it is considered freedom of speech. He dates diva after diva, but that is okay because it is his business. He is constantly rude in airports and in public, and that is passed off as just being himself. Well, to no surprise – he is again getting a pass from the online folks. Big surprise. Punk s perfect, and WWE are the big evil monsters!
Sorry. Does not work like that.
What does this guy have to do before people see his negatives? Everything I just listed. Yet, his fans rush to his defense will some kind of weak excuse. The glory of being an "internet darling" is that there is always somebody or something to blame. I am a CM Punk fan, but the amount that this guy can get away with from his loyal, LOYAL fans just baffles me. At some point, it will hit home.
With those two questions out of the way, I want to discuss what this means for other WWE news.
What Will Happen To His Feud With Triple H?
We saw that on Raw. It seems WWE will thrust Daniel Bryan back into the spotlight for a match with HHH come WrestleMania. Truth be told, that should have been the direction all along. I say this somebody WANTING a Punk-HHH showdown. Even so, the entire story was Triple H holding back Bryan. From last fall, it would only be fitting for Bryan to make HHH tap out at Mania.
To go one step further, here is my little fantasy booking for the week. Triple H somehow costs Daniel Bryan the title at Elimination Chamber. Bryan challenges Hunter to a one on one match at WMXXX with no interference, no garbage, nothing. Just a straight up one on one battle – HHH taking on Bryan.
If HHH wins, Bryan will NEVER get another title shot again.
If Bryan wins, he gets a title shot in his home state of Washington at the Extreme Rules pay-per-view.
Boom! The "IWC style" fans at WrestleMania will instantly go wild for their match and not hijack the rest of the card. Bryan gets his moment and a guaranteed title match the following month. Triple H is able to have a great match with one of the best in-ring performers. Win-win situation all around. As noted last week, like it or not, Bryan has leap frogged Punk on the totem pole.
History
As outlined above, it is always something with Punk. If he is not saying his match sucked on Twitter, it is complaining about the travel schedule. If it is not about the part-time performers returning, it is his displeasure with wrestling THE UNDERTAKER at WrestleMania! Seriously, it is always something. Multi-time WWE/World Champ. Longest reigning in this generation on top of that. Two -time Money in the Bank winner. Headlined with The Rock twice and Taker last year! Yet, nope. Not good enough. Unreal.
But What If This Is All A Work?
Would not be the first time. WWE took advantage of his contract situation in 2011. They milked alllllllllllllllllllllllllllllllllll the publicity and controversy back then as well. I am not a fan of 'worked shoots' at all, so how about we pass on this? Let us all just ASSUME this is real here. Punk and WWE doing yet another walk out thing is just not my cup of tea. I must say it does play into the "we are sick and tired of Bryan being mistreated" agenda being played up on television. Punk quits over The Authority and their decisions? Sure does make sense. Again though, I will move forward thinking this is all legitimate.
What Will Punk Do Now?
Nothing. His contract goes until July. That is from his own mouth and online reports. Regardless, just go back to the Stone Cold walk out from 2002. He had to sit at home. Still under contract, it is tough to do much then. Barring any major changes, he can enjoy his millions and relax. Good for him is that money is saved. Good for him. Smart.
Does This Hurt WWE?
No. Sadly, not much if any at all. I just looked at their stock price on Thursday. It went up again! A new high point since 1999. In other words, nothing was harmed. WWE will continue on. WWE will move forward…just like they always do. If anybody out there thinks this is some huge damaging blow to the company's profit margin, they are kidding themselves. As noted above, this actually REALLY helps Daniel Bryan going forward. It also means more John Cena opportunities, which leads me to the next point…
John Cena As "The Man"
How many times have we discussed this? How many times? Ladies and gentlemen, here is yet another reason why John Cena is the poster boy. Do not whine and cry about why Punk is never treated as bigger than Cena. We all knew why before this week, and we all know why AFTER this week. Him walking out is just yet another reminder. Cena is reportedly set to feud with Bray Wyatt come WRESTLEMANIA XXX! Bray Wyatt. Biggest WM ever. Seriously. Yet, not a peep from Cena. Sorry Punk fans, it is just the cold reality of why things are how they are.
Have We Seen The Last Of CM Punk?
I do not think so. Not one bit. He will be back in WWE. Again – just go back to 2002 with Stone Cold. He sat at home for a couple of months. Once he realized the giant paychecks have stopped coming in, he and WWE started to talk. After that, a story line was made. His return was set in motion. Simple as that. I suspect the same here. Whether it is before WMXXX plans truly begin or after, Punk will return. Fans will go nuts, and all will be well with the world. Once his contract expires in July though, he may still be looking to go home. Remember, Punk has consistently eyed up early retirement. He is 35 now. Even if/when he does make a WWE comeback, his clock is ticking.
Bottom Line
Ultimately, life will move on. WWE has Bryan vs. HHH to build towards without Punk. If Punk re-enters the picture, then so be it. Their network will launch just as planned. WrestleMania XXX will be a huge success, just as normal. The Shield, Wyatt Family, Big E Langston, Daniel Bryan, and others will keep pushing forward. All the while, your mainstays like Batista, Randy Orton, and John Cena are still going to be there. I am not going to lose much sleep over this nor will WWE. Just as Punk said in his infamous promo, he is just another spoke on the wheel. It will keep turning…with or without him.
Reader Feedback!
Please folks. I know this is an emotional and passionate topic. I rarely ask for feedback, but let me have it this time! First timers or regulars – make sure to comment below or send me a tweet. Something. Anything! You know you want to voice your opinion. This column allows that to take place and will showcase replies. Let me know what you think. This subject is sure to continue being discussed for weeks and months to come.
What do you folks think? Comment below with your thoughts, opinions, feedback and anything else that was raised.
Email: jw_bball_615@hotmail.com | Twitter: @JustinWatry
Thanks.