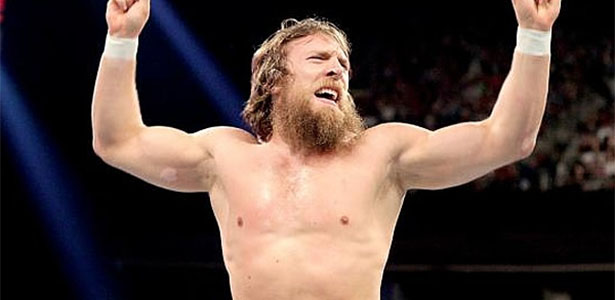 I am back. Instead of wasting time with an introduction, how about we just dive into things?
WWE Smackdown
The Blue Brand just ended their Friday night episode. Wow! Folks, this show has drawn over three million viewers for three straight weeks. What we saw this week is the reason why. The Shield had a ten minute opening six person tag. Jack Swagger won a very entertaining eight minute fatal four way match to become the #1 contender for the IC Championship. There was a ten minute eight person tag. Then after two short matches, we saw a great ten minute main event between Antonio Cesaro and Randy Orton. Look at that loaded show with WRESTLING going on.
Oops, Cesaro!
Honestly, you can call him whatever you want. Drop his first name. Change the last name. Make a subtle change all you want. The dude has talent and can go inside the squared circle. He and Swagger both had big nights on Smackdown. Zeb Colter is surely proud. Who knows what will happen come Elimination Chamber? Right now, Smackdown is firing on all cylinders…and Cesaro/Swagger were the main stars on Friday night.
Question from Q Continuum: "Is Bryan in a better spot on the card now thanks to CM Punk?"
I think so.
Daniel Bryan has smoothly transitioned into a feud with Kane (and Triple H). If you knew nothing about the backstage happenings, it would barely be noticeable. Now because Punk is gone, that leaves an open spot for the top of the hour time slot. That would usually be for CM Punk. Top of the hour for Raw. Top of the second hour for Raw. Main event of Raw. That would be for Punk more often than not. Well, not anymore.
There are so many comparisons to Punk walking out to Stone Cold walking out. When Steve Austin left, Vince McMahon gave a giant speech about guys stepping up and showing some ruthless aggression. John Cena, Batista, Brock Lesnar, and others all debuted in 2002 (before and after Stone Cold left). In that same breath, did you all see John Cena's promo from Raw? If not, go back and find it. He spoke about the young guys coming up and his feud with Randy Orton pretty much ending. Guess what? The Wyatts are doing great work. The Shield have always been entertaining, with Roman Reigns looking to break out on his own as a face. Cesaro just had an epic night on Smackdown. Guys see that with Punk gone, there is a spot open. That includes Daniel Bryan.
When one door closes, another opens…
Statement from I dont know: "Ratings and merchandise so far say that CM Punk is a much bigger draw than Daniel Bryan."
Well, your user name sure does fit.
I kid, I kid.
Daniel Bryan has been (nearly) on top for a year? Maybe less? CM Punk has years on him. Whether fans want to accept it or not, Bryan was overshadowing Punk during the second half of 2013 and into the beginning of 2014. Ratings, merchandise, and all that will be determined down the road. Just based on buzz and attention, Bryan has moved right past Punk on the pecking order.
Statement from The Dude: "Cena and Edge fans wouldn't have been upset because they weren't advertised, you're right… But that's because they were supposed to be injured and not on the card at all. Bryan WRESTLED earlier that night. Everybody knew he was there and able to go. Completely different."
Yawn. I am done with this topic. The fact is fans got into their ultra super hyper FANTASY BOOKING mode and wrote Daniel Bryan in as the Royal Rumble winner..and did not get it. Boo hoo! Cry me a river. As R-Truth used to say: "Don't boo me. You should be booing yourself."
Statement from Tony Kegger: "I don't think the Lawler, Cole, JBL sound byte was leaked by anyone internally. I think it came from the satellite feed. I don't know how they do it, but some people can use the satellite feed to access the same stuff the people in the WWE Production Truck are seeing like hard camera footage of the ring and live audio from the announcers' headsets before RAW starts.They know how to do it before Smackdown too."
Fair enough. Still funny how this happens once in a blue moon and it just so happened to be about the guys making comments about fans chanting for CM Punk. Of allllllllllllthe things to get out from alllllllllll the shows, it is that 30 second clip. Right.
Green Bay Raw
Well, reports have it said that the Green Bay episode of Raw is sold out. Congrats to the great fans from Wisconsin! Sadly, the same can not be said for Smackdown the following night in Milwaukee. There are plenty of tickets available and also a "2for1" deal was introduced last week. Not a good sign for ticket sales. For those wondering, CM Punk and John Cena were advertised for the show months ago. Now in the middle of February? Not anymore! No Punk. No Cena. Daniel Bryan and Sheamus are the top names advertised. Yeah.
Raw Tweeting On February 24th
Speaking of the Green Bay episode of Raw, I will be on Twitter for the full three hours watching and tweeting just like all of you. For the first time ever. Ever! For those who know me, my laptop and phone are OFF whenever I watch football, wrestling, etc. Since I know how huge February 24th will be for WWE (network launch, legends returning, WrestleMania XXX build, etc.), look for me on Twitter during RAW. From 7pm through 10pm. Start to finish. Interact with me. Tweet me. Discuss wrestling with me. This will be the first time ever I do this and could be the last. You never know. Do not miss out on this opportunity!
What do you folks think? Comment below with your thoughts, opinions, feedback and anything else that was raised.
Email: jw_bball_615@hotmail.com | Twitter: @JustinWatry