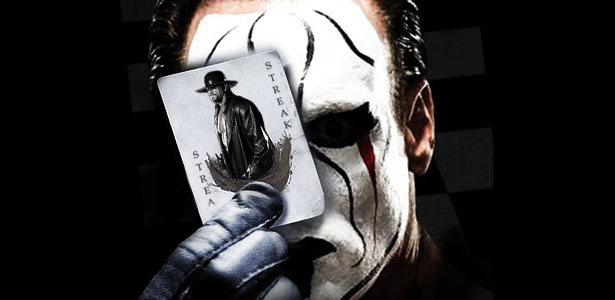 Wrestling legend Sting recently spoke with Mirror.co.uk to hype his involvement in the upcoming WWE 2K15 video game. Sting spoke on a variety of topics, including why he decided to finally work with WWE after all these years, if he's interested in joining the WWE Hall of Fame, memories of his former tag team partner The Ultimate Warrior and his desire to wrestle The Undertaker at WrestleMania 31. Here are the highlights of what Sting spoke about:
Finally Working With WWE: "Why now? It's a now or never thing. I've done so many things in the wrestling business but the one thing I'd never done was wrestle or be a part of the WWE family I didn't want too hang it all up and retire and disappear again without having done that in some capacity."
Joining The WWE Hall Of Fame: "Obviously it would be a great honour to be inducted into the WWE Hall of Fame. It's nothing that I would say no to, that's for sure."
Memories Of The Ultimate Warrior: "Now I can look back and realise just how amazing it all was. It's remarkable really that both of us ended up taking it all as far as we did."
"It would seem like every three, four, five years or so we'd bump into each other. He called me twelve years ago, he needed some help with some stuff and of course I was there to help him out as much as I could. We never really kept in contact, but it was always friendly when we did. With his resurgence with WWE I was really looking forward to reconnecting with him again, and maybe even working with him in some capacity through WWE."
Wanting To Wrestle The Undertaker: "I've made it clear I'd love to have one last hurrah, one last big match hopefully. And of course I've been outspoken about Undertaker being the opponent. I know what happened at Wrestlemania where Brock Lesnar broke his streak. I think, or at least I'm hoping, that Taker's still going to come back and that he's not done. If he's not done, and he would consider doing it, I'd love to work with him one time.
"I'd love to wrestle him one time before I call it quits. Undertaker maintained a status in wrestling and the WWE that is second to none. He's a phenomenon,"
"How about San Francisco, 2015, in April?"