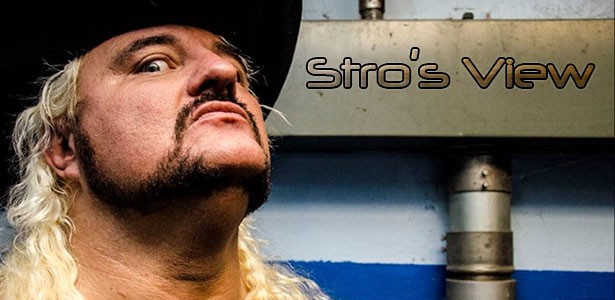 Welcome everyone to another edition of Stro's View. Huge weekend for Professional Wrestling this weekend . The WWE Hall of Fame and Wrestlemania 30! Have a special interest in this year's Hall of Fame as a few people I have wrestled with and worked with in the past will be getting inducted. Lot's to talk about so let's get started!
2014 WWE Hall of Fame:
Ultimate Warrior
One of the most popular icons in WWE history has finally made it to the Hall of Fame. The once knowned "Blade Runner" tag team partner with Sting and "Dingo Warrior". His unique interviews, his energy, charisma, and strength brought him to the top of the mountain in the WWE winning at one time becoming both Intercontinental and WWE champion with a victory over another historically popular Hall of Famer WWE Icon Hulk Hogan. His induction this year rings true with his saying to his fans. "Always beleive."
Razor Ramon / Scott Hall
My former USWA tag team partner. My fellow WCW/NWO alumni. My buddy Razor Ramon/Scott Hall. Before I met Scott. I was a big fan of his from his early days tagging with Dan Spivey as "Starship Coyote", his time wrestling with CWF from Florida, his run in the AWA teaming with Curt Hennig , and his stint in WCW as "The Diamond Studd". Saw a match down in Puerto Rico he had when I first saw "The Razor's Edge" finisher. Thought at the time that was one of the most innovated finishing moves I had seen. "The Bad Guy" became Intercontinental champion in the WWE and to this day people still talk about the historic ladder match he had with Shawn Michaels at Wrestlemania 10. Remember Dutch Mantell (WWE's Zeb Colter) telling me he thought at one point Razor was gonna be WWE champion at the time. He certainly had all the tools. Him and Kevin Nash would later come to WCW and along with a turning Hulk Hogan made history forming the infamous "New World Order".
Hall was great at coming up with the catch phrases and charismatic style. He put me over to the office and stuck up for me in WCW. Will never forget that. Scott has recently used DDPYoga to turn his life around. Now "The Bad Guy" is "Hall Good". Proud of you buddy!
Jake "The Snake" Roberts
Wow. Where do I begin? Longtime good friend. Former AAA (Mexico) tag team partner. Mentor. Great wrestling mind. Great booker. All around legend. Master psychologist. That's my buddy Jake. I remember first watching him in World Class Championship Wrestling, CWF in Florida, Mid-South, and his Georgia Championship Wrestling cliche with the Road Warriors and his feud with Ronnie Garvin. One of the most popular WWE Icons of the 80s and later one of the most hated villains. His low key voice in interviews would force you to listen to every word while his eyes would look into you through the camera. I have always felt he would be one heck of an actor for films. I have wrestled with him, against him, learned from him, starved with him, traveled with him, and kept out of trouble with him lol! He has accomplished so much in the Professional Wrestling business through the years. Talking to him is like sitting at the learning tree. He has helped so many guys through the years including myself. So many more could learn from him. It is only fitting that my buddy and fellow WCW Alumni, the man who thru DDPYoga helped turn Jake's life around, Diamond Dallas Page would induct "The Snake" into the Hall of Fame. Inspiration. Love ya man!
Lita
I first saw Lita at a show some years back in Fayetteville, NC. Back then she had a presence and a style of her own that stood out. Then a few years later, she would join WWE and skyrocket to stardom. Dazzling the crowds with her acrobatics and athleticism. She helped bring the Women's division in the WWE to another level. Congratulations Lita and welcome to the Hall!
Paul Bearer/ William Moody
One of the greatest managers ever! First became a fan of his back when he was known as "Percival Pringle III" or just "Percy Pringle". Remember him managing Rick Rude in World Class Championship Wrestling. He has managed some of the greats in the Wrestling business. The Undertaker, Kane, This year's WWE Hall of Famer The Ultimate Warrior, WWE Hall of Famer "Stone Cold" Steve Austin, WWE Hall of Famer Mick Foley, WWE Hall of Famer Blackjack Mulligan, "The Missing Link" Dewey Robinson, The Spoiler, Eric Embry, The Great Kabuki, Vader, Matt Borne, Lex Luger, Koko B. Ware, Kamala, Jack Victory, and The Assassin to name a few. A very nice man as well. He is missed and loved.
Carlos Colon
Have had the pleasure of wrestling down in Puerto Rico thru the World Wrestling Council with the Puerto Rican legend. Mr. Colon has a lot of history most notablely with his legendary feud with Abdullah The Butcher which they also competed in the NWA's first Starrcade '83 event. Known for his signature cartweel and version of the figure four leglock. Congratulations Mr. Colon and welcome to the Hall.
Mr T.
The 80's American icon is getting inducted this year Teamed up with Hulk Hogan in the first ever Wrestlemania. Easily recognized for his trademark mohawk. Famous for his roles as "Clubber Lang" in Rocky III and " Sgt. "B.A." Baracus" in the A – Team. First saw him busting through doors in the tv show "America's Toughest Bouncer". He gave up all his gold, one of his identifying marks, after helping with the cleanup after Hurricane Katrina in 2005. Mr. T is also a brother in Christ. God bless you sir and welcome to the Hall! "I pity the fool!"
Wrestlemania Predictions:
Pre-Show
The Usos defend the WWE Tag Team championship in a Fatal 4-Way against the Real Americans, Ryback/Curtis Axel, and Los Matadores
This should be an action packed matchup. The Usos are an exciting team to watch and have had some great matches with the New Age Outlaws and the Real Americans. Ryback and Curtiss Axel have been holding their own and its great to see Los Matadores back in the mix. Should be fun to watch.
Stro's pick: The Real Americans
Andre The Giant Memorial Battle Royal
This has a lot of possibilities. A good opportunity for a young star to make their mark at Wrestlemania. On paper, The Big Show looks like on obvious pick. But we shall see.
Stro's pick: Dolph Ziggler or Cody Rhodes
Vickie Guerrero Diva's Championship Invitational
So now all of AJ Lee's challengers are coming after her championship at once, including her "bodyguard" Tamina. This should prove pretty interesting. Can AJ hang on to the title or will we see a new Diva's champ?
Stro's Pick: AJ Lee
The Shield vs. Kane and the New Age Outlaws
The Shield takes on "The Authority" henchmen. The Shield at one point seemed to be on the verge of dissention but now as of late are on fire with their solid teamwork. Three extremely talented young stars. Kane and the NA Outlaws bring experience and power to the table. Who will end up getting "justice"?
Stro's pick: The Shield
John Cena vs. Bray Wyatt
What a year for the Wyatt Family! Their eerieness and unorthodox demeaner has brought in a whole new dimension to WWE. The feud with John Cena has me intrigued and very much looking forward to this match. Should be solid!
Stro's pick: Bray Wyatt
The Undertaker vs. Brock Lesnar
So looking forward to this one! Big fan of both these greats! Lesnar and Taker both use MMA submissions in their arsenal as well as both are very solid. This should be a wild one!
Stro's pick: Undertaker
Triple H vs. Daniel Bryan
What a year for Daniel Bryan! Amazing how the people have opened their arms to him. Triple H has been the perfect antagonist with the Authority. Both are very solid wrestlers . Hunter has the experience and size edge. . But the "Yes Man" has so much drive now! This one should be a classic!
Stro's pick: Daniel Bryan
Randy Orton vs. Batista vs. "Daniel Bryan" for the WWE World championship
Batista's comeback hasn't been very popular, but he has made a quick rise to the main event with his Royal Rumble victory. Randy Orton has been a stronghold being WWE World champion. With the addition of the exciting Daniel Bryan, this should be a very hard fought championship match. Strength, Aggression, and Energy. Whomever comes out the victor in this one will have earned every bit of it.
Stro's pick: Daniel Bryan
Will be on set this week for a film inspired by the 1980's movie "Trancers" in "Trancers Paradox". You can find out more at trancersparadox.com. Will be appearing on an upcoming horror series soon as one of the ghosts called "The Invited". This fall will be in the film called "The Hollow Oak" as one of the witch hunters. You can see the teaser trailer for The Hollow Oak here. A new promotional poster has been put up of me as "Jacob" in the upcoming movie "Dracula's War" that you can check out here.
Upcoming Appearances:
This Saturday April 5th
Trans-South Wrestling at Union Fairgrounds in Union, SC
7:30pm
April 19th
UPWA at the National Guard Armory in Shallotte, NC
April 25th
BWF at Hampden Sydney College in Hampden Sydney, Va
April 26th
Ellenboro, WV at Ritchie Co. High School for IWWA
7:30pm
April 27th
IWWA at Craig Civic Center in Kingwood, WV
1:30pm
Thank you for taking time out to read Stro's View.Enjoy Wrestlemania weekend! Strength and Faith World. God bless.
Stro
TheStro.com
About The Stro: The Stro is best known for his appearances with World Championship Wrestling under the ring name The Maestro. Stro has also wrestled for independent promotions such as the United States Wrestling Association, Smokey Mountain Wrestling and the World Wrestling Council.