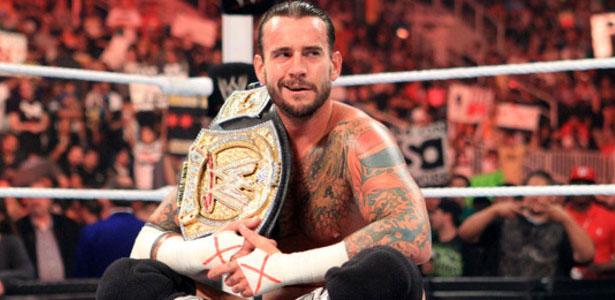 This week marked the end of an era in WWE and most casual fans likely don't even realize it. CM Punk hasn't been seen in the flesh on WWE television since Kane dumped him out of the Royal Rumble match on January 26th. Punk met backstage with Vince McMahon and Triple H the next night and, whatever his reasons, he went home. It wasn't until this week that his contract, believed to have been signed in Chicago only hours before his famous Money in the Bank match with John Cena, expired, thus making him a free agent for the first time since 2005.
On Tuesday, Punk posted the following message on Twitter after the hashtag #ThankYouPunk began trending as word spread of his contract expiring:
"Nope, thank YOU. Thanks for all the help and support through the years. Health and happiness above all. Don't ever take any shit from anybody."
Everyone has their opinion on whether or not Punk made the right choice walking out the way he did. In Punk's eyes, it was the right choice. Personally, I think you suck it up and, as per the agreement you signed, work through your contract. Even Steve Austin, no stranger to walking out on Vince McMahon before, warned Punk that he would live to regret his decision. Fast forward all these months later and I don't get the impression Punk regrets anything at all. You know what, good for him. We should all be so lucky to live our lives the way we want, free of worry and full of hockey and ice cream.
Instead of analyzing the many potential reasons for Punk's departure (which nobody but Punk and a handful of others actually know), I thought it would be better to single out five of Punk's greatest WWE matches that really represent the kind of performer he is, or was given that he considers himself retired. Some are obvious while others you may have forgotten about, but all are worth going out of your way to see.
PUNK VS. JOHN MORRISON, ECW TITLE (9/4/07)
I would argue the first truly great match Punk was a part of during his WWE run came as part of the company's ECW brand. I never counted myself a fan of Vince McMahon's vision of what ECW should be, but one good thing that came from it was the emergence of Punk. He and Chris Benoit had been scheduled to compete for the vacant ECW Title at the Vengeance PPV in 2007, but due to Benoit's no show (nobody knew he was dead at the time), the soon-to-be John Morrison subbed for him and won the title. He and Punk would feud over the title through the summer until Punk finally captured the gold with the GTS in this excellent 20-minute match. It gets overlooked, but it shouldn't.
PUNK VS. ALBERTO DEL RIO VS. THE MIZ, TLC MATCH (12/18/11)
The month before this match, Punk had beaten Del Rio to regain the WWE Title, kicking off a memorable run of 434 days as champion. While Punk would be relegated to "second from the top" status as champion on many PPVs in 2012, playing second fiddle to stars like John Cena, Brock Lesnar, Triple H and… John Laurinaitis (?!), he had the main event all to himself against Del Rio and Miz at TLC with Cena off the card. Punk shined, as did Del Rio and Miz, and the three delivered one hell of a match. That said, it would be unfair not to include Ricardo Rodriguez in that praise as he took an INSANE bump off a ladder from inside the ring through a table on the outside. Somehow, he survived, as did Punk who retained his title. This is another match that doesn't get the recognition it deserves.
PUNK VS. DANIEL BRYAN, WWE CHAMPIONSHIP (5/20/12)
A dream match of sorts for fans familiar with each man's exploits on the indy scene, Punk and Bryan squared off for the title at Over the Limit, their first in a series of matches that later involved AJ Lee (err, Mrs. Punk). Bryan had lost the World Heavyweight Title to Sheamus in 18 seconds at WrestleMania that year, and rebounded with an excellent best of 3 falls match with the Irishman at Extreme Rules. Meanwhile, Punk was busy building a resume of great performances, even if he still wasn't getting the recognition he deserved (this was the show headlined by the aforementioned Johnny Ace). Simply put, these two had a fantastic match that had the crowd in the palm of their hand. The finish with Punk rolling out of the "Yes Lock" to score the pin while simultaneously tapping out to the hold was a great way to give Bryan some much-needed credibility and, more importantly, keep their feud going for a couple more months. Some will say their Money in the Bank match in July, with AJ as referee, was better, but as a pure wrestling match, I'd give the nod to this one.
PUNK VS. BROCK LESNAR, NO DISQUALIFICATION (8/18/13)
As much of a fan as I am of Brock's battle with John Cena at Extreme Rules the year prior, THIS was his best match since returning to WWE after an eight year absence. In fact, it was my Match of the Year choice for 2013, and it was a match many people couldn't take seriously because of the size difference between the competitors. Newsflash: THIS IS PRO WRESTLING. There are no weight classes. If built up properly, you can make anybody believe, and on this night, Punk and Lesnar turned lots of people into believers. They had a hard-hitting, intense brawl that had me on the edge of my seat and fully invested in the story they were trying to tell. And in the end, The Beast overcame The Best (great marketing, by the way). The right person won.
PUNK VS. JOHN CENA, WWE CHAMPIONSHIP (7/17/11)
After taking him for granted for far too long, WWE nearly loses Punk as he threatens to walk away from the company when his contract expires. Wisely, they incorporate this real-life drama into the storyline to help build to a showdown in Chicago, Punk's hometown, with the company's biggest star, John Cena, for the WWE Title. You couldn't write a better story (and surely, were it not for the real-life theatrics going on behind the scenes, WWE's writing team would not have) and for everything to come together the way it did, from the infamous pipebomb promo and legit not knowing whether Punk would re-sign, to the deafening ovation from his hometown fans, to the match itself, to Punk winning the title and exiting through the crowd to sticking the belt in his refrigerator that night (true story), it was magic. Easily one of the greatest matches in WWE history, bar none. Sure, they had great matches at Summerslam and Night of Champions that year, not to mention a fantastic #1 contenders match on Raw last year, but none could come close to matching the epic nature of this one. The sad part is, this really was the apex of Punk's popularity in many ways. Sure, he was a made man after this match and was popular right up until the day he walked out, but I always felt they cooled him off too quickly by rushing him back on TV and having him lose to Triple H in a match that makes even less sense looking back on it years later. Still, if you've never seen this match, drop everything and go watch it now. If you've already watched it, then go watch it again. Not just the match itself, but the opening video package, the entrances, the aftermath, ALL OF IT. It's everything that pro wrestling should be.
I don't know why CM Punk left WWE, but I sure am glad he stopped by. Here's wishing him a happy retirement.
For now.
What do you think? Comment below with your thoughts, opinions, feedback and anything else that was raised.
Jason Solomon has been host of the "Solomonster Sounds Off" wrestling podcast since 2007, which can be heard weekly on TheSolomonster.com, Stitcher Radio and iTunes! Follow him on Twitter @solomonster.