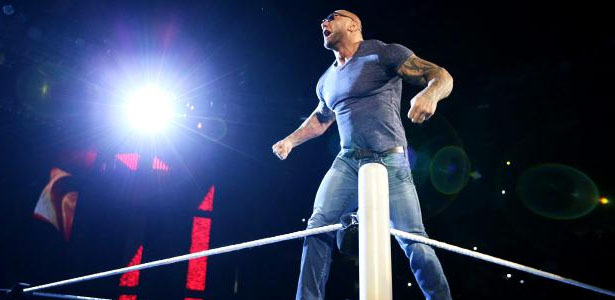 Did Batista return to be Champion, a heel, or both?
First a rib-crushing spear, next slammed shoulder first into the ring steps, finally a disgusting powerbomb through the announcers' table.
More frightening, the worst has yet to happen.
Dave Batista dismantling Alberto Del Rio was simply laying foundation. Their upcoming one-on-one match-up at Elimination Chamber could be groundwork for re-introducing one of the most heinous villains WWE audiences have seen in years. And it's not Del Rio. A victory by Batista could serve as a prelude, the return of an unfriendly "Animal" in truly barbaric fashion.
The emotional build-up began with Batista's heroic return to RAW before the Royal Rumble. Welcomed back by Triple H, he immediately confronted his other former Evolution mate – WWE World Heavyweight Champion Randy Orton. WWE has made frequent note of the three men had a winning alliance, and how each their desires to be Champion caused it to decay.
After leveling Triple H at WrestleMania 21 Batista has had one single focus: be champion. Anyone who witnessed Batista's rise through WWE titles ranks would agree he would do anything to be, or remain, champion. He's won the 2014 Royal Rumble match, his title shot at WrestleMania XXX is set; as are all eyes on his true personality and agenda.
At one point during his first WWE run Batista was forced to choose between the title and his friendship with former tag partner Rey Mysterio. The high flying, multi-time champion luchador didn't stand a chance of topping The Animal's choices. He destroyed Mysterio in a sickening display of uncontrolled aggression.
Those who witnessed Batista's angered antics once the Rumble cameras stopped rolling again saw his true colors. The ovation he received for battering Del Rio may have fallen on def ears. Realistically, no amount of cheers will make a bit of difference. The day could be coming when Batista is truly unleashed as a terrorizing, nearly unstoppable heel.
His first few heel turns were in assistance to other Superstars – first Brother Devon Dudley, then Triple H and Rick Flair. Batista flourished under guidance of The Game and The Nature Boy. With them his development happened, shaping him into "The Animal". Once Batista sided with the fans he was happily aggressive. The raging good guy. He won titles, had some great feuds, and became a megastar along the way. He no longer needed to rest in anyone's shadow. He was casting one.
As his star power grew Batista stood alone as a force. While watching him you believed he would dominate his opponent like no one else could. Devastate them.
This same raging good guy returned on RAW to put Del Rio in his place, setting up their Chamber clash. This beating was part of a much bigger picture still developing. Do you remember Batista's now famous attack on Matt Hardy? He hurled him forcefully into a cage-covered wall after sneaking up behind him. What stood out during the assault was Batista's facial expressions and mannerisms; each were totally villainous. Those same expressions surfaced while he attacked Del Rio.
All told, Dave Batista is an Animal that was trained to be bad. So cheer while you still can but make no mistake, he's coming for the WWE World Heavyweight Championship. And he's going to barbarically dismantle any and every opponent he encounters along the way to getting it. Once he has it, though, he'll showcase how unfriendly he can be to keep it.
What do you think? Comment below with your thoughts, opinions, feedback and anything else that was raised.