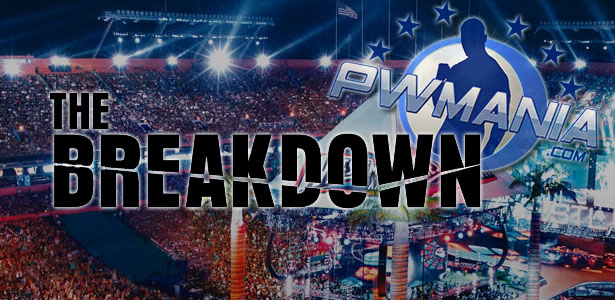 I'll never let you down, I'm a shine on sight
Keep your mind on your grind, and off mine's alright? Right
Hard I'm a ball on them squares I float
Quarter million dollar cars everywhere I go
I know in the lead it may seem they might be
But no matter what they doin', they don't do it like me
Like a G I hold it down for the town I'm at
And I flash like that
Recognize I'm back!
What's good PWMania? I'm Rey Ca$h, and this is The Breakdown. Another crazy week in the sports entertainment world. While WWE has the majority of the major news, this week has had some major TNA news, so I'll be delving into that in Headlines. As always, one of the main reasons I write is because I love to debate, so you can leave a comment below. As you guys may have noticed, I respond to every one I get. I'd also like to add that if you want to follow me on Twitter, I'm at @itsreycash and you can email me at reycash88@gmail.com. I know I don't look like I do much on Twitter, but I check it frequently.
Headlines
Hulk Hogan staying with TNA (Full Story)
The biggest negotiation in the country is finally finished. No, I'm not talking about the Government Shutdown being over. Hulk Hogan has decided not to sign with WWE and re-sign with TNA. Apparently, it simply came down to more money. TNA offered more, while WWE wasn't willing to offer as much. Hogan had been advertised for Bound for Glory, and while those ads have been taken down, it's totally possible that he will appear tomorrow at TNA's biggest Pay-Per-View.
At this point in Hogan's life, money is his number one motivator. After being taken for damn near everything he had by his ex-wife Linda, that's understandable. But I fail to see what else he can do at TNA. He's not really involved in Creative, he's not an active wrestler, and Dixie has taken over the authority role. That money is something TNA could've saved, as their profile with him at the helm was no different than before. Another thing that is striking is that apparently what Hogan will make in TNA, The Rock and Brock Lesnar make in 1 match. Goes to show that the playing fields aren't as close as we thought they were.
Larry Zbyszko says TNA stars are on food stamps (Full Story)
"The Living Legend" Larry Zbyszko had an interview with WGD Weekly, where he just let it all hang out. He said some controversial things about Sting ("…Sting who was one of the luckiest men who ever lived, Sting couldn't do a good interview, he couldn't work good. We had to drop him from the ceiling for a year and dress him like the crow and not let him say a word to get one big match out of him…") and Eric Bischoff ("….Eric, who listened to a couple guys, pulled something off, then took credit for it, but everything he's been involved in since sinks because he doesn't know and won't listen…"). But what undoubtedly took the cake was his assertion that half the TNA roster is on food stamps because the pay is so low.
I don't know that this is true, although I firmly believe it is possible. The food stamp rumor started when Jesse Neal "joked" that he had to get on food stamps to survive at OVW, but it was also reported that Madison Rayne was paid $300 an appearance when she was Knockout's Champion just a few years ago. For a company that only recently started doing house shows and tapes 2 episodes of Impact a night, that's no way to make money. He also said that Bob Carter, Dixie's father and owner of Panda Energy, has given up on TNA because it loses so much money, and Dixie's mom is in charge of the money. TNA is definitely having problems. That leads me to this…
TNA cancels upcoming Impact tapings (Story 1) (Story 2)
Cancelling television tapings for any reason other than catastrophe is the first mark of a dying wrestling company. TNA has cancelled it's December 5th tapings in Chattanooga, TN for reasons that have not been mentioned. Also, the November 21st tapings Baltimore are up in the air due to bad ticket sales, and the December 19th taping, rumored to be in Texas, could possibly be cancelled too.
I'm not trying to bash on TNA. As many mistakes as they've made over their tenure, and trust me it's a lot, I still enjoy their product and there's a need for a second national wrestling company. But you can't tell me that this isn't the end. First there are rumors that wrestlers aren't getting paid, then they cut a bunch of good, necessary talent to sign washed up older stars, then the purse strings are supposedly cut, and now television tapings are being cancelled. Did TNA recently sign the Grim Reaper too?
TNA negotiating a return to the Impact Zone (Full Story)
While this is TNA's only move, it's a move backwards and one that will hurt them ultimately. Aesthetically, TNA looked inferior to even Ring of Honor because they wrestled in the same venue with the same fans every show. Moving from city to city, while costly, helped them look like a bigger and better company, and most of the crowds have been pretty good. With all of the money problems TNA is having, moving back to the Impact Zone will help, but they'll go back to looking small time, which will hurt their perception in the wrestling world.
TNA is not an independent wrestling company. They are a major wrestling company with major stars and a major television deal…wrestling in a second rate building every time. TNA has more money than ECW could dream of, and even ECW did different arenas. Add all their problems to the fact that ratings are going down, and the build to Bound for Glory has been horrible which will probably lead to bad ratings, TNA might not make it to 2015. And that would be a shame.
Ca$h's Corner
Let's get to some WWE, shall we? I've been hearing a lot of complaints about this current Authority storyline. I've heard that Daniel Bryan isn't the main protagonist for Triple H, nor is he as hot as he once was. I've heard that Big Show has taken Bryan's spot. I've heard that The Shield are being buried, and yes, I've heard that it's Triple H who's burying them and everybody else. So, because I'm a nice guy, I'm going to give you a rundown of this current storyline, involving everyone relevant, where they are, how they got there, and why. Let's have some fun, shall we?
Daniel Bryan
Daniel Bryan is the be all end all of this storyline, contrary to popular belief. He started all of this when Vince, Stephanie, and Triple H didn't believe in him due to his size and look. Whether fans like this or not, this has been the knock on Bryan his whole career. He was finally given an outlet to bring his flaws to the light and let him show that he can overcome them. And yes, he's done just that. He's won the WWE Championship twice (clean both times, by the way), ended practically every episode of Raw since July, and put on amazing performance after performance.
Here's where the sentiment is a bit skewed. Most people compare Bryan to Austin because of their feuds with the company, but Bryan is more like Foley. Someone who was being overlooked due to every other reason than their talent. People are mad that Bryan isn't mad and angry, yet he's shown that he is when it called for it. But, why should Bryan be angry when he's consistently winning the war. All odds are against him, yet he still wins almost every match. He gets constantly beat down, yet he always gets back up. Most importantly, every title match he's been in, he's either won or been in position to win before the no contest. Why should he be mad? His issue with Hunter isn't personal. It's a business disagreement, which has involved a lot of people.
Daniel Bryan is a made man. He's far exceeded what even he thought he'd accomplish. He's consistently the most over performer in the company, and despite what most of you think, will be at the top of the card for the rest of his tenure. Had Bryan just won the title at SummerSlam and just gone on about his business, he wouldn't be as made. The slow burn with Bryan failing to beat the odds to finally getting over on the Authority was paramount for his ascent.
Triple H and Stephanie
Here's the true beauty of this storyline that goes over most people's heads. Everything about this storyline brings to life the true feelings that most fans feel about each person. A lot of fans feel like Bryan is too small to be the face of the company. Almost EVERY fan feels like Triple H buries talent and only cares about himself. To everybody's credit, they've played their parts perfectly, with Triple H and Stephanie McMahon taking the honors. Hunter and Steph have honed in on the fact that they know a large contingent of fans hate them, and played on what they hate about them. They've had the entire roster on the stage watch Daniel Bryan get beat down 4 on 1. They've fired wrestlers for no reason. They've completely humiliated and taken advantage of the Big Show. And yet, when you hear Triple H explain why, he actually makes sense. It's beautiful heel work, and something fans have forgotten about. The face is not supposed to be victorious every time, and The Authority has shown that true heroism comes through adversity. Bryan, Big Show, and the Rhodes' are heroes in the eyes of the fans now because of their perseverance in the face of true adversity.
Randy Orton
The Randy Orton/Triple H coalition makes so much sense on so many levels. Triple H brought Orton up in Evolution. Triple H has feuded extensively with Orton, so he knows what he brings to the table. Orton has shown that he'll do whatever it takes to get the job done, seen by his harassment of the McMahon family a few years ago. And, in the eyes of the fans, Randy Orton has been seen as close to the equal of John Cena. Orton is a chiseled Adonis (pause), with a perfect tattoo palette and perfect size and movement. He has a devastating finishing move and is amazing in the ring. Orton, at his best, is simply dominating. Hunter knows this better than anybody, and picked Orton to be his guy. He's taken a backseat in the feud at the beginning because the story between HHH and Bryan needed to be set. Now that HHH and Stephanie are so intertwined in all of the stories as oppressive bosses, now the Orton/Bryan story can get personal. You're seeing this with the introduction of Bryan's fiancé, Brie Bella, into the feud. Everything makes sense, and everything has a purpose.
Big Show
Big Show has been the wild card in all of this. Show is best utilized as a fun loving big man who loves his job and relates to people. Show is legitimately funny and has the best facial expressions in the business. Also, with his "iron clad contract" storyline, he was up to be abused. Show showed displeasure in how Bryan was being treated, but due to massive financial troubles, Big Show needed his job. Due to his "iron clad contract," Show had do to what he was told or be in breach. Henceforth, Show became an unwilling mercenary for the Authority, knocking out everyone from Daniel Bryan to Dusty Rhodes. Each week, fans were begging more and more for Big Show to have had enough and stick up for himself and his fellow wrestlers. Eventually, he had all he could take and knocked out Randy Orton, which caused him to be fired. Ever since, Show has foiled the Authority at every turn. Another case of exquisite storytelling.
The Shield
If I were to explain the Shield to a non-wrestling fan, I would describe them as young newcomers posing as a police force for what they believe to be perceived injustice. That police force comparison couldn't be better, as in this storyline, The Shield have been the personal security force for The Authority. From physically protecting Triple H and Stephanie to wrestling numerous matches for them, The Shield have done it all. While consistently being with Triple H and in the main event on every show, their profile has risen as well. Even in losses, The Shield are dominant and made to look like stars.
The Rhodes Family
Probably the only new star made out of this storyline, Cody Rhodes has moved to the top of the card with the resurrection of his brother, Goldust. Seriously, am I not the only one who is super impressed with Goldie in his return? Dude is taking all of the heat (positive heat, kids) from Cody! Anyway, Cody was fired for speaking his mind on Triple H and Randy Orton's misdoings (Cody and Randy having beef is beautiful storyline remembrance). Cody was then booked in a match in which he lost, losing his job in the process. Goldust, not currently employed with WWE, pleaded for his brother's job back. He was given a match also with Orton, and lost. Dusty Rhodes, both men's father and GM of NXT, pleaded for his son's jobs back, and was knocked out for his troubles. The family was being oppressed because of a longstanding feud between the McMahon's and the Rhodes, one that Stephanie seemed to ooze passion for. Cody and Goldust then were given an opportunity to get their jobs back by beating The Shield, which they did, and just Monday, won the Tag Titles as well (thanks to the Big Show). Cody and Goldust have never been so hot.
Others have been involved as well, such as Dolph Ziggler (who had to have pissed somebody off backstage), The Miz (who clearly is in the midst of some sort of freshening up), Alberto Del Rio, and John Cena (the latter who's injury caused this whole storyline and who will return to face the former for the World Heavyweight Championship at the upcoming Hell in a Cell PPV.) Fans clamor for longer storylines, more wrestling, better stories, new stars, and edgier content. This Authority storyline (along with the congruent yet separate CM Punk VS Paul Heyman storyline) has given you all of this and more. Slow burns must be passé now, because years ago, it was the norm. Sting didn't wrestle for over a year in his chase of Hulk Hogan. Yet it took 2 months for the Big Show to knockout Triple H, and people said it took too long?! We have to remember that this is entertainment, and we need to take our time in enjoying it. The company is in a great spot, and it's only going up from here.
Quick Hits
Cody Rhodes and Goldust win the Tag Team Championships. If you didn't enjoy this match, stop watching wrestling. (Full Story)
Bray Wyatt is injured. Wyatt hurt his leg in a match at a house show. For now, his feud with The Miz will still continue, Wyatt will just cut promos and let Harper and Rowan do the dirty work. Bray will be out for a month. (Full Story)
James Storm is planning a reality show. True story, I hated this idea until I wrote my TNA headlines. Now, the more I think about it, this is a great idea for Storm because God knows he isn't getting good money from TNA. I hate reality shows, but I respect the hustle. Get your money, Cowboy. (Full Story)
Backstage heat is on Eva Marie. This is hilarious news for numerous reasons, but mainly because just two weeks ago, management reportedly loved Eva Marie because she carried herself like a star. Now, that same "swag" has given her heat because she hasn't earned anything yet. She is a major part of the Total Divas show, but I'd feel for her if she was a valet. She signed to wrestle, and she thinks she's ready but she's clearly not. In fact, I was fine with them humiliating her in a match on Raw because nobody watches the Diva's matches on Raw anyway, so let her see how it feels to really suck when it really matters. Still, this is much ado about nothing. (Full Story)
Taryn Terrell is pregnant. If you wondered why there are only a handful of Knockouts in TNA, this is one of the reasons. Congrats to Taryn and her pregnancy. (Full Story)
Chris Jericho has no plans to return to WWE. Filed under "news that shocks absolutely nobody," Chris Jericho is focused on Fozzy and has no plans to return to WWE right now. Will this stop being news? It seems like we get a Jericho update, a Rock update, and a Goldberg update every week. Speaking of Goldberg… (Full Story)
WWE is trying to get Goldberg VS Ryback for WrestleMania XXX. WWE ran Goldberg packages during Ryback's match on Raw, and Jerry Lawler acknowledged the Goldberg chants. Naturally Goldberg thinks he's too good to wrestle Ryback, but he's apparently considering the return. (Full Story)
Low Ki announces his retirement. This is sad, but definitely not shocking. Low Ki is a tremendous wrestler, but a grade A pain in the ass for every company he's ever worked for. Still, it's sad he's retiring so soon, although we all know how wrestling retirements go. (Full Story)
Triple H VS Big Show is rumored for Survivor Series. I know most of the IWC will shit on this match, but I'd pay GOOD money to see this. Show is the best actor in the WWE, and has done a masterful job of getting sympathy, while Triple H has cemented that he's the best heel of the past generation. Add into the fact that HHH has apparently stripped Show of his wrestling name, and this should be a great spectacle. (Full Story)
Xavier Woods is being used in the Big Show petition storyline. I've explained this before, but the reason I love what WWE is doing right now is because this "Authority" storyline involves everyone. Even NXT's Xavier Woods. He started a petition to get Big Show…I mean Paul Wight reinstated. Apparently, this is supposed to be a way to get Woods to the main roster. Then, it'll definitely be Morphin' Time. (Full Story)
Ric Flair is rumored to have finished rehab. With Kurt Angle, Scott Hall, Sean Waltman, and Jake Roberts sober, nobody needs rehab more than Ric Flair. These are all speculative rumors, but Flair supposedly finished a rehab session this week. This can only be good for the Nature Boy. (Full Story)
Big E Langston turns face on Smackdown. One thing most of you know about me is that I'm an avid supporter of NXT, and if you watched, Big E was an amazing face on the show. Add in his amazing sense of humor seen on his Twitter page, and I see no reason this can't work. All he needs is 5. (Full Story)
Jersey Shore star says she had to call Dixie Carter to get her check. Angelina, AKA the Jersey Shore bitch nobody cared about, didn't get her check when she appeared for TNA 3 years ago. I would lament TNA for this, but I wouldn't pay her either. (Full Story)
Mr. Anderson is returning to TNA. Looks like he might come back as early as tomorrow night at Bound for Glory. Bully Ray, look out. (Full Story)
The PG product is paying off for WWE. No news item I've covered in the month I've been doing this has pleased me more. I hope to God some of you guys will see this and get the big picture. Life, wrestling especially, is much more than cussing and blood and guts and sex. With its PG initiative, WWE made a $7.4 from corporate sponsorships. This year, the number should be over $20 million. Get the picture guys. (Full Story)
WWE shares it's feelings on Indy and smaller guys. Apparently, they feel that they have enough "small guys", and they don't want to sign someone in that mold unless their special. So, that eliminates Davey Richards and Eddie Edwards for now. Also, with the WWE Performance Center, they don't want to get experienced Indy talents and have to get rid of bad habits. They want to be the be all, end all of wrestling. Like it or not, they've earned it. (Full Story)
A leaked memo surfaces from Vince, Stephanie, and Kevin Dunn. Long story short, it sucks to be an announcer in WWE. Wait, can I say the word announcer? (Full Story)
Morality clauses are in WWE contracts now. Evidently, if you did anything you'd be ashamed of going public before you sign with WWE, you'll be passed over. For a billion dollar company with shareholders to report to, this is massively understandable. (Full Story)
Scott Hall talks about wrestlers using steroids. Scott sees no big deal with wrestlers using steroids. Scott, I love you. Just keep quiet on this front. (Full Story)
Chavo talks about what Eddie Guerrero would think of the current state of wrestling. More importantly, Chavo needs to talk about how much he sucks and he's living off of his uncle's legacy. (Full Story)
John Morrison has been in talks with TNA. While this would undoubtedly be a GREAT move for TNA to sign him, the real news here is that JoMo called TNA "a really cool startup company." There's no doubt this is the LOL of the week! (Full Story)
#ReyMysterioback. Rey made his much anticipated return in a tag match in Mexico with Sin Cara against Wade Barrett and Alberto Del Rio. He seemed to be in good shape, but he was favoring his knee. (Full Story)
Jesse Sorensen is now working for Ring of Honor. All that needs to be said is that I now have a reason to watch Ring of Honor. Good for Jesse Sorensen. (Full Story)
Results
WWE Monday Night Raw
October 14, 2013
St. Louis, MO
Randy Orton def. The Miz
Fandango def. Santino Marella
Los Matadores def. 3MB
Ryback def. R-Truth in a Beat the Clock Challenge
The Real Americans def. Tons of Funk
Tamina Snuka def. Brie Bella
CM Punk def. Intercontinental Champion Curtis Axel in a Beat the Clock Challenge
World Heavyweight Champion Alberto Del Rio def. Daniel Brian via count-out
Cody Rhodes def. Seth Rollins and Roman Reigns to become the new WWE Tag Team Champions
WWE NXT
October 16, 2013
Orlando, FL
NXT Tag Team Champions The Ascension def. Corey Graves and Adrian Neville
Tyler Breeze def. CJ Parker
The BFFs def. NXT Women's Champion Paige and Emma
NXT Champion Bo Dallas def. Sami Zayn
WWE Main Event
October 16, 2013
Kansas City, MO
US Champion Dean Ambrose def. Dolph Ziggler
Tons of Funk and Santino Marella def. 3MB
Damien Sandow def. R-Truth
The Great Khali def. Fandango
WWE Superstars
October 17, 2013
St. Louis, MO
Damien Sandow def. Kofi Kingston
Dolph Ziggler def. Big E Langston
TNA Impact
October 17, 2013
Tulsa, OK
Robbie E. def. Christopher Daniels, Eric Young, and Hernandez
TNA Tag Champion Gunner def. Knux
Samoa Joe def. Chris Sabin
TNA World Heavyweight Champion Bully Ray def. Magnus
WWE Friday Night Smackdown
October 18, 2013
Kansas City, MO
The Wyatt Family def. The Miz and Kofi Kingston
Brie Bella def. AJ Lee
CM Punk def. Big E Langston
The Usos def. The Real Americans
WWE Tag Team Champions Cody Rhodes and Goldust and Daniel Bryan def. The Shield