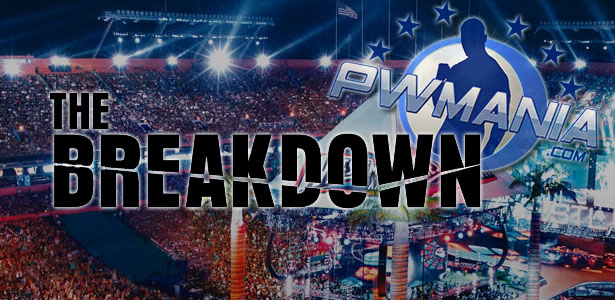 I'll never let you down, I'm a shine on sight
Keep your mind on your grind, and off mine's alright? Right
Hard I'm a ball on them squares I float
Quarter million dollar cars everywhere I go
I know in the lead it may seem they might be
But no matter what they doin', they don't do it like me
Like a G I hold it down for the town I'm at
And I flash like that
Recognize I'm back!
What's good PWMania? I'm Rey Ca$h, and this is The Breakdown. We're getting a lot of feedback in the comment section below, and I really appreciate that. It's fun to debate with you all. I'd also like to add that if you want to follow me on Twitter, I'm at @itsreycash, you can also comment below and email me at reycash88@gmail.com. I know I don't look like I do much on Twitter, but I check it frequently.
Before we get started, I'd like to give my thoughts and prayers to the family of Adrian Peterson and PWMania's owner, Andy. They both had losses in their families, and I'm praying for both of them. Anyway, let's jump in, shall we?
Headlines
WWE Battleground had a power outage (Full Story)
WWE just had their second pay-per-view in 3 weeks with Battleground, headlined by the WWE Championship match between Randy Orton and Daniel Bryan. Both men had been embroiled in a major feud, over both the championship (which was currently held in abeyance) and being the face of the WWE. Before the main event started, however, all feeds cut off to the pay-per-view. Apparently in the arena, all WWE power was off, including the massive TitanTron and the stage set.
Anybody think back to Halloween Havoc 1998 when this happened? I waited for a few minutes and immediately tuned out, although I didn't pay for the show. This is probably the worst thing that could happen to WWE at a live show. Not to mention, WWE is heading to the Superdome in New Orleans for WrestleMania XXX, which is the home of blackouts. I'm a Ravens fan. Trust me, we know. Anyway, I'm absolutely sure this was an anomaly, but still, it's something that will make WWE that much tighter on their preparation. With over 300 live shows a year, I'm shocked this doesn't happen more.
#JohnCenaback (Full Story)
There are three things certain in this life. Death, taxes, and you don't mess with the Dudley's. Since the Dudley's are broken up, let's add a new third certain thing, shall we? John Cena is going to shatter rehabilitation times. Cena has been announced to return at WWE Hell In A Cell to face Alberto Del Rio for his World Heavyweight Championship, just 2 months after having triceps surgery.
The fact that Cena continues to come back so quickly from major injuries is amazing. Some will say that he has…help…but I just think it's a mixture of WWE overselling his injuries and his work ethic. Even the biggest Cena detractor admits that he has a legendary work ethic, so it's not out of the realm of possibility that he just pushed himself to heal quicker.
More importantly, he's back as an active member of the roster and in the World Heavyweight Title picture. I see no downside to this. If Cena wins the title, the championship's prestige is instantly raised. He also stays out of the WWE Title picture and perceivably away from Triple H and the "Authority". Not to mention, he gives Alberto Del Rio a legitimate feud. He could also lose the match. Alberto Del Rio has spent years putting over how vicious his Cross Armbreaker submission is. John Cena just had major arm surgery. The story writes itself. I'll delve deeper into this in Ca$h's Corner.
RVD finished with WWE for now (Full Story)
When Rob Van Dam made his return to the WWE at Money In The Bank, it was rumored that he signed a special deal which gives him 90 days on and 90 days off, or some juxtaposition of that. Well, his 90 days on are up. RVD did an interview with WWE.com saying that he's taking some time off, and that it's not for him physically but mentally. He is rumored to comeback to set up a feud for WrestleMania.
RVD has been utilized perfectly in his comeback. He's gotten great ovations from crowds, had some good matches, put over Alberto Del Rio twice, and even played a part in the "Authority" storyline. At his age and availability, he's in that Jericho role where it makes no sense for him to do anything more than that. His time off isn't something to be worried about, because there's no doubt he'll be back. He had the TNA vacation package, and that's something I'm sure he doesn't ever want to do again.
Michael Hayes suspended by WWE (Full Story)
For years, Michael "PS" Hayes has been rumored to be somewhat of a dick in his role as head producer and formerly as one of the head creative writers. He's supposedly been racist to Mark Henry and Bobby Lashley, and been inappropriate to some of the Divas. Well, he's been suspended for allegedly drinking with Rosa Mendes after she took off time for having a drinking a problem.
At the very least, Hayes should've been suspended. From a corporate standpoint, this is huge black eye on the company. WWE goes out of their way to send one of their female talents to rehab to fix an addiction problem, and one of their corporate employees with some power drinks with her. That's a horrible thing for investors and stock holders to see. From a personal standpoint, that's a massive dick move. I don't know anything about this story personally, but to me, it sounds like he was trying to get her drunk. That's bullshit, because with her history with alcohol abuse, we all know what could've happened next. Fuck you Michael Hayes for doing that. I really hope I'm wrong about all of this.
Kurt Angle is back and wrestling at Bound for Glory (Full Story)
Kurt Angle received a DWI a month or so ago and was sent to rehab, halting a storyline that he was in the middle of. While in rehab, it was announced that Angle would be the second inductee into the TNA Hall of Fame. He was also reported not to be wrestling at Bound for Glory. Well, those reports were wrong, as Angle is coming back to take on EGO's Bobby Roode in a rematch of their 2011 match.
I really, really hope Kurt is healthy. Kurt is one of those guys who needs to be in the ring, and that's why I worry about him. I have no doubt that he'll make the match great and give his all, but is he mentally ready to do that? I was all for Kurt getting inducted in the other Hall of Fame (seriously, how was Jeff Jarrett not inductee #1?!), and I was hoping for an appearance. But I didn't not want to see an Angle match. Now, we've been given one with Bobby Roode, who he has no reason to wrestle other than EGO mocked a Hall of Fame induction for Roode. I hope Kurt knows what he's doing.
John Cena says that losing to The Rock at Mania 28 is his biggest failure (Full Story)
On ESPN2's Dan LeBatard is Highly Questionable, JohnCena was asked what his biggest shame in his career was. He promptly said that it was losing to the Rock in the main event of WrestleMania 28. LeBatard and co-host Bomani Jones quickly asked how a predetermined result could be disappointing. Cena responded by saying that there was a lot going on that day, and basically he thought he would leave the night with a win.
I understand Cena's frustration. Rock hasn't wrestled for almost 10 years. Cena has been there those 10 years working his ass off the keep the company afloat. If I were Cena, I'd expect that Rock would come back to put me over. Nonetheless, Rock didn't. More importantly, it seems that there was some type of creative dispute involving that match. That is something I would love to hear one day.
Ca$h's Corner
My fellow PWMania writer, George (he writes FATP – From Across The Pond), wrote an impassioned plea to fans to convince them that John Cena doesn't deserve his World Heavyweight Championship match at Hell In A Cell. Not only that, but he adamantly hates Cena and wants him gone. I wrote a long response to him on his column feedback, but I'd like to expound a bit here. Thanks George for the inspiration.
I am in no way a John Cena mark. I love wrestling; I love the business of it, the pageantry of it, the spectacle of it, and the athleticism of it. To me, John Cena personifies all of these aspects of wrestling, or sports entertainment. Am I naïve to the fact that Cena has flaws? Not at all. Cena isn't the most refined in ring performer, he audibly and lazily calls spots in his matches, and his superhuman comebacks in matches can't solely be attributed to the producers helping to create the match. I also understand the fact that most fans are tired of John Cena stale, as he's pretty much had the same "gimmick" for years. I get all of these complaints, as none of them are truly wrong. But an unmitigated fact is that John Cena is integral to the WWE.
That's the understatement of the year, I know. But we often take for granted how important Cena is to the business of the WWE. We, as fans, only care about half of the business; the in ring portion. That's fine, as we pay our money and our time to earn that right. But there are numerous other people who pay attention to the other aspect of the business that we fans don't care about. Such as the over 300 kids who John Cena has unselfishly devoted his time to just to provide that kid with their (sometimes dying) wish. Or the Susan J. Komen Foundation, who help in some way all of the over 200,000 women in America with breast cancer. Or how about his passion for the US Military, which he proudly displays with his salute before his matches, the dog tags he wears everywhere, or the many times he's traveled to numerous military bases, both here and abroad.
These things may not matter to the average fan, which is totally understandable, but they are imperative not only to the business of the WWE but their affiliates who need Cena's popularity and dedication. For a man who wrestles almost every house show as well as most tapings and very pay-per-view, he makes a great effort to dedicate a good portion of his life to helping those less fortunate.
So, let's talk about the other half of the business that Cena is massively hated in; the in ring portion. Many of you would point out that he has been massively stale for the better portion of a decade. I'd be inclined to agree with you, while pointing out to you that most of the top guys in history have been the exact same. To be globally known, like Cena is, you have to have some form of repetition so that the masses can relate to you. Something that Flair, Hogan, Michaels, Hart, Undertaker, Austin, Rock, HHH, and to a lesser extent Bryan and Punk have excelled at. I'm pretty sure you're formulating how I'm dead wrong with that assessment, but I ask you, how long has the Undertaker been the deadman? He has portrayed that gimmick from 1990 until now, barring the 4 years he was a human biker version of his deadman gimmick. I hear nobody complain about this, yet Cena is attacked? Flair has been the wheelin', dealin', kiss stealin', limousine ridin', jet flyin' son of a gun for 5 decades. Hulk Hogan has changed absolutely once in his career, turning in to Hollywood Hogan, which he was off and on from 1996 to 2002. Austin was a number of different gimmicks until finding gold with Stone Cold, which he has been consistently since 1996. The Rock has been a face or heel version of the same person: a loud, cocky, humorous jock. The only updates Rock gives his character are new catchphrases. Yet John Cena has been a rapper (2002-2004), a military enthusiast (2004-2008), and a hero to kids since then. Cena has been mostly the same guy his entire career, but he has made changes to his gimmick periodically. The issue is that he hasn't made them for you. They've been for the people who need and love Cena the most: the kids.
All I've said so far should show you, whether you agree or not, how asinine it would be if Cena turned heel. The business is so much bigger than a character. Cena means so much to so many people, much like Austin did in 1998 as the anti-hero who fought his boss and the system, or Hogan in 1988 who told kids to say their prayers and eat their vitamins. Can you imagine Hogan turning heel in 1990? Austin siding with Vince in 1999? That would be how ridiculous it would look if Cena turned now. They have built numerous charitable campaigns with him at the helm.
Cena is also attacked for his in ring inadequacies. I'd be the first to admit that Cena is not consistently great in the ring, although he has shown that when the lights are brightest, he shines. John has a horrible habit of playing the face in peril only to effectively no sell his opponent's offense once the comeback was made. That's something undoubtedly Hogan nor Austin nor Taker nor Rock would've done. Wait…
In 2013, Cena is an important figure in WWE. CM Punk has been seen as the closest thing to an equal since Edge. We have also seen the ascension of Daniel Bryan, which unless your IQ is 5, will most assuredly continue to happen. Punk and Bryan are great wrestlers and engaging characters, but they don't have the mass appeal that Cena does. Cena was on Good Morning America, ESPN, and numerous other media outlets just a few days ago. Can you see Punk or Bryan representing the company in that manner? Hell, can you see them wanting to?? Punk refuses to wear suits to press conferences! (By the way, while I'm not a Cena mark, I am a Punk mark. For the record.)
If you don't like Cena, great. I support that. You have every right to love or hate who or what you want. Hell, you could hate me and this column. That's fine. But if you hate Cena, you're hoping for WWE to fail. Cena is the reason that guys like Punk and Bryan can be who they are, because Cena does the things that Punk and Bryan can't and won't do. All Bryan has to do is worry about wrestling. Punk can take time off if he wants to. Cena will continue to do the grunt work for the company while other guys can work their way up to that top spot. There's plenty of room where Cena is. The others just have to want to be there next to him.
Quick Hits
Shawn Michaels the Special Referee for the main event at Hell In A Cell. WWE 1 IWC 0. As much outrage as there has been over two PPV main events ending in no contests (totally ridiculous by the way), WWE pulled their trump card and finally put Michaels in the storyline. Michaels, his history with Bryan, his feuds with Orton, his friendship with Triple H notwithstanding, and the allure of the cell and a WWE Champion (finally!) should make this match a must see. (Full Story)
Big Show was fired and knocked Triple H out. Patience my friends, patience. I don't get something. Many of the IWC bitches and moans that WWE makes storylines too short and doesn't take their time. Then, they do the opposite and stretch them out. And some of you are saying that the knockout of Triple H was too late?? Man, just appreciate how great it was. (Full Story)
AJ Lee sent home from Raw due to concussion like symptoms. This is a legitimate concern, because of how small she is, and because she's the diamond of the Diva's division. Let's hope she returns soon because the division needs her. (Full Story)
Vickie Guerrero enrolled in college. I really hope nobody finds this funny, because I wholeheartedly support her. There's a life after wrestling, and for her to want to get her degree while being a mom and working the most time consuming job around; I totally commend her. (Full Story)
Daniel Bryan pranked the crew of Total Divas. Bryan said in an interview that the camera crew of Total Divas knew he was going to propose to Brie Bella on their hike, but they didn't know when. He had them follow them the entire hike, understandably exhausted, and then sprung the proposal on everybody. That's terrific! (Full Story)
Happy Birthday Eddie Guerrero. Rest in peace and power. We love you. (Full Story)
Road Dogg taking Michael Hayes spot? The worst might not be over for Michael Hayes. Road Dogg has been gaining experience in Hayes's spot, working with Triple H on booking issues and live events. With Hayes's checkered past, this could make him finally expendable. (Full Story)
Damien Sandow turning face? Apparently, WWE wants to turn Sandow face to win the World Heavyweight Championship. That's an absolutely horrible idea. Ever met someone you liked that threw in your face that they were smarter than you? (Full Story)
Ethan is in TNA. Obviously, it's a slow TNA news week. But anyway, Derrick Bateman made his first appearance as Ethan Carter III, apparently a huge douche. Maybe Bateman has finally found a character he can sink his teeth into. (Full Story)
The reason why Stephanie has been selling her stock. If you haven't seen, Stephanie McMahon has sold about 1/3 of her WWE stock, which is valued at about $8.3 million. Apparently she wants to build a house. That's gonna be one big ass house. (Full Story)
The Miz wants the World Heavyweight Championship. This is perfect on so many levels. Somebody actually wants the WHC, Alberto Del Rio has been floundering with no real feuds, John Cena is coming back for that title…looks like we might have two credible world titles again. (Full Story)
CM Punk taking time off before WrestleMania XXX? I can't think of a top star in recent memory who keeps more reoccurring injuries than Punk. That's not a knock on him, it's just something I've realized. But, with Bryan, Cena, and possibly Big Show as the top faces for the time being, this would be the perfect time for him to take 2 or 3 months off. (Full Story)
UFC admits they copied they WWE business model. Co-owner Lorenzo Fertitta admitted that they used the live event and business model that WWE perfected. It's not shocking by any stroke of the imagination that they did that, but it's pretty shocking that they admitted it, given how much they don't want to be compared to WWE. (Full Story)
Let's talk about some returns, shall we?
Hulk Hogan – Hogan had an interview where he said that Triple H said they'd welcome him back with open arms, but he's still in talks with TNA. There might be something in the cards for WrestleMania XXX if he signs with WWE. (Full Story)
Kane – See No Evil 2 has finished filming, so he's scheduled to return tomorrow. (Full Story)
Rey Mysterio – Mysterio is scheduled to return on the upcoming tour of Mexico. (Full Story)
Christian – Christian stopped by NXT and mentioned that he's still not medically cleared to return. (Full Story)
Goldberg – WWE is thinking of angles for a Goldberg VS Ryback feud just in case Goldberg decides to make a return to WWE, which apparently, he's thinking about. (Full Story)
Match of the Week
The Rhodes Family vs. The Shield – Battleground
Antonio Cesaro vs. Leo Kruger – NXT
Results
WWE Battleground
October 6, 2013
Buffalo, NY
Dolph Ziggler def. Damien Sandow
World Heavyweight Champion Alberto Del Rio def. Rob Van Dam
The Real Americans def. Santino Marella and The Great Khali
Intercontinental Champion Curtis Axel def. R-Truth
Diva's Champion AJ Lee def. Brie Bella
Cody Rhodes and Goldust def. Tag Team Champions The Shield
Bray Wyatt def. Kofi Kingston
CM Punk def. Ryback
Randy Orton and Daniel Bryan wrestled to a no contest for the WWE Championship
WWE Monday Night Raw
October 7, 2013
Pittsburgh, PA
Dolph Ziggler def. Damien Sandow
Natalya, JoJo, and Eva Marie def. Alicia Fox, Aksana, and Rosa Mendes
Los Matadores def. 3MB
CM Punk and R-Truth def. Intercontinental Champion Curtis Axel and Ryback
Randy Orton def. Kofi Kingston
Ricardo Rodriguez def. World Heavyweight Champion Alberto Del Rio
Fandango def. Zack Ryder
The Real Americans def. Santino Marella and The Great Khali
US and WWE Tag Team Champions The Shield def. Daniel Bryan, Cody Rhodes, and Goldust
WWE NXT
October 9, 2013
Orlando, FL
Antonio Cesaro def. Leo Kruger
Charlotte def. Santana Garrett
Mojo Rawley def. Danny Burch
Alexander Rusev and Scott Dawson def. Enzo Amore and Colin Cassidy
Rob Van Dam def. Aiden English
WWE Main Event
October 9, 2013
Columbus, OH
3MB def. Tons of Funk
Tamina def. Aksana
Big E Langston def. Zack Ryder
WWE Superstars
October 10, 2013
Pittsburgh, PA
Big E Langston def. Justin Gabriel
Tamina def. Kaitlyn
TNA Impact
October 10, 2013
Tulsa, OK
Austin Aries def. Jeff Hardy
ODB def. Jesse by disqualification
Brooke def. Velvet Sky
Sting and Magnus def. Bad Influence
AJ Styles def. Aces and Eights
WWE Friday Night Smackdown
October 11, 2013
Columbus, OH
Intercontinental Champion Curtis Axel def. R-Truth
Los Matadores def. El Locals
The Funkadactyls and Brie Bella def. Eva Marie, Natalya, and Kaitlyn
World Heavyweight Champion Alberto Del Rio def. Damien Sandow
The Great Khali and The Prime Time Players def. 3MB
Cody Rhodes and Goldust def. The Wyatt Family