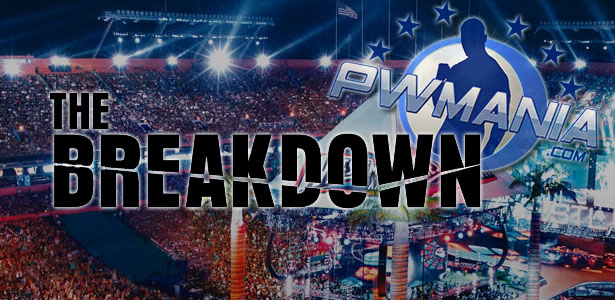 I'll never let you down, I'm a shine on sight
Keep your mind on your grind, and off mine's alright? Right
Hard I'm a ball on them squares I float
Quarter million dollar cars everywhere I go
I know in the lead it may seem they might be
But no matter what they doin', they don't do it like me
Like a G I hold it down for the town I'm at
And I flash like that
Recognize I'm back!
I have to admit, I'm one of those guys who says I told you so. I'm told that I have good advice and I believe that I have a pretty good outlook on things, being able to separate myself of my personal feelings from situations to give an honest, unbiased assertion of things. So, predictably…
I TOLD YOU SO!!!
You all watched Raw. You all saw the Championship Ascension Ceremony. You all saw the massive reaction for Daniel Bryan, the masterful promo by John Cena, the angst of Triple H, the hilarious apathy by CM Punk, and the extremely underrated promo by Randy Orton. More importantly, you ALL saw the melee that happened after. Orton sucker punched Cena, then the former champions tried to break the fight up, Orton punched Punk who punched Orton back, Triple H pulled off Punk, Punk hit HHH who went to the floor, Shawn Michaels superkicked Punk, Bryan hit his running knee kick on HBK, and Orton tried to hit Bryan with an RKO until he was pushed into an innocent Stephanie McMahon. Masterfully done.
More often than not, WWE gets it right. If you work under the parameters that the WWE works under, everything makes sense. And I get that one statement pisses the majority of you off, but every entertainment venue asks you to do the same. Star Wars asks you to accept that there are Jedi and the Force. The Walking Dead asks you to believe that the zombie apocalypse has happened. So, the WWE asking you to be a part of its universe is totally understandable. In that universe, you can still be a main eventer and not be fighting for the championship. Ladies and gentlemen, Daniel Bryan is still a main eventer. He has been this entire time, and it didn't take a raucous hometown crowd to show you or the WWE that. Those that think otherwise completely perplex me.
There's one big bow that has been tied on everything here. Daniel Bryan is in a storyline against the Wyatt Family that stems from Bray Wyatt wanting Daniel to join his family. CM Punk is in a storyline against the Shield pitting former allies against each other. Both factions have ties to the Authority. The Shield are the Authority's security force, and The Wyatts are rumored to be working in some form with or for Triple H and Stephanie. While people seem to think that Bryan and Punk were away from not only the title scene but their issues with Triple H, Monday's Raw showed that it's quite the contrary. Everyone can't be in the title scene, but someone can have more than one feud at the same time. Now, with a new Unified Champion on the horizon, the WWE is in their prime period of the year. They now have 4 viable main event singles acts, two viable stables, a plethora of interesting and talented tag teams, and 4 legends who could still wrestle at their disposal. This doesn't even include the mid card, which now involves former champions like Alberto Del Rio, The Big Show, Rey Mysterio, Dolph Ziggler, and the soon to return Sheamus.
Just because a story isn't interesting to you doesn't mean it's bad. The story of Daniel Bryan's rise has been critically panned by most fans, yet the guy is a 2 time World Champion since August, and is now one of the top guys going into WrestleMania season. The WWE is in a great place, and trust me, it isn't only just because of the great segment Monday night.
On a quick tangent, I'm going to Booker T's independent promotion's biggest show of the year, Christmas Chaos, tonight. The Usos, Michael Cole, Shelton Benjamin, and The Boogeyman are all scheduled to appear. I'm also going to TLC Sunday night. It's a great time for wrestling and a great weekend for me. I plan on having a recap of both events for you guys. So look forward to that. Thanks for reading everybody.
Feel free to post your thoughts, opinions, feedback and comments below.
The Review Portion Of The Breakdown Returns Next Saturday.