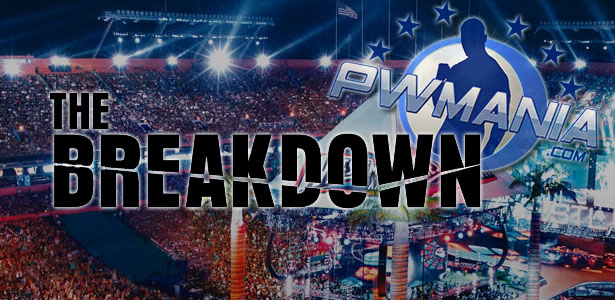 What's going on PWMania.com fans! They call me Rey Ca$h, and I've been brought on to give you a weekly recap of sorts. I'm going to give you a good mix of news, opinions, and horrible humor. I hope you guys enjoy. Let's dive right in, shall we?
Headlines
Major TNA Departures
Recently, rumors have been that TNA is in financial trouble. Their live shows on the road haven't been doing the numbers they thought they would do, and the company has been in the midst of cutbacks. Just this past week, Ken Anderson and Mickie James parted ways with the company. On top of the two being some of the company's bigger names, Anderson was just the Vice President of the Aces and Eights, and Mickie James was the TNA Knockouts Champion.
Also, Hulk Hogan is rumored to possibly be on the outs of the organization. Hogan is the most expensive talent on the roster, and given the fact that he doesn't wrestle and his association with TNA has not proven to help their popularity, the two sides are thinking about parting ways. Add in AJ Styles, and his contract being up in December, and TNA has some serious problems on their hands.
I want TNA to succeed, but somebody has to draw for them. Kurt Angle and Sting are at the end of their careers, Samoa Joe, E.G.O, and James Storm have been extremely mismanaged, and as great as Bully Ray is as a heel, they need to have that top transcendent star. Magnus was thought to be it, but it will take some extremely good and lucky booking to get him to that point. Nonetheless, TNA may come to regret some of these personnel moves in the near future.
Stone Cold says he doubts he'll ever wrestle again
For years, people have wanted Stone Cold to wrestle one more match. The buzz grew tremendously with his back and forth with CM Punk on and off of WWE television. Recently, Stone Cold was on the MMA Hour podcast with MMA/Wrestling Journalist Ariel Helwani. He stated that his issue with coming back for one more match would be the aftermath. He mentioned that it took a solid three years to get the pro wrestling bug out of his system, and he would worry about "what's next" after the match. He also mentioned that if he were to come back, it would take a rigorous three-to-four month train regimen to get his timing and conditioning back to where he would want it.
I think it's time to give up on the pipe dream. So many former wrestlers have left the business too late and have faced dire consequences in their retirement. Austin is one of the few who not only is in tremendous shape, but is fairly successful in his endeavors outside of wrestling. While I would love to see him make a return, it's making less and less sense for all parties involved. Plus, I want to remember him how he was at his peak. His legacy is cemented, and he's still valuable to the WWE, but as a character and not a wrestler.
Jim Ross and his clash with the WWE
For years, Jim Ross was the voice of the WWE. On top of that, he has held many hats in the backstage businesses of the company, most notably the former Executive Vice President of Talent Relations. Nonetheless, Jim Ross retired from the WWE a few weeks ago. Reports now are surfacing that Jim and Vince McMahon's relationship has been strained for some time now, and it stems from the fact that JR gives his unfiltered opinion to Vince. Reports also say that Triple H, a huge Ross supporter, has done his best to look out for JR for as long as he could until the inevitable split occurred.
I love and respect JR for what he's done, but his time has come and gone. He can still give a great deal to the business, but his time at the announce booth needs to be over. The WWE is moving into a new generation and JR is at the end of his best days. Michael Cole is a very good announcer, despite all of the hate he gets online. Cole will never be accepted if JR keeps being brought back to call matches.
I think that it's totally ridiculous that Vince doesn't like JR due to him standing up to him (considering reports that Vince appreciates people who have opinions), but I'll never put anything past Vince. However, as much as JR may have loved WWE, he was being held back on what he could do. This split was perfect for both parties, and as we've seen with numerous other controversial figures, a return is always in the cards.
Dolph Ziggler is not a draw in WWE's eyes
Dolph Ziggler has been poised to be a breakout star for some time now. He's a former 2 time World Heavyweight Champion, former Money in the Bank winner, held numerous mid card championships, and is easily one of the best in ring performers in the company. After his face turn in the summer, Dolph has been lauded as the next Shawn Michaels. Unfortunately for him, numerous reports say that the WWE does not see him as a draw in their eyes.
I don't think that there is anyone in the entire WWE who has had more unbalanced booking over the past few years than Dolph Ziggler. The guy has been one of the most consistent performers on the card for some time now, and has amazing potential. But more than anything, Ziggler has an unfiltered mouth. In numerous interviews, Ziggler has spoken his true feelings on his booking, Cena's spot, the direction of the company, and so on. No matter how good you are, if you can't be trusted in the wrestling business, you won't be successful. The most popular dissenter of the current generation, CM Punk, never bad mouthed the company until his (company approved) pipe bomb promo. If Ziggler wants to be a champion, he needs to act like one in and out of the ring.
The Rhodes Brothers invade Raw
The Rhodes family storyline has been one of the top storylines as of late. Cody Rhodes was fired, Goldust was humiliated, and Dusty was knocked out. While Triple H and Stephanie have seemingly done their best to make the Rhodes' life a living hell, Cody and Goldust finally fought back. On Monday's Raw, Cody and Goldust attacked the Shield from the crowd. They were immediately taken into security custody and removed from the building. On his weekly "State of the WWE" interview, Triple H formally invited Cody and Goldust to Raw for a "business proposition." Cody and Goldust accepted via Tout. I'd like to expound on this a bit more in Ca$h's Corner.
Ca$h's Corner
Too often, we as fans metaphorically kill the creative team. If our favorite wrestler isn't pushed, it's their fault. If we don't like a storyline, it's their fault. They're probably the reason for the Syria conflict, seeing as their to blame for everything else. My heart goes out to those guys. I realize that they've had a LOT of failures and mistakes, but they've done so many positive and great things. A creative writer for WWE is much like a referee in major sports. They don't get credit for doing good, and they get amazing blame and hate for doing bad. I said all that to say this; they have been on fire as of late. The more you guys get to know me, you'll see that I am pro-WWE almost to the point where I've been lauded as a WWE apologist. Nonetheless, now so many people are starting to see what I see.
There are so many great storylines going on in WWE, and it all revolves around Triple H and Stephanie and their reign of terror. It's been so long since we had a legitimate, truly hateable top heel that it's refreshing to see. The true positive of this story is that it's all encompassing; practically the whole roster is involved. Daniel Bryan is getting the push of a lifetime, accruing two WWE Championship reigns and literally main eventing every Raw for the past two months. The Big Show is being set up for either a huge face turn or a dominant heel run as the Corporate enforcer; either way, that dude is easily the best actor on the roster. The Shield have taken their "hounds of justice" routine to the extreme. They are now the security force for the Corporation, and they have arguably received more shine than Daniel Bryan through all of this. Every major face on the roster is getting a rub from this. Dolph Ziggler, Rob Van Dam, Miz, The Usos, The Prime Time Players, Kofi Kingston…hell, Zack Ryder is back on TV! But right now, I want to focus on my favorite part of this storyline: The Rhodes Family.
While the Bryan storyline gets top billing and the Big Show one is the most emotional, the Rhodes storyline is the one that is turned out to be the best. The WWE has found a way to make Cody Rhodes feel like a star, Goldust relevant again, and Dusty Wodes…er Rhodes important. When Cody was fired by Triple H, the reaction from the crowd and subsequent promo made the fans take notice. Every week since then, a member of the Rhodes family has been prominently featured. Goldust returned to get retribution for his brother, and had a fantastic match against Randy Orton. Dusty Rhodes showed up to try and get his son's job back, and had a fantastic promo battle with Stephanie McMahon and a truly emotional moment when the Big Show had to knock him out to save him from the Shield. Even on NXT, Dusty was fired as General Manager.
This past Monday on Raw, the Shield were placed in an unprecedented 11-3 elimination handicap match. As they made their entrance, two guys from the crowd jumped the rail and attacked them. It turned out to be Cody and Goldust, and the crowd went wild. As of today, Cody, Goldust, and Dusty have accepted an invitation to this Monday's Raw to listen to a "business proposition" from Triple H. Through all of this, all of the Rhodes have been elevated in the eyes of the fans.
I think this entire storyline is genius. The Rhodes/McMahon family history has been well documented, with Dusty and his NWA/WCW ties and Vince and his tyrannical reign of the WWE sowing the seeds for their children to feud. For years, all you heard on the internet was that the WWE needed to create stars other than John Cena and Randy Orton. Well, over the past two years, CM Punk and Daniel Bryan have become genuine main event talent, and with this storyline, Cody Rhodes is primed to possibly join them. The issue with Cody was always two things: a genuine gimmick to connect with fans and a sustained focus from the creative team. He's always had a good, albeit skinny look and was a really good talent in the ring; he finally has the opportunity to become huge in the eyes of the fans. People are begging for him to stand up to Triple H and Stephanie, and with the help of his brother, he has the ability to do it.
Every now and then, you have to give the creative team some credit. They might not always do what we want, or do it when we want it, but they come through more often than not. We're in a position where we have amazing talent in NXT that is the future, a new stalwart in the main event (Daniel Bryan), a renewed focus on the tag team and Diva's division, and a gamut of up and coming stars that are poised to break out. Cody Rhodes has the best chance to do it.
Quick Hits
Eva Marie is seen as a star in the eyes of the WWE. She is definitely beautiful, and while she hasn't shown much talent so far, she can't be worse than half of the Diva's we have now.
TNA is possibly moving to Las Vegas. I think this is a tremendous idea. While I thought it was important for TNA to try bigger markets, it was more important that they get away from the Impact Zone in Orlando. Vegas gives you a tremendous niche market, a plethora of tourists, and a market all to their own.
Adam Cole is the new ROH champion. He won the title by defeating Michael Elgin in the main event of Death Before Dishonor XI. Jay Briscoe presented him with the championship and Cole superkicked him in the back of the head, then proceeding to hit Elgin with the title. It was most definitely a Cole day in Hell for ROH.
Kharma is possibly returning to the WWE. She says that "all parties" are in "Gorilla," leading many to believe that a return is inevitable. She also has a slimmer look, which hopefully will give her a fair chance to have a legitimate run in the WWE this time.
CM Punk was recognized by Sports Illustrated as one of the Top 100 Athlete Tweeters. I could not cosign this more. Punk is engaging and hilarious on his Twitter; just don't say something stupid or with bad grammar. Speaking of Twitter, follow me @itsreycash. I promise I'll start tweeting…eventually.
Johnathon Coachman is open to a return to WWE. For those of you not aware, Coach works for ESPN. He guest hosted the Mike and Mike Morning Show and said that he'd welcome a return if the opportunity was there.
An update on The Rock and The Undertaker's WrestleMania possibilities. WWE is possibly planning for Ryback, led by Paul Heyman, to take on the Undertaker and possibly end the streak. As far as the Rock, WWE is under the belief that he won't come back for Mania. Knowing both men, both are very unlikely.
Sheamus rumored to come back as a heel. When he returns from his injury, there have been talks of him returning to his origins. I don't know how I feel about this, with his work with the anti-bullying campaign and his potential as a face.
Chris Jericho says D-Generation X hated him and criticizes the Bound for Glory series. Nothing Jericho says surprises, as he says that DX hated him when he debuted and he didn't feel comfortable with Vince until his return in 2008. He also says that the Bound for Glory series is totally illogical, something 99% of fans completely agree with.
The Godfather says he's returning to the ring full time. If you haven't heard from him lately, it's because he's been too busy managing a strip club in Las Vegas. He's truly a man who lives his gimmick.
Daniel Bryan and Brie Bella get engaged. These two have been together for three years, and Bryan finally popped the question on a hike this week. Congratulations to the future Mr. and Mrs. Bryan Danielson.
John Cena invites Jimmy Fallon and Justin Timberlake to WrestleMania. If you're not aware of it, Fallon and Timberlake's comedy as a duo is hilarious. Cena asked them to come and do one of their "#hashtagmania" videos. Fallon agreed, telling him to ask Justin.
Ryback was told by WWE to basically not have a life outside of wrestling. This is a perfect example of the sacrifice these guys have to make to be truly successful. Ryback was basically told to stay single if he wanted to main event. It's an astonishing thing to be aware of.
Rey Mysterio's return is immenent. He revealed that the return date is October 16th on the WWE's tour of Mexico. His return is a breath of fresh air, especially considering that he'll be injured again by Christmas.
TNA plans to revamp the Knockouts division. Christy Hemme has been given talent relation duties for the division. Lei'D Tapa, the niece of The Barbarian, is debuting this Thursday on Impact. I hope the Knockouts division can return to where it was just months ago.
That's it for this week. Thank you all for reading. I'll be back next Saturday with more news. I'll leave you with the results of all of this week's major shows.
WWE Monday Night Raw
September 23, 2013
Chicago, IL
World Heavyweight Champion Alberto Del Rio def. Kofi Kingston
The Wyatt Family def. The Prime Time Players
Randy Orton vs. Rob Van Dam went to a No Contest
Fandango def. Santino Marella
Natalya, The Bella Twins and The Funkadactyls def. Diva's Champion AJ Lee, Alicia Fox, Aksana, Layla and Tamina
Daniel Bryan, Dolph Ziggler, Rob Van Dam, R-Truth, Zack Ryder, Kofi Kingston, Justin Gabriel, The Usos and the Prime Time Players def. US Champion and WWE Tag Team Champions The Shield
WWE NXT
September 25, 2013
Orlando, FL
Enzo Amore and Colin Cassidy def. CJ Parker and Tyler Breeze
Enzo Amore and Colin Cassidy def. Alexander Rusev and Scott Dawson
The Ascension def. Enzo Amore and Colin Cassidy
Sasha Banks def. Bayley
Aiden English def. Bull Dempsey
Sami Zayn def. El Local
WWE Main Event
September 25, 2013
Cincinnati, OH
The Usos def. Big E Langston and Fandango
Big Show def. Damien Sandow
Intercontinental Champion Curtis Axel def. Justin Gabriel
WWE Superstars
September 26, 2013
Chicago, IL
Big E Langston and Damien Sandow def. Zack Ryder and Justin Gabriel
The Real Americans def. Tons of Funk
TNA Impact
September 26, 2013
Little Rock, AR
Joseph Park, Eric Young, and O.D.B. def. Robbie E., Jesse Godderz, and Gail Kim
Austin Aries def. Kenny King
X-Division Champion Manik def. Chris Sabin
The Main Event Mafia def. Aces and Eights
WWE Friday Night Smackdown
September 27, 2013
Cincinnati, OH
World Heavyweight Champion Alberto Del Rio def. R-Truth
The Real Americans def. The Prime Time Players
Bray Wyatt def. Zack Ryder
United States Champion Dean Ambrose vs. Dolph Ziggler went to a No Contest