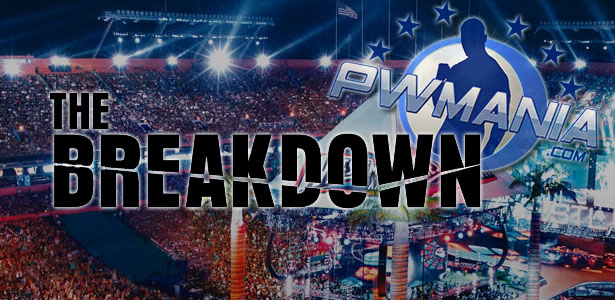 I'll never let you down, I'm a shine on sight
Keep your mind on your grind, and off mine's alright? Right
Hard I'm a ball on them squares I float
Quarter million dollar cars everywhere I go
I know in the lead it may seem they might be
But no matter what they doin', they don't do it like me
Like a G I hold it down for the town I'm at
And I flash like that
Recognize I'm back!
What's good PWMania?! I'm Rey Ca$h, and this is The Breakdown!  I appreciate feedback on my debut column here, and I hope to continue to make this column and this journey better and better each week.  I'm making things up as I go, so expect for new subsections to be added as the weeks go on.  Let me know what you like and don't like, and I'll continue to do my best to make this column the best it can be.  With that being said, it was a pretty heavy news week last week.  Let's dive right in, shall we?
Headlines
The WrestleMania XXX WWE Title match isn't what you'd expect (Full Story)
WrestleMania is the center of the wrestling world and calendar.  This year is the 30th edition of WrestleMania, which should make for the biggest Mania we've ever seen.  Everything is booked around its existence.  Therefore, it's understandable that WWE has already had an idea for its main event for the "Granddaddy of Them All."  Rumors are that the WWE Championship Match will be Randy Orton VS CM Punk.
I am 100% all for this move for a couple of reasons.  First off, Punk is an infinitely more marketable figure than Daniel Bryan, and while he deserves to be a main event draw, Punk is undoubtedly higher on the totem pole in the eyes of the WWE.  Secondly, and most importantly, just because Daniel Bryan is being pushed to the moon doesn't mean he needs to main event WrestleMania.  Not yet.  Punk has worked hard and clamored for that spot for years.  He's gradually moved up the card, from his back to back Money in the Bank wins, to his mid card match with Orton at Mania 27, to his WWE Title match with Jericho at 28, culminating with his match against The Undertaker for the streak last year.  It is a spot that is owed, and Bryan can still have a marquee match without it being for the WWE Title.
While we're at it, let me give my predictions for the main events at WrestleMania XXX.
WWE Championship Match
* Randy Orton (c) VS CM Punk (Royal Rumble Winner)
World Heavyweight Championship Match
* Ryback w/Paul Heyman (c) VS Dolph Ziggler
* Brock Lesnar w/Paul Heyman VS Daniel Bryan
* The Undertaker VS John Cena
(For the record, I do not see Stone Cold, The Rock, or Triple H wrestling at WrestleMania this year.)
Kurt Angle isn't planned to wrestle at Bound for Glory (Full Story)
TNA Bound for Glory is this month, and they have announced that Kurt Angle will be the second inductee into the TNA Hall of Fame.  He follows Sting, and in terms of TNA, both men are more than deserving.  If you remember, Kurt was a part of the Main Event Mafia just a month or so ago, and embroiled in a vicious feud with the Aces and Eights.  Unfortunately, he had another DWI and was sent to rehab.  The feeling around TNA is reported to be that Kurt won't wrestle at the show.
I'm praying for Kurt.  The guy is an athletic freak, someone who comes along only once in a lifetime.  Sadly, the dude needs help and I'm glad he's taking the steps to get it.  With as many celebrities use rehab as a means to get out of legal trouble, I hope that Kurt takes this round seriously and tries to get his life back on track.  The news that Kurt isn't wrestling only furthers in my mind that he's got the right idea.  The show will definitely miss him, but the world will miss him more if he continues to spiral out of control.
When in doubt, bring Vince McMahon back (Full Story)
Recently, the ratings for Monday Night Raw have been down.  Many attribute it to it being football season, with Monday Night Football being direct competition.  Some also say it's due to John Cena, the company's undisputed number 1 draw, being injured.  Regardless, the cavalry is apparently on the way.  Reports say that Vince McMahon is going to make his return to WWE television real soon, even as early as this Monday on Raw.
I love Vince, especially as a character.  I think he brings so much to the table on screen, even after all these years.  But c'mon, you can't tell me that Vince is the savior for failing ratings.  In 2013.  During Monday Night Football season.  I just don't see it.  I get why ratings matter so much to the company; it's the only true metric of who's watching the product and advertisers pay close attention to them.  Still, sometimes you have to run your course.  Vince isn't going to pop a rating.  The shows have been on fire as of late.  Stay the course WWE.
NXT talent talks about killing his kids in a leaked promo (Full Story)
If you're not watching NXT, you're missing the best hour of wrestling television each week.  Recently, a bunch of NXT promo class videos were leaked.  A relative unknown developmental wrestler from Australia named Buddy Murphy took the cake, however.  He started off with the stereotypical Australian gimmick, copying Steve Irwin's Crocodile Hunter.  Soon after, he switched to a very dark promo, proclaiming that his parody is what people expect out of him since he's Australian.  He then proceeded to say, ""See that guy walks through the door, he's upstairs, doesn't have a smile on his face, that's me too. The guy that sits in the locker room and stares a hole down the wall, and you're wondering what he's thinking, if he's going to go home and murder my kids, that's me too.  But, this is what you want. This is what you want. Well just remember this; you might get what you want, but you don't always get who you want."
Sigh.  I don't have to say how idiotic this is.  I swear, this is the dumbest thing I've ever seen someone do in wrestling, and I watched David Arquette become the WCW Champion.  Chris Benoit almost single handedly ruined the wrestling business, and it took the WWE almost a decade to not only get over it but move past it.  I get trying to be controversial.  I get trying to be different.  I get trying to be daring.  I don't understand trying to be completely stupid.
Dusty Rhodes pissed off Stephanie McMahon on Raw (Full Story)
The Rhodes Family were invited to Raw on Monday to hear a proposal from Triple H and Stephanie McMahon, which turned out to be a match at WWE Battleground against The Shield for their jobs.  Needless to say, the promo battle was amazing and a highlight of the show.  Dusty, being who he's always been, improvised a good portion of the promo and cut Stephanie off at one point, putting his hand directly in his face.  And yes, you guessed it…Stephanie was reported to be furious at this.
I'm a staunch supporter of Triple H and Stephanie.  There's no way they can be anywhere as horrible as the internet has made them out to be.  But this report, if it's true, really makes me look at Stephanie differently.  In this past month alone, Stephanie has verbally trashed The Miz, AJ Lee, Big Show, Daniel Bryan, and the Rhodes.  I get that its storyline and it was all necessary for the story.  I support that.  But if Stephanie took something so genuinely in the moment and purely showmanship to make the story that SHE has maintained even better the wrong way…I really might have to reevaluate how I look at her.
Wade Barrett, Antonio Cesaro, and Drew McIntyre are all possibly being repackaged (Full Wade Barrett Story | Full Antonio Cesaro Story | Full Drew McIntyre Story)
Most fans would argue that Wade Barrett, Antonio Cesaro, and Drew McIntyre all have been completely underutilized for a good amount of time.  All three European superstars are rumored to be repackaged soon.  Wade Barrett might be given a new version of his #BadNewsBarrett gimmick from The JBL and Cole Show on WWE.com, Cesaro is alleged to be turning face as evidenced by his use of the pop-inducing Big Swing, and McIntyre is thought to come back as The Chosen One.
No, this is not the obligatory post where I say that all three men should form a European Union stable with William Regal as the manager.  Could that work?  Yes, but there's not a spot for another serious heel stable (sorry 3MB).  I struggle to see Antonio Cesaro as a face, but Mark Henry turned face a month after one of the best heel promos in years, so anything is possible.  More than anything, I'd just like to see these guys utilized.  I don't care necessarily if it's better.  I just know more of all three of them on my TV is what's "best for business."  See what I did there?
Ca$h's Corner
I have to admit something.  I absolutely hate The Undertaker's streak.  I think that it's one of the absolute worst things in wrestling.  In fact, I think it's even detrimental to the Undertaker.  Before I sift through the hate mail and comments and explain my point, let me tell you why this is even relevant right now.  Ryback did an interview with TribLIVE to promote an upcoming Raw, and was asked about the Goldberg comparison.  He said that he thinks it is a good thing, but contrary to popular belief, his dream match isn't Goldberg.  His dream match is The Undertaker at WrestleMania, and he thinks that he can break the Streak.  We'll get to this later.
I've been watching wrestling for about 20 years.  I'm a person who's able to analyze the behind the scenes world of the business with the rest of the IWC while still having the wild-eyed kid like enthusiasm of watching the show.  I say that to say this: I've seen so many people complain about how HHH, John Cena, Hulk Hogan and many others have held people down.  There is no bigger obstacle in the WWE than the Undertaker's Streak.  I absolutely abhor it.  As much credit as I give Taker and his yearly opponent for consistently topping the previous year's encounter and constantly making the match great, it is legitimately a match that EVERYBODY knows the outcome too.  If it were anybody other than The Undertaker, the IWC would have collectively exploded.
Since the WWE has acknowledged the Streak at WrestleMania X8 (when Undertaker beat Ric Flair), he has faced Big Show (and A-Train AKA Tensai in a handicap match), Kane, Randy Orton, Mark Henry, Batista, Edge, Shawn Michaels twice, Triple H twice, and CM Punk.  He's beaten them all.  He retired Shawn Michaels.  He's the reason for Triple H going corporate from a storyline point of view.  In fact, the storyline for his matches now are the fact that it's an Undertaker match.  That's literally the reason, motivation, and cause for his WrestleMania matches.  Let's not forget to mention that he only wrestles one match a year: WrestleMania.  It's a complete joke.  Just because the matches are great doesn't mean it the right thing.
Most people think that the Streak shouldn't be broken.  They say that it is the Undertaker's legacy, and he deserves to retire with it intact.  That's total bull.  In wrestling, you leave the business putting over someone else.  More importantly, the Undertaker should go down in history as the best big man worker of all time, the "conscience of the WWE," and along with Triple H, Pat Patterson and Howard Finkel, the most loyal WWE employee of all time.  That's more than enough.  He's already in the top 10 greatest modern wrestlers of all time.  It's preposterous to me to think that if Taker lost a match at WrestleMania, all of his hard work for the WWE over 25 years was for naught.  Get real.
It completely blows my mind that people think the Streak shouldn't be broken.  Goldberg's streak was broken.  Honky Tonk Man's streak was broken.  Hell, even Bret Hart's streak of not being associated with the WWE was broken.  This is a business of predetermined outcomes and helping the younger generation.  Do you really think that this streak was made to never put the eventual person who break it over?  In fact, I'll argue that the sole purpose of the streak IS to put over the man who eventually breaks it.  Think about this.  There's no doubt that an Undertaker match at WrestleMania is a money drawing event.  When Undertaker retires, with the Streak hypothetically intact, does that help the WrestleMania buyrate?  Do the wrestlers that he defeated year after year get a rub?  Is anybody helped other than The Undertaker???  The answer is an unequivocal no.  That's the reason why it should be broken.
As you read earlier, I think it should and will be John Cena.  Ryback thinks it should be him.  Punk thought it should've been him last year.  Triple H and Shawn Michaels drove themselves to the verge of leaving the business trying to break it.  It is something that will make a superstar or cement a legend.  That's the whole point.
Quick Hits
Reby Sky and Kharma continue their feud that nobody cares about. If you haven't heard about this, Kharma trashed Reby Sky on some interview, and Reby Sky gave her usual catty retort.  Here's the thing though.  I have Reby's side on this.  All she did to start this "feud" was trash Sid Vicious for no-showing numerous Indy dates (including one against her fiancé, Matt Hardy), yet happily showing up on Raw for a one off.  Neither lady deserves mainstream recognition right now, but the hate Reby's getting for this in particular is farfetched. (Full Story)
Ever wonder what happened to Maven?  Apparently, he's a bouncer for some bar in New York City.  Also, he's a dick to fans and hates wrestling.  My man, I get that the business has passed you by, but everything you are to date, you owe to wrestling (including the WWE Rehab Program).  Hate the business all you want, but respect a fan who looked up to you and actually cared about who you were. (Full Story)
Booker T predicted what he thought the WrestleMania 40 main event would be.  Oh God, I love this!  Both Ambrose and Ziggler have what it takes to be legends in this business, and the longevity that the surely will have lends well to Book's prediction.  Plus, that'd be a damn good match. (Full Story)
Cousin Luke, a member of Hillbilly Jim's family, passed away.  I have to be honest.  I don't remember him off the top of my head, but I have love and respect for any man or woman who stepped foot in that ring to entertain us.  Rest in peace, Cousin Luke. (Full Story)
Ken Shamrock is interested in returning to WWE.  He probably ruined an already unlikely return, however, but unnecessarily trashing Triple H.  Let me put it this way.  If I wanted to come back home, I wouldn't call my mom a bitch while asking her.  But that's just me. (Full Story)
Ryback blames WWE.com for Goldberg chants.   His reasoning makes sense.  If you read WWE.com, they do so many random columns about past and present things, and they were the first medium to acknowledge the correlation outside of the fans. (Full Story)
Ken Anderson looks like he's about to resign with TNA.  So basically that whole section on TNA departures I did last week was for nothing.  Thanks Dixie. (Full Story)
Trish Stratus gives birth to Maximus Stratus.  There's a joke there somewhere, but I'll just say congrats to Mr. and Mrs. Stratus and wish them the best. (Full Story)
Mark Jintrak was originally supposed to have Batista's role in Evolution.  His response that he wasn't ready for the spot and it taught him immensely is indicative of why he's so successful in CMLL.  He gets it. (Full Story)
DX may be the headliner for the 2014 Hall of Fame.  Ultimate Warrior is another rumored name, but as unpredictable as he is, DX is probably a safer course.  Of course, the Triple H haters will point out that he's probably doing this just to put himself in the Hall of Fame.  Oh well. (Full Story)
Daniel Bryan is the early favorite to win the Royal Rumble.  Given his ENORMOUS push recently, I can see it.  Obviously, I predicted that Punk would win it earlier in this column, but Bryan will definitely make a lot of noise in the Rumble match. (Full Story)
Jeff Jarrett is back working with TNA as a backstage agent.  I cannot express how happy I am that Jarrett is back.  He's one of the top 5 most underrated wrestlers of all time, and he's the true heart and soul of TNA (sorry AJ). (Full Story)
Eddie Edwards and Davey Richards are still waiting to hear back from WWE.  They had a tryout with the company, and along with Joey Ryan, apparently made a great impression.  They'd make a great addition to NXT, and would further make it the most entertaining roster in wrestling. (Full Story)
Saturday Morning Slam is not likely to return to television.  By a show of hands, who actually watched this show?
Me neither. (Full Story)
Darren Young talks about his announcement that he's gay in a People magazine interview.  I won't go all political on you guys, as this is a wrestling website, but I'm a supporter of gay rights and I'm happy and proud of Darren for not being afraid to be who he is.  I'm infinitely prouder of the WWE, for supporting him behind the scenes and not acknowledging it on screen.  Perfect all around. (Full Story)
X-Pac reaching out to Lamar Odom to help with his substance abuse issues.  I'm a basketball fan, so I'm rooting for Lamar.  If anyone knows about addiction, it's Sean Waltman.  The changes that he and Scott Hall have made in their lives is astonishing.  It's not too late for Lamar. (Full Story)
The Undertaker may be making a return before WrestleMania.  He reportedly is either going to return at Survivor Series or the Royal Rumble.  Either way, he has unfinished business with both The Shield and the Wyatt Family.  More than anything, it'd be good to see Taker wrestle more than once a year. (Full Story)
Stacy Keibler is considering a "one night return" for a big payday.  If this is true, it's pitiful.  We all know that Stacy was never a true fan of the business to begin with, and that's fine, but at least lie to us and make us think that you care about what you're doing.  It's not like you're hurting for money. (Full Story)
Damien Sandow apparently has a World Heavyweight Championship run in his future.  This shouldn't be a surprise, seeing as everybody who has held the Money in the Bank contract has successfully cashed it in for a World Title except one.  Nonetheless, apparently he has a reign scheduled because Rob Van Dam is due for a break.  So many jokes there. (Full Story)
Match of the Week
I was somewhat forced to add a Match of the Week section to The Breakdown for one reason: what I saw in the Santino Marella and Emma VS Fandango and Summer Rae mixed tag team match on NXT Wednesday was the most enjoyable thing I've seen all year in wrestling.  I'm not saying that this match was better than Cena/Bryan, Punk/Taker, or Punk/Lesnar.  I'm not saying that this is the funniest thing I've ever seen in a wrestling ring.  What I am saying, however, is that these 4 people went out and showed the world exactly why I love wrestling.  This sport (or entertainment venue) is supposed to be an escape for people.  It's supposed to be a soap opera of sorts for men and/or sports fans.  If you watch this match and you don't smile, laugh, and completely enjoy yourself…you have no soul.
By the way, shout out to the NXT Full Sail University crowds.  You guys are the best crowd in wrestling every week. Thank you.