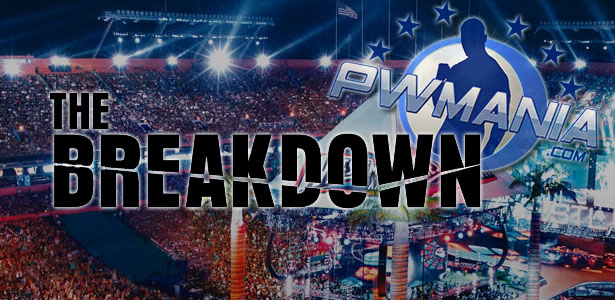 I'll never let you down, I'm a shine on sight
Keep your mind on your grind, and off mine's alright? Right
Hard I'm a ball on them squares I float
Quarter million dollar cars everywhere I go
I know in the lead it may seem they might be
But no matter what they doin', they don't do it like me
Like a G I hold it down for the town I'm at
And I flash like that
Recognize I'm back!
What's good PWMania? I'm Rey Ca$h, and this is The Breakdown. Another crazy week of wrestling news. I appreciate all of the comments I've gotten on this column over the past few weeks, especially last week's. I hope you all continue to enjoy my work. Anyway, let's get right into it.
Headlines
Kassius Ohno released (Full Story)
Indy wrestling legend Chris Hero was released from his developmental contract where he was portraying sophisticated striker Kassius Ohno. Hero is known best for being one of the top Indy wrestlers of the past 10 years, with his legendary battles with CM Punk and his highly successful tag team with Claudio Castagnoli (Antonio Cesaro) being the highlights of his career. In NXT, Hero was in the doghouse for refusing to take his appearance seriously after being asked by management to "tighten up" his look. He recently made his return to NXT TV to face Luke Harper twice, both resulting in losses.
I really like Chris Hero. I think he has the ability to be one of the main pieces of a federation. But, I have to admit that if his release is due to his insubordination, I can't stick up for him. Many fans are upset about this release, as am I, but think that his appearance isn't a big deal. While that may not be true, when your employer asks you to do something, you do it. Tightening up his appearance wasn't offensive, immoral, or illegal to ask someone to do. The business is predicated on athletic prowess, and Hero, wearing classic wrestling trunks, should've have done what he was asked. For all we know, there could be more to this story, as we don't really know the actual cause of his release. All we can admit is it's a shame that such a great talent didn't reach his potential in the biggest wrestling company in the world.
TNA is apparently not for sale (Full Story)
Janice Carter, Dixie's mother and chairman of TNA, issued a memo to all TNA employees stating that they do not plan on selling the company. This goes against all rumors that everyone from Billy Corgan of the Smashing Pumpkins to Mark Cuban would by the company.
Well then. TNA isn't going to be sold. Unfortunately, unless they turn things around, they could be out of business before long. Truthfully, I think that Janice Carter is saying this to keep the talent and employees from talking, but I think that they are looking for a buyer. However, the problem isn't the ownership. The problem is the leadership and creative team. Until they get better, it doesn't matter who's writing the checks.
Roman Reigns being looked at for a huge babyface push (Full Story)
Roman Reigns, the enforcer of The Shield, is being rumored for a face turn. WWE officials are impressed with his build, his in ring talent, and his quick improvement. Recently, the seeds have been sown for Reigns to leave the group, as he has shown displeasure in Dean Ambrose's boastful statements. Reigns is the son of Sika of the Wild Samoans, brother of Rosey, and cousin of The Rock and The Usos.
Yes, yes, yes! If you look in the landscape of WWE and asked who could be the next big star that hasn't been given a chance yet, it's easily Reigns. The guy is massively talented and has impressed in his short time in the company. I can see Reigns as a Batista type face, as he has a cool demeanor about him yet is tough and ferocious.
Daniel Bryan is being blamed for a low SummerSlam buyrate (Full Story)
When the SummerSlam buyrate came out, it was noticeably lower than years past. The two main events were CM Punk VS Brock Lesnar and Daniel Bryan VS John Cena. Apparently, WWE brass isn't directly saying it, but Bryan is being blamed for the low buyrate. They believe that if he was bigger, the buyrate would've been higher.
This is a bit ridiculous, but there is one fact involved. If fans were behind Daniel Bryan so much like they said they were, then one of two things caused this low buyrate. Either 1) Bryan's fans didn't buy the pay-per-view, or 2) Casual fans don't see Bryan as a star. Either way, Bryan has to continue to fight an uphill battle.
Why WWE is pushing the Big Show (Full Story)
The Big Show has been one of the main components of the Authority storyline. He was forced to do their bidding, lost his job, and got his job back on the heels of a possibly major lawsuit, all leading to him receiving a WWE Championship match at Survivor Series. This all is part of a renewed focus on bigger wrestlers from the WWE. They feel that there is an overflow of regular sized wrestlers, so they feel that they need bigger spectacle wrestlers to even things out.
While most of the bigger wrestlers in the company aren't very good in the ring like their smaller counterparts, there is something special about seeing giants in the wrestling ring. Big Show has earned his spot at the top of the card, and Kane and the Undertaker always deliver. The Great Khali? Yea, he can go away somewhere.
Possible WrestleMania XXX matches (Full Story)
Since WrestleMania season is right around the corner, WWE has decided that they have figured out 4 of the matches on the WrestleMania card: CM Punk VS Randy Orton possibly for the WWE Title, The Undertaker VS Brock Lesnar, Ryback VS Goldberg if he agrees to it, and Cody Rhodes VS Goldust. Add this to the rumored Daniel Bryan VS Triple H match and the John Cena match involving the World Heavyweight Championship, WrestleMania is shaping up to be pretty good.
Ca$h's Corner
I'm sure the majority of you that read my columns disagree with most everything I say. That's fine; the beauty of writing and debate is talking about differing opinions and finding out why people feel the way they do. I feel like I have to apologize for this (I don't but still), but I don't try to be pro-WWE or a WWE apologist. I genuinely feel the way I express I do. So when I see columns or comments that are basically negativity personified, it bothers me. Everybody has the right to their opinion and they definitely deserve to express it. I just can't understand how you can love something you have little to no faith in and spend the majority of your time involved down on it. I love the NBA. I grew up with the dream to play professionally, and had I not had a heart problem, I feel that I could've made it. If I felt as down on the NBA as most of you feel on wrestling, I wouldn't watch. This isn't another "if you don't like it, don't watch it" diatribe. Quite the contrary. Watch what you want, but it appalls me that in every other facet of life, we separate ourselves from the things we vehemently dislike or disappoints us. However in wrestling, we subject ourselves to massive heartbreak and hurt. My whole point of this column, and in life in general, is to acknowledge the bad in things but focus on the good. Paul Heyman said one of the most profound things I've ever heard in the Rise and Fall of ECW DVD. When asked how he made ECW actual competition against financial juggernauts WWE and WCW, he simply said "accentuate the positives and hide the negatives." Life is so much better and happier if you do this. Nobody can truly deny the negatives, but there are so many great things that we take for granted every single day.
In reference to Daniel Bryan, fans are ready to have their pitchforks in tow outside of Titan Towers in Stamford. I applaud the majority of you for being so passionate about a wrestler you love that when you feel he deserves better, you make your displeasure known in droves. The problem is, you guys aren't letting your displeasure known. It's so easy to complain on message boards, dirt sheets, and news websites such as this one. If you want to show any entertainment company that you care, you have to financially support that entity that you like. To keep with the basketball analogy, if people really hated LeBron's move from Cleveland to Miami with as much vitriol as they said they did, then the Heat wouldn't have had the highest ratings and attendance per game that year. If you want to make a stand, make your voice heard. If you watch Raw and SmackDown, Bryan consistently gets one of the top pops of the night, if not the top, regardless of what he's doing or where he is on the card. Bryan has main evented 4 pay-per-views in a row. All four, including SummerSlam, have been abject disappointments. I know the argument is that to spend $45-55 of your hard earned money, you want more than Bryan. Cool. That's a totally fair assessment, however understand that a business doesn't care what your reasoning for not supporting them is. They do what they feel gets your business, and if it doesn't, oh well. There are millions of other people taking your place. IWC, don't be so caught up in your fervor and anger that you miss the big picture. Every top star in wrestling history has been somewhat of a draw. People cared about doing what they had to do to see them. I ask you all this. Do you pay for the pay-per-views that Bryan is on? Do you watch Raw live if possible? Do you have a Bryan t-shirt? Do you visit WWE.com and spend time looking at Bryan information and videos? If your answer to those is no, understand that the majority of the WWE's audience is doing that for John Cena, and that's why he stays on top.
I don't believe for a second that Daniel Bryan has been buried or even taken out of the main event picture. This isn't 1988; the main event can encompass more than 2 men and 1 storyline. Bryan has teamed up with the other person in the WWE's triumvirate of top guys (Punk) to face a group that could very easily be a top heel draw by Royal Rumble time. Meanwhile, even though Bryan has been moved out of the WWE Title picture and Big Show has been inserted, notice how Big Show does everything to give Bryan shine. When Show knocked out Roman Reigns to help The Rhodes Family win the Tag Team Titles, what did he do? Lead the crowd in Bryan's "YES!" chant. When he came into the arena in a Bobtail 18 wheeler cab, what did he do? Lead the crowd in Bryan's "YES!" chant. When he got his job back Monday and received a title shot at Survivor Series, what did he do? Lead the crowd in Bryan's "YES!" chant. Ladies and gentlemen, much like Cena, Austin, and Hogan before him, everything at the moment revolves around Bryan.
I still think that although it would've been cool, the best thing for the WWE was Bryan not going into the winter and WrestleMania season as the WWE Champion. No wrestler who was the WWE or World Heavyweight Champion heading into WrestleMania has truly had a "WrestleMania moment." That's usually reserved for title challengers or undercard matches that steal the show. At this point, odds are on for a Daniel Bryan VS Triple H match. Think about it. Little Independent wrestler Bryan Danielson "main eventing" a WrestleMania. The thirtieth version of it. Against Triple H. 13 time World Champion. Future boss of WWE. Nothing is bigger than that (with exception of ending The Streak, which unfortunately won't happen). Winning a World Title cannot touch making Triple H tap at the 30th WrestleMania. In the meantime, Bryan gets to have a good and interesting feud with a genuinely fascinating group, and the seeds will be sown for a Bryan/Punk feud in the future (have you noticed how neither man has acknowledged the other's presence in this feud?). The beauty is in the struggles, not the successes.
Although, Daniel Bryan has had his fair share of successes. One would say much more than anyone thought he should. He's the only person in history to beat John Cena for a World Title cleanly in a standard match in the middle of the ring. He's a two time WWE Champion and a 3 time World Champion (4 if you count his Ring of Honor World Title). He entered a WrestleMania as a World Champion. He's one of only 10 people to win an Elimination Chamber match. He's successfully made Shawn Michaels tap out and knocked out Triple H. The guy has been given MORE than enough success.
I'll surely get heat for this, but in the eyes of fans and sports, size matters. In the NFL, Drew Brees was doubted his whole career for being a "short" quarterback. He only received his due respect as an elite QB and future hall of famer after winning New Orleans a SuperBowl. Russell Wilson is dealing with the same issues Brees dealt with, despite winning over 70% of his games. In basketball, Allen Iverson is one of the most divisive players ever. Most of that is due to his attitude and style, yet a big part is due to his size. Any long time NBA fan will tell you that only one NBA Championship team has been led by a small guard, and that's Isaiah Thomas's Pistons. And those Pistons are known for their legendary defensive ability and toughness, not Isaiah took his fair share of criticism involving his size. In baseball, stars like Tim Lincecum and Dustin Pedroia have been doubted time and time again due to being small. So, in the world of wrestling, it's totally understandable to feel and acknowledge that Bryan's size hurts him. The world has been taught to believe bigger is better, and while that notion is starting to level out, Bryan has surely overachieved.
Don't take this as me telling you guys that you're wrong. Don't read this and say that I'm a homer or not looking at the whole picture. Unlike the majority of you, I'm not looking at one situation that I don't like and basing my displeasure in that situation. I, like you guys, hate the fact that Dolph Ziggler is being massively underutilized. I feel that he can be the next generation's HBK. I, like you guys, hate that Kassius Ohno was released. I, like you guys, hate the fact that the entire roster is brought out on the stage to be made to look like scared, spineless fools with The Authority does something. I just don't buy that Daniel Bryan was buried. I don't buy that Triple H walks around with his proverbial shovel and "hates anyone who is more 'talented' than him or 'got over organically' unlike him." In fact, I don't buy that Triple H doesn't know what he's doing and doesn't have a plan that leaves this section of fans satisfied. I don't mind Big Show VS Randy Orton and/or Triple H. Quite the contrary, because I'm looking forward to it due to the tremendous build. I watch every episode of Raw, Main Event, and SmackDown. I visit WWE.com and read the columns, take the polls, and watch the videos. I go to the shows that come to Houston when I have the extra money. Most importantly, I buy every pay-per-view that I can. I'm not rich, but I find a way to support something I love. If you guys want to complain about something that you love and are passionate about and have it mean something, I suggest you do the same.
Quick Hits
WWE still pushing for Goldberg VS Ryback at WrestleMania XXX. If Goldberg refuses to do the match, then Ryback will likely face the Big Show. Either way, rumors of Ryback's demise have been greatly exaggerated. (Full Story)
Randy Orton and John Cena's title reigns are set to be equal through Elimination Chamber. So, I guess you know who's going to be in the World Title matches at WrestleMania now. Like there was any doubt. (Full Story)
Billy Corgan denies being the buyer for TNA. Again, the problem with TNA isn't the people writing the checks. It's the people who get paid. (Full Story)
The Rock's has a new TV show where he'll be helping motivate people. The Rock has become the go to guy for these type of show, and he's amazing at it. (Full Story)
AJ Styles defends his TNA title in AAA. I'm sorry, but this is the dumbest thing I've ever seen. It was dumb when fans wanted CM Punk to do it. It just devalues the top title of the company. (Full Story)
Rey Mysterio may be out until 2014. Triple H is moving slow with him, and while it's funny to joke about the fact that a strong gust of wind injures him, it's probably best for Mysterio if he does in fact want to return full time. (Full Story)
Brandi Rhodes has signed with WWE. The former Eden Stiles has started training at NXT and is expected to be hot-shotted to the main roster to be paired with her husband and brother-in-law. I'm sure she'll play into the inevitable breakup of the brothers. (Full Story)
Brie Bella has noticeably improved in the ring. She apparently is having hour long training sessions with her fiancé, Daniel Bryan, before shows. That is also helping contribute to her current push. (Full Story)
AJ Styles was reportedly lowballed by WWE. He supposedly was offered 1/5th of what he's currently making. So, what's 1/5th of nothing??? (Full Story)
Kane has been "promoted" as the Director of Operations of the WWE. If you didn't watch Raw, Kane is now sporting a quite dapper suit, and I must say. The Devil's favorite demon looks pretty damn good. (Full Story)
There's even MORE heat on Eva Marie. Apparently, people backstage are pissed about her getting the win on Monday's Raw. Seriously, how much heat can one woman get? (Full Story)
There is a new head of Talent Relations in the WWE. His name is Sean Clary, and he was the head of the Human Resources department. You might want to remember his name. He's the guy you'll bitch at when your favorite wrestler doesn't do what you want them to do. (Full Story)
Results
WWE Monday Night Raw
November 4, 2013
Greenville, SC
CM Punk def. Luke Harper
Ryback def. The Great Khali
Alberto Del Rio def. Kofi Kingston
WWE Champion Randy Orton def. Big E Langston
Tyson Kidd and Natalya def. Fandango and Summer Rae
World Heavyweight Champion John Cena and WWE Tag Team Champions Cody Rhodes and Goldust def. Damien Sandow and The Real Americans
Dolph Ziggler def. Intercontinental Champion Curtis Axel
The Usos def. 3MB
The Bella Twins and Eva Marie def. Divas Champion AJ Lee, Tamina Snuka, and Aksana
Big Show def. WWE Champion Randy Orton and The Shield by disqualification
WWE NXT
November 6, 2013
Orlando, FL
Alexander Rusev def. Sylvester LeFort
Leo Kruger def. El Local
NXT Tag Team Champions The Ascension def. Travis Tyler and Troy McClain
Mojo Rawley def. Tye Dillinger
Luke Harper def. Kassius Ohno
WWE Main Event
November 6, 2013
Charlotte, NC
The Usos def. Hunico and Camacho
The Wyatt Family def. The Prime Time Players
Nikki Bella def. Alicia Fox
WWE Superstars
November 7, 2013
Greenville, SC
Naomi def. Alicia Fox
Zack Ryder def. Jinder Mahal
TNA Impact
November 7, 2013
Cincinnati, OH
Brooke VS Velvet Sky VS ODB went to a no contest
Ethan Carter III def. Dewey Barnes
Bad Influence def. Eric Young and Joseph Park
Jeff Hardy def. X Division Chris Sabin in a first round TNA World Heavyweight Championship Full Metal Mayhem match
WWE Friday Night Smackdown
November 8, 2013
Charlotte, NC
CM Punk def. Curtis Axel
R-Truth and The Usos def. 3MB
Divas Champion AJ Lee and Tamina Snuka def. The Funkadctyls
Alberto Del Rio def. The Great Khali
Daniel Bryan def. Luke Harper by disqualification
John Cena def. Ryback
I appreciate you guys continuing to read and comment, and I feel that I have some amazing commentary on my columns. I thank you for that. Again, if you liked what I said, hated it, or just want to continue the conversation, email me at reycash88@gmail.com or follow me on Twitter @ItsReyCash. I don't post often, but I check it often and as I get more followers, I'll surely post more on there. Be easy.