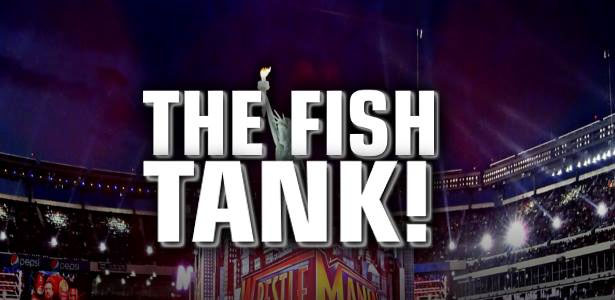 Usually the holidays means news slows down in the world of pro wrestling and sports entertainment, but this Christmas week brought two big news bits.
The first was the official announcement that Batista was coming back to WWE in time for the Royal Rumble. We haven't seen the Animal in a ring for almost three years. This will benefit both the company and the man himself. WWE gets a proven main event performer and Batista gets added exposure to millions as it leads up to his big movie "Guardians of the Galaxy" in the summer time, as well as whatever projects he has going on. I'm not sure if the company wanted it to be a surprise or not, but they had no choice to acknowledge the announcement after advertisements promoted his return to WWE in Las Vegas.
Question is who Batista will work against. At the top of my list would be Roman Reigns. The Shield's muscle coming up in a similar fashion as Batista and would be a great test for each of the powerhouses. A lot of people have been pointing to Randy Orton as his target, but I think having the Animal face someone who could really be helped with a rivalry with the former world champion would be better if we're thinking long-term. The road to WrestleMania begins at the Royal Rumble and the Batista announcement is a good way to kick off the season.
Jeff Jarrett made headlines tweeting he had resigned from TNA. This comes after AJ Styles contract expired and is currently in negotiations. Jarrett was one of the founders of the company and driving forces of its early success. He was born in this business with wrestling flowing through his veins. It would be a shame if such a mind like his isn't used by a company. Bridges have been burned at WWE in the past, but Jarrett would be a great asset to them. He has worn many hats over his many decades in the business, so could pretty much take on any role.
Then you remember this is the wrestling business after all. What if this was part of a big angle? The signs are definitely there. Chavo Guerrero is gone. Styles is no longer under contract, but never lost the title. Jarrett turned in his resignation. Sting is having issues on his own with Jeff Hardy on the outs as well. What if there is some faction forming with Jarrett attempting to take back the company he helped create against Dixie Carter's alliance. Time will tell, but if it's true, they pulled off something and pulled the wool over many people's eyes.
The formula of opposing sides with the new guard and the old one facing off has been seen before. However, in this case TNA would have fooled the internet wrestling community. At the same time if Jarrett is gone, then it would really be a huge blow to the company. TNA seems to be under a youth movement of sorts. Ethan Carter III took a big step in his career with a win over Sting in a tag match. He is someone the company can build around. The current heavyweight champion Magnus made history as the first British star to hold the gold in over 100 years. New blood is great, but tradition and old school minds are important to have. It's a delicate balance.
2014 is shaping up to be an interesting year with these two pieces of news potentially changing the game in their own respective ways. Check out my work on the Miami Herald pro wrestling section online at this link and on John "Bradshaw" Layfield's Layfield Report at this link. Follow me on Twitter: smFISHMAN (https://twitter.com/smFISHMAN).
Feel free to post your thoughts, opinions, feedback and comments below.