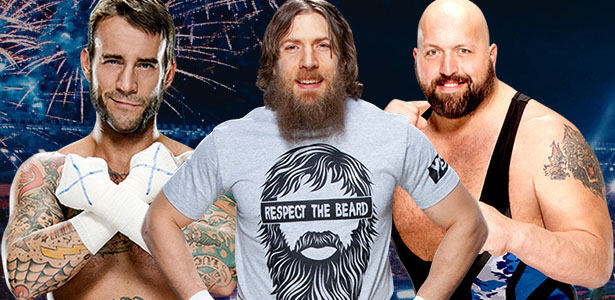 The Big Show is back in the WWE championship picture, getting a title shot against Randy Orton at the Survivor Series. The event was where the 7-footer first won the gold in 1999, so he has that going for him. I'm kind of bummed they just moved Daniel Bryan out of the title picture. I know pro wrestling goes into cycles, but it seemed sort of out of blue. Bryan got some retribution on Shawn Michaels. However, his focus just moved to the Wyatt Family. That said CM Punk and Bryan as a team should be fun to watch and elevate the emerging talent of Bray Wyatt, Luke Harper and Erick Rowan. I think Harper impressed a lot of people with his showing against "The Best in the World".
Kane shocked the WWE Universe coming out in a suit at the close of Raw. It's another evolution in the character. Glenn Jacobs has proven he can pull off pretty much anything with the persona. Although this change kind of came out of nowhere, as he went to working with the Wyatt Family to going corporate. Jacobs in a suit isn't that out of the ordinary, considering he is pretty outspoken when it comes to politics and what's going on in our country. You think he was a politician. Kane for president? There may be nothing scarier than Kane in a suit other than watching him use the WWE App.
Big E Langston took another step up in his career. I enjoy the powerhouse performer, but I find it hard to believe he received more votes than Dolph Ziggler. I guess one John Cena vote is equal to any votes from the WWE App. Maybe it's watching too much Jesse Ventura, but I say there is a WWE conspiracy against the "Show Off" (Kidding, I think.).
There is a lot of talk recently about Roman Reigns being WWE's new golden boy. I wouldn't be surprised if that were the case. He has impressed on his outings in the ring and has the size of a prototypical superstar, which the company likes. He reminds me of how a Batista got started. The only area he may need to work on is on the microphone, but that may only be thinking that because we usually hear Dean Ambrose or even Seth Rollins talk for the group.
Speaking of breakout stars, I have loved Bobby Roode's feud with Kurt Angle. It's brought solid matches and a great level of intensity. Roode is someone TNA can build a company around. He has the mic skills, look and ability. Already a veteran, he can continue to reach the next level working with Angle, one of the best to lace up the boots. At the same time it shows Angle can still shine and hang with standouts like Roode.
I'm actually enjoying the storyline with AJ Styles going outside the company and defending the rogue TNA championship. It reminds me of the territory days and takes the CM Punk storyline WWE did a while back a step further. This will no doubt lead to a champion versus champion match down the road. Crazy to think that in a matter of a month or so we've seen Vacant hold both the WWE and TNA champion. It's for this reason they should be number one in the PWI 500.
Here are some random TNA thoughts. I think this Aces & Eights group has run its course. It helped establish Bully Ray as a legit main event performer, but it's time to let the members free. Same can be said for Joseph Park (#TeamAbyss) and the Three Man Band. Is "Darlin" TNA's "Best for Business"? I can't stop listening to Ethan Carter III's theme. I would call it a guilty pleasure. I understand trying to drum up business and interest with Dixie tweets, but Pacman Jones? Can Jeff Jarrett come back to the ring already? I think the time is right for his return. They can use the whole original regime coming to take control storyline. I miss the guitar spots and Jarrett strut. Ain't he great?
Follow me on Twitter @smFISHMAN (https://twitter.com/smFISHMAN) and visit www.miamiherald.com/sports/wrestling.I also have some new columns up on John "Bradshaw" Layfield's Layfield Report up at this link.