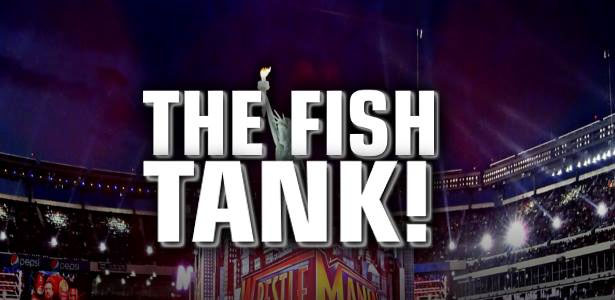 It's been a few weeks since my last column here on PWMania.com, but we are back in the midst of what has become one of the most newsworthy last few weeks in quite some time. CM Punk and WWE seem to be at a standoff with neither lending any official statements. This leads to constant speculation on what will happen next. Will the "Best in the World" return to WWE television any time soon? Is this the last we've seen of the Chicagoan? The longer Punk continues the silence the more money he is worth. Fans are clamoring to hear what he has to say on the subject of his future. Maybe Punk doesn't even know. His contract expires in July, and he has done virtually everything there is to do in WWE. That may not be enough for Punk, who always aspires to be the best. He hasn't won the Royal Rumble or truly been in the main event of WrestleMania. Is this enough reason to stay? Is this the one carrot WWE can hold over the popular performer's head?
Time will tell as we are on this wild ride we call the road to WrestleMania. One thing is for sure is many fans are blaming WWE for Punk's absence. They believe he isn't being treated fairly and giving him what they think he deserves. I'm all for freedom of expression and as a paying customer fans have the right to chant what they want (as long as it's not hateful or vulgar), but chanting for CM Punk during matches is somewhat disrespectful to the superstars who are working hard to entertain. I can see Punk chants during a boring segment or Great Khali match, where it's deserved. However, to chant his name during a really good Daniel Bryan and Randy Orton match is going too far. I'm actually surprised there haven't been more Punk chants at shows. At the event I attended in Miami there were a few, but they didn't last long. The same was seen on Raw. There have been reports of WWE taking away Punk signs. I don't think that is cool at all. Fans should be able to hold up any sigh they want (as long as it's not hateful or vulgar). The company can't encourage fans to bring signs …as long as it fits with what they are trying to sell. That's not how it works.
I feel fans have an impact on programming because Daniel Bryan wouldn't be as featured on TV if it weren't for the WWE Universe's efforts on social media and in arenas. It also helped to get the support of the now Super Bowl champion Seahawks. Maybe the Elimination Chamber will be the beginning of the real Yes Movement in WWE. There have been many returns over the last few weeks. Batista, Sheamus and Christian are among them, but haven't really garnered that much excitement. For the Animal, there was that initial buzz, but I think it really hurt his reemergence to have him win the Royal Rumble. I think fans would have been more supportive of his return if he at least started out facing Alberto Del Rio and worked his way back up instead of just being shot to the top right away. It's good to see Christian and Sheamus back, but it was done in such a matter-of-factly way. Hopefully, with both in the chamber, they can get back in the thick of things. I may be the only one, but I'm not as excited as I should be for WrestleMania, despite being so many weeks way. This needs to change. I think I'm more looking forward to the NXT pay-per-view on the WWE Network at this point.
It has been pretty interesting in TNA these days with its introduction of new talent. There is somewhat of a youth movement going on in the company with Magnus leading the way. It's amazing to see the quality of the show jump up just by having its shows in the United Kingdom. The crowds are bigger and more energetic. TNA looks big-time. It's how it should be every week in not only Europe, but the United States. An ultimate goal, and I'm sure it helps the performers work even harder, providing that extra motivation. The Wolves are an awesome addition to the roster. I think they fit well with TNA because they will get the opportunity to show their skills, which may not have happened had they continued the course in NXT. The duo is a great asset to both the tag team and singles divisions. There is so much potential with them. MVP is another good move for the company. He is charismatic and carries himself like a star. With so much experience in WWE and Japan, he can be someone the young stars can learn from.
Lockdown is going to be quite the homecoming for MVP, who grew up very quickly during his youth and finding himself on the wrong side of the law more times than not. He is an inspirational success story who has gone from the prison yard to realizing his dreams in pro wrestling. The Great Muta will also make the weekend special. It sucks Sting isn't with TNA at the moment. Imagine the photo opportunity of Sting and Muta together, brothers in paint who have so much history together.
There is lots of talk about Sting as well and his career plans. I think Sting is loyal, almost to a fault. He was in WCW and TNA. I think the time is now for the franchise player in WCW to make the jump to WWE. He deserves one more big moment and big match at WrestleMania. I don't think it should be this WrestleMania. However, I do believe it should happen and build toward next year. This gives the company time to properly make it a true milestone and give the veteran a chance to really get in shape to put on a quality match. If January is any indication, February is going to be a blockbuster month in pro wrestling.
What do you think? Feel free to comment below with your thoughts, opinions, feedback and anything else that was raised. It would be great to hear from you.
Check out my work on the Miami Herald pro wrestling section online at this link and on John "Bradshaw" Layfield's Layfield Report at this link. Follow me on Twitter: @smFISHMAN.