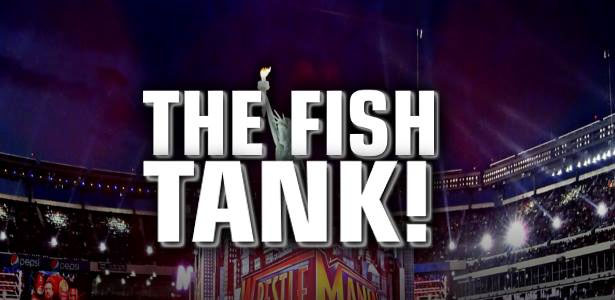 It's been a few weeks, but I've been away enjoying vacation and the madness that is WrestleMania XXX week. If you've never experienced this and are a fan, I highly recommend it. You meet people from all over the world who share the same love for pro wrestling as you do. There is nothing more fun than that.
I'm grateful I was able to witness the Ultimate Warrior's induction into the WWE Hall of Fame, as well as his last appearance on Raw. The company did a tremendous job honoring one of the biggest and most colorful figures in the history of the business. The turnaround time they put together such quality work with that documentary and other "Warrior Week" programming is amazing. It can never be said enough that those in WWE production are unsung heroes.
His reach went beyond the world of sports entertainment. That was proven when so many outlets covered tragic story. The majority was positive. There is even an episode of "The Goldberg's" in the works that will pay tribute to Warrior. However, there were a few bad apples in this bunch with the most rotten being Nancy Grace. She used the death to spew more negativity and lies as it relates to pro wrestling. We have yet to hear an apology or response to her erroneous reporting. You can check out my views on this issue here.
It's an exciting time to be a fan of WWE. There is a lot of emerging talent getting their time to shine. The Shield is being taken to the next level working with Evolution. Paige made a huge first impression winning the diva's championship from AJ Lee. Bray Wyatt and the rest of the Wyatt Family are making waves with John Cena. Cesaro is a "Paul Heyman Guy". NXT recently announced its next live two-hour special on the WWE Network on May 29. Say what you want about Triple H, but he has helped bring WWE's developmental to the forefront and ensured the company's future with a roster of potential supernovas.
Daniel Bryan is finally WWE world champion, which hasn't gotten off to the best start with news of his dad's passing. It says something about the new title holder's character that he would insist on fulfilling his WWE commitments and obligations in spite of the loss of a family member. You could see the emotion on his face as he kicked off Raw, but he pulled through. I'm looking forward to see how his reign goes with Kane his first adversary. I personally agree with Jim Ross as Brock Lesnar versus Bryan has huge box office potential. (Lesnar vs. Bryan blog)
I'm happy for Eric Young capturing the TNA championship, but would have loved for the company to save the title change for their pay-per-view. So often they give so much away on their television shows for free it gives the audience less of a reason to order their PPV events. Young is no doubt worthy of holding the gold, especially with his mainstream potential with his Animal Planet show. I just wish they built him up to give EY an even more special moment to look back on. I think what made Bryan's win so monumental was how the company booked him the months leading up to WrestleMania.
TNA has such a great roster, but there are times when they rush into these things before they can really capitalize on it. I will say Samuel Shaw has become the most captivating characters in the company because they have taken the time to develop him and portray him as different from anything we see on their show. They need to do more of that.
I'm excited for Jeff Jarrett's Global Force Wrestling, as he is doing it the right way. Instead of doing a quick launch he is growing the awareness from the ground. It's the grassroots approach that helped TNA early on. They started as a weekly pay-per-view and went from there. It just shows you the great mind Jarrett has for this business. With his lineage, he has had pro wrestling in his veins from a very young age. Jarrett has been pretty much in every role imaginable. I have no doubt he will assemble a team that will give GFW a real shot at success. Like anything in life, having options is good.
Check out my interviews with R-Truth, Xavier Woods, Cesaro and Summer Rae on the Miami Herald pro wrestling section (www.miamiherald.com/sports/wrestling). I will have even more content up there in the coming weeks. Read my columns for the Layfield Report (www.layfieldreport.com/Scott-Fishman-Blogs_.html). Feel free to also tweet me feedback and questions @smFISHMAN.
What do you think? Comment below with your thoughts, opinions, feedback and anything else that was raised.