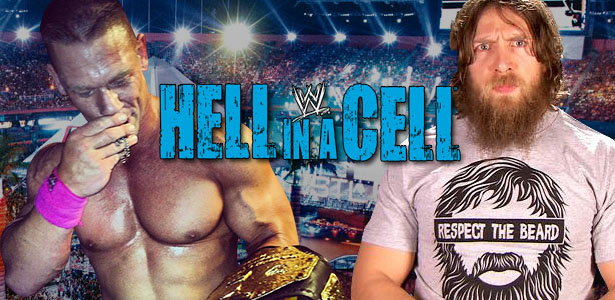 It was a big Halloween week for WWE with Hell in a Cell and the release of WWE 2K14. Depending on who you talk to, it seems there is a house divided when it came to the pay-per-view. My friend said it felt like a longer version of Raw. There was filler and way too much Great Khali (any Khali is too much Khali), but I enjoyed the show overall. I think a lot of the displeasure comes from the fact Daniel Bryan didn't win the WWE championship and John Cena nabbed another world title in his first match back from injury. Vince McMahon expressed disappointment with SummerSlam during the quarterly conference call, basically saying the event didn't have the right attraction. Is this code for Blame Daniel Bryan? Maybe this isn't why he became WWE champion or they can still be building the wildly popular superstar. If it's the latter, they can't stop teasing the audience. Either you give him the gold or not. It's one thing to have him lose each time. It's another to have him win the WWE championship one minute and then drop it the next or same night. Then you are just frustrating fans, which is something you don't want to do too often.
Hell in a Cell wasn't a sellout, but the Miami crowd was great from an in-person perspective. The WWE Universe loved Goldust and Cody Rhodes. The triple threat tag team match was one of the hottest openers we've seen on a PPV in some time. It just goes to show you how far the division has come with so many competitive and talented duos. I hope they don't pull the plug on the Shield at this moment in time like they were teasing on Raw. I feel they still have more to contribute as a unit.
I really expected Brock Lesnar to interfere during the Hell in a Cell match with Paul Heyman and Ryback versus CM Punk. It didn't happen, but I did think having Heyman on the roof of the cell was a great visual and idea. I wonder how scared he was being up there for so long. It's time for Punk to move on from Ryback. I don't know where they are going with the Wyatt Family attacking him and Bryan, but it's something different. I'm interested where they go with this and Kane aligning with Stephanie McMahon. Punk would also make a good challenger for Orton. If anyone doesn't mind going against the establishment it's the "Best in the World". It's a built-in rivalry, although I hope Bryan doesn't stay out of the title hunt for too long. As for Heyman, let's hope he doesn't stay off television for too long. I think that is most definitely bad for business.
John Cena winning the world title has gotten a strong reaction, some good and many bad. For me, I would rather see him with the gold than Alberto Del Rio. At least Cena connects with the audience in some way. Del Rio is no doubt a talented performer, but sometimes gets little to know crowd response. I actually think he was more over during his past face turn than as a bad guy without Ricardo Rodriguez. Cena can actually help build heel heat from the audience. That said I'm bummed Damien Sandow didn't cash in the Money in the bank briefcase successfully. I felt Raw was anticlimactic for this, considering they were building it up subtly for so long. Sandow had a tremendous match with Cena, proving he is a capable of main events. Fingers crossed this is just the beginning for Sandow, as think he became a star on Raw. Some credit has to go to Cena for that.
There are times when WWE takes risks and then freaks out when there is a drop in ratings point or business in general. They take the safe route putting the championship back on Orton and Cena (2002 OVW represent!). However, when you are building for the future you have to invest in somebody else every once and a while. Cena and Orton aren't going to be there forever. Injuries also happen and the roster needs more than one or two go-to guys.
AJ Styles is currently TNA's go-to guy. Speaking of the Nashville based company; will we be seeing it come under new ownership? There have been countless reports, rumors and talk about TNA being for sale. Who knows what to believe, but this can have huge ramifications depending on who gets a hold of it. You have to respect the talented roster that go out every night and do their job the last few months. It's probably the among the most challenging times to be a part of TNA Regardless of who owns them or what happens, I hope to see the company pull through. The marketplace needs more than WWE.
Follow me on Twitter @smFISHMAN (https://twitter.com/smFISHMAN) and visit www.miamiherald.com/sports/wrestling for my new interview with Rey Mysterio. He talks working as Spanish commentator at Hell in a Cell, when he expects to return to the ring, WWE 2K14 and more.
I have some new columns up on John "Bradshaw" Layfield's Layfield Report regarding WWE using the successful concepts from the Attitude Era, where Punk and Heyman go after Hell in a Cell, Halloween Havoc and an independent star who is doing great charity work in the community. Read them all at: http://www.layfieldreport.com/Scott-Fishman-Blogs_.html.