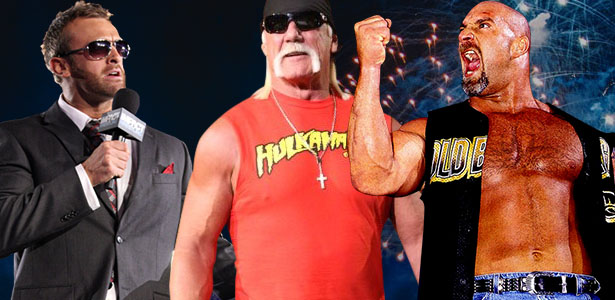 It's October! The pumpkin patches are out, Halloween movies have begun playing, WWE is overloading us with two pay-per-views in the same month and TNA is Hogan-free for the first time since 2009. On Impact last week the last shot was of Hogan quitting and leaving while Dixie Carter begged him to stay. Was this art imitating life?
Hogan's run in TNA has gotten mixed reviews and could be a double-edged sword. His association with the company did open up some doors for them and brought a bit more exposure. There are a couple of more folks who know TNA exists now. However, it hasn't helped with house show numbers or really increased viewership. The interesting thing about this is if Hogan had returned to WWE it would be the biggest thing since sliced bread to many fans. Look what happened when he came back after leaving for WCW for so long. Just goes to show you Hogan can still bring in an audience and make some money when it's in a certain place, venue or scenario.
The one way is to drown out the negative talk and behind the scenes criticism is by putting on good shows with great matches. Whether it's for good or not, TNA should be focusing on the talent they do have at the moment. They still have some of the best pro wrestlers in the world. I'm glad they are continuing to build Magnus, as he has all the tools to be a main eventer and world champion for the company. Hopefully, they follow through with him, as TNA and other companies for that matter, have been guilty of pushing a star one week only to pull the plug the week after. Speaking of Samoa Joe, I don't know how TNA has had someone like him on the roster and not make some money with him. Over the last eight years or so I think one of the most frustrating things to watch is their use of the talented performer.
Interesting news was brought to light last week with Mark Jindrak being revealed as the other choice to join Evolution. The former WCW and current lucha superstar certainly had the look and athleticism, but it's hard to say how he would have meshed with the rest of the group. Then there was the ability to convey his message on the microphone and if he could be as good as a Randy Orton. You never know what could have been, but I'm a firm believer in everything happening for a reason. Jindrak has made quite a career for himself in Mexico. However, he still has the potential of making it in the United States if he wanted to and the right opportunity arose.
Orton on the other hand is headed to Battleground with Daniel Bryan. I like that they have added Brie Bella in the mix, as it just shows how low the Viper will go to get into Bryan's head. It also helped further solidify him as the hated villain. The Rhodes family is also headed to war at the event against the Shield. Goldust looks to be in top shape, as well as daddy Dusty and Cody Rhodes. I wouldn't mind seeing an eventual six man with the "American Dream" involved, even if it was for one night.
Bill Goldberg's DVD comes out this week, and given his involvement in WWE 2K14 videogame, does this mean we will see him on TV in the future? The man himself says no, at least at the moment. There is some clamoring for this to happen from the audience. Fans love nostalgia, and he can still garner a big reaction from the crowd. There is a lot of back-and-forth talk going on involving Ryback and Goldberg. Are they building Ryback in hopes of giving him a future match with the name fans chant whenever he appears? Anything can happen in WWE, but one thing that is for sure is Paul Heyman's positive impact on Ryback's career. Battleground could of been the place that really established him as a true force against CM Punk.
Lots of TNA content coming up leading into Bound for Glory is coming to www.miamiherald.com/sports/wrestling. Also, look for WWE stories with Hell in a Cell coming to Miami later this month.
I also have some great columns up on John "Bradshaw" Layfield's Layfield Report, which you can read at www.layfieldreport.com/Scott-Fishman-Blogs_.html. You also follow me on Twitter @smFISHMAN (twitter.com/smFISHMAN), where I enjoy receiving feedback and tweeting during shows.