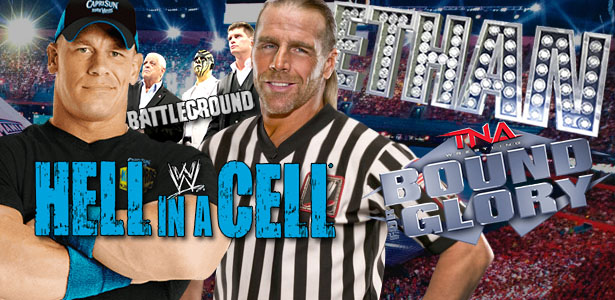 WWE brought another indecisive ending between Randy Orton and Daniel Bryan at its Battleground pay-per-view. There is a level of frustration that there wasn't a clear winner for the match and that the company is expecting fans to shell out another 50 bucks or more to see a champion crowned. If they had a card filled with must-see bouts it wouldn't bother me as much, but they didn't. There wasn't anything overtly terrible or bad, as the effort was there. That said the fact is the one match supposed to sell the pay-per-view didn't deliver a real outcome, and I'm sure that I'm not the only one feeling a little cheated. I think this is a reason two PPVs a month is a bad idea because there isn't enough time to build stories or interest. Battleground ultimately felt like another Raw show, but it did have one showstopper.
The Rhodes Family taking on the Shield was tremendously entertaining. Goldust, complete with fresh war paint, and Cody Rhodes brought a high level of intensity. The two worked extremely well together with the talented trio they competed against. I'm glad Goldust is sticking around and am looking forward to what happens next in this story. We may get that Rhodes versus Rhodes match at WrestleMania yet. I also loved seeing Dusty Rhodes in his element. How much fun do you think Dean Ambrose had taking the Bionic Elbow from the "American Dream" himself?
There has already been more build for Hell in a Cell in one Raw than the weeks they had to promote Battleground. Say what you want about John Cena, but he brings eyes to the product and adds extra intrigue. I would have much rather seen someone like a Dolph Ziggler or even Cody Rhodes get the opportunity against Alberto Del Rio next. Cena is a proven draw, so WWE went that route. It probably may have been more exciting to see him return if some more time elapsed, but it is what it is. Keep in mind Damien Sandow is still waiting in the wings. Does this mean we could be seeing a Sandow versus Cena feud in the making?
The other big news coming out of Monday was Shawn Michaels winning the WWE App vote to serve as special referee for Bryan and Orton in Miami. HBK is no stranger to controversy or the role as ref, so his involvement creates even more interest in the main event. It also adds something to match we've seen multiple times already, which is important.
After a few weeks of teasers, Ethan was revealed on Impact as Derrick Bateman from NXT, WWE's developmental program. I'm not sure where this character is going to go, but I did enjoy Bateman's entertaining work in WWE. I was bummed when the company released him, so it's nice he found another opportunity to shine and continue his career. This is what I don't get about those who wish such ill will towards TNA and want them to go under. If that happens, so many people lose their jobs and performers such as Bateman would have fewer options to apply their craft.
Bound For Glory is taking shape with the returning Kurt Angle and Bobby Roode just added to the card. There are a few matches already that have the potential to make this one of TNA's strongest pay-per-views with that being one of them. AJ Styles and Bully Ray both talked about how excited they are about their heavyweight title main event this week on a conference call. Both of their characters have evolved and are determined to give fans a quality main event. Hope TNA doesn't take a page out of WWE's book and actually has a clear finish. I'm also looking forward to the human car crash known as Ultimate X and Magnus' potential breakout match with Sting.
Speaking of Bound for Glory, check out interviews and stories with many of the TNA stars in the next week on www.miamiherald.com/sports/wrestling.
I have some new columns up on John "Bradshaw" Layfield's Layfield Report, which you can read at: www.layfieldreport.com/Scott-Fishman-Blogs_.html.
This week I name five things I miss about WCW: here, talk Shawn Michaels history with Hell in a Cell: here, Bill Goldberg's DVD: here and remembering Eddie Guerrero on his birthday: here.
You can also follow me on Twitter @smFISHMAN (twitter.com/smFISHMAN), where I enjoy receiving feedback and tweeting during shows.