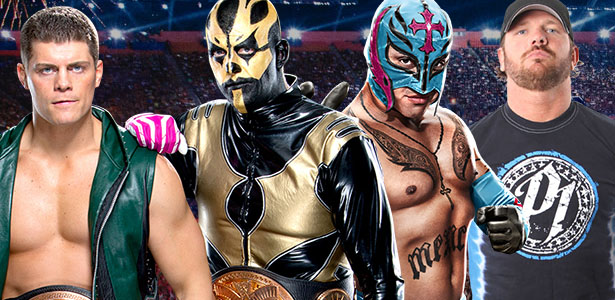 It has been a banner month already for the Rhodes brothers in WWE. Goldust and Cody Rhodes not only ended the win streak of the Wyatt family, but dethroned tag team champions Roman Reigns and Seth Rollins. The title change took place during a spectacular main event on Raw. Whenever you can get fans emotionally invested in the show you know you did your job well, and that is what happened on Monday. The tag team division has become very competitive, and I'm looking forward to how Goldust and Cody Rhodes do with their reign at the top.
Rey Mysterio returned to the ring for the first time since a knee injury sidelined him. He had a successful outing with Sin Cara against Wade Barrett and Alberto Del Rio at a live event in Mexico. The legendary luchador can certainly add a great level of excitement with his matches. It will be interesting to see where WWE places him in the current landscape and if they will build toward that Cara versus Mysterio showdown they initially wanted at a WrestleMania. The possibilities are endless.
Paul Heyman and the Hell in a Cell stipulation was added to CM Punk versus Ryback at the pay-per-view event next Sunday. Heyman adds something to all of his client's matches and will certainly do that teaming with Ryback. He isn't just watching at ringside like he did for the War Games years ago, but is an actual participant. This will be a big chapter in the heated Heyman versus Punk rivalry. The future WWE Hall of Famer is at his most dangerous when backed in a corner. Will we see Brock Lesnar return to help his good friend?
Xavier Woods' name was brought up on Raw. Ever since he spoke at the opening of the WWE Performance Center it seemed the company was going to call him up sooner rather than later. The talented performer has all the tools to succeed on the main roster, as many others on NXT. If they do fully insert him in the storyline involving Triple H and the Big Show, it will be a big push for Woods. Now if only John "Bradshaw" Layfield would figure out Woods is (http://www.layfieldreport.com/blog.php?cmd=entryView&BlogID=Scott-Fishman&EntryID=Who-is-Xavier-Woods&Sort=Date).
Say what you want about TNA, but they have put together a great card for Bound for Glory. There are a lot of matches that have the potential to be show stealers, which is unfortunate considering the stigma the company has been given these days. This event could be a good way to create positive buzz for TNA and its talented roster. Hulk Hogan or no Hulk Hogan, they can't depend on him in the long-term. If TNA plans to survive they have to let the guys go out there and kill it every night. Build young stars and focus less on Hogan and other performers either on their way out or in the twilight of their careers. Magnus defeating Sting at Bound For Glory is a big step in the right direction for me. Listen to your audience in producing captivating storylines. It's a simple formula that works.
One aspect of Impact I enjoyed was Chris Sabin versus Samoa Joe and the spotlight on the X Division. It was a throwback to the good old days and what made me a fan of TNA in the first place. I think AJ Styles said it best during the conference call last week. The X Division championship shouldn't be seen as a secondary title. It's one of the things that separate TNA from others in the marketplace. It should be treated on the level of the world championship or close to it. There is no doubt the Ultimate X at Bound For Glory could go a long way in establishing the X Division. It has the potential to steal the show.
Questions asked during Impact this week: Did anyone find the fact Dixie Carter had a $50,000 bounty up for grabs for AJ Styles funny given all the talk of their financial stability? How was @MickieJames (not contracted with the company at the moment), posted in a graphic under AJ Styles' name, not get caught by the production staff? It was TAPED show! This just adds more fuel to the fire for those who get a kick out of hating on the company.
For TNA, sometimes taking a step back and working with a clean slate is a good move. One thing I will give the company credit for a time or two is when they see something isn't working. They go back to the drawing board. It happened when they were trying to go live on Monday nights. Maybe there are occasions when they wait too long. Regardless, going back to a single venue and possibly running Impact on the road during big shows may be the right thing to do at this moment. They have spent hundreds of thousands of dollars each week and not gotten the return they need. I think if they do pick a permanent or semi-permanent place it should be somewhere different besides its former home in Orlando. Then it will definitely look like failure if you go back to Universal. We will see what changes or developments happen in TNA after Bound For Glory, but we as wrestling fans should want them to succeed.
Speaking of TNA, check out interviews and stories with many of the stars going into Bound for Glory at this link. If all goes to plan, I should also have an interview with a big WWE name posted sometime next week before Hell in a Cell right here in Miami (cheap Foley pop)!
I have some new columns up on John "Bradshaw" Layfield's Layfield Report, which you can read at: this link.
You also follow me on Twitter @smFISHMAN (https://twitter.com/smFISHMAN), where I enjoy receiving feedback and tweeting during shows.