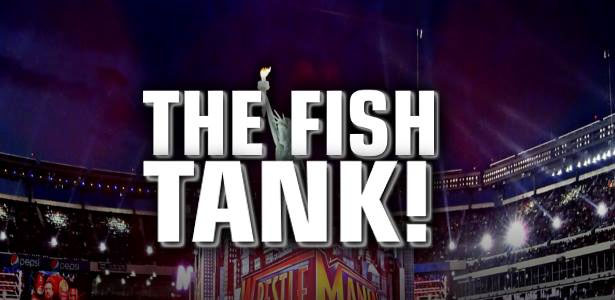 It has been a while since my last column, but it's a busy time of year. We are on the road to WrestleMania and TNA's Lockdown took place right here in Miami, Florida! (Cheap Foley Pop!)
Speaking of TNA, I thought they had a pretty solid pay-per-view at University of Miami BankUnited Center. Was it the biggest crowd ever? No, but they performed like they were in front of 40,000 people. A lot of negativity the company gets is deserved and a lot of it is unwarranted. I believe a lot of the criticism the promotion gets are from those who haven't watched the product lately.
I think Gunner opened a lot of eyes when he faced James Storm. Gail Kim once again proved she is the best in-ring women's wrestler in the business today with her match with Madison Rayne. It was great to see MVP performing before his hometown again. The Fan InterAction was also fun. Nobody really does meet-and-greets quite like TNA. Dixie Carter may appear villainous on TV, but she was gracious and appreciative for the fan support during the event. She even signed some autographs and took some pictures with attendees to pass the time while waiting in line for Jeff Hardy (Willow). That was nice to see.
TNA has been bringing in new faces left and right and giving them valuable TV time to grow their characters. I can't remember the last time I've seen this all at once. Examples include Rockstar Spud, EC3, the Wolves and Samuel Shaw. There is some great international flavor also being infused in the broadcasts. Seeing the Great Muta perform live, even at his age, was a mark-out moment for the ages. They have also been bringing in some more knockouts with a mix of new and old faces.
There were times when Lockdown was a little over-the-top, but what promotion isn't guilty of that. I could have done without the Abyss coming in from below the ring, especially during a TNA world title match on PPV. This is further aggravating to see considering they are going to have a rematch between Magnus and Samoa Joe on Impact. Why should I the wrestling fan purchase to see a match on PPV that I can get for free a week or two later?
I believe there is a renewed focus in TNA where they are looking back at what made them standout from the beginning. I like what Magnus said during a conference call about how there was a time there were people in TNA who were working for themselves and not the company. As someone who isn't on the inside, that appeared evident when watching the product. Now I think they are on the right track. Unfortunately, they have put such a bad taste in people's mouths that a lot of former fans don't want to give the shows a chance for fear of being burned again. Those who watch and enjoy TNA should let their friends know it's safe to tune in Thursday nights again and buy tickets to their live events, as the good definitely outweighs the bad.
WWE has also making tremendous strides as it relates to building WrestleMania. I love they are having an Andre Memorial Battle Royal. It gives those on the roster who wouldn't be featured on the card a pay day and a chance to have a Wrestlemania moment. The winner, hopefully an emerging talent, can use the accolade on his journey to the top of WWE for the rest of his career. The company did a masterful job in making Daniel Bryan versus Triple H, where if Bryan wins he gets put into the WWE world title main event of WrestleMania XXX. All those people in the ring and surrounding it with Daniel Bryan shirts chanting Yes! with their hero was quite a visual. Triple H and Stephanie McMahon also played their roles to perfection.
The interest at seeing Batista vs. Orton again was pretty much nonexistent. It may be predictable, but I'm sure a large section of the audience doesn't mind if it means Bryan finally gets what he has been chasing for over the past few months. It gives the WWE Universe that happy ending they've wanted for the leader of the Yes Movement.
What do you think? Comment below with your thoughts, opinions, feedback and anything else that was raised.
Check out my work on the Miami Herald pro wrestling section online miamiherald.com/sports/wrestling and on John "Bradshaw" Layfield's Layfield Report at layfieldreport.com/Scott-Fishman-Blogs_.html. Follow me on Twitter: @smFISHMAN.