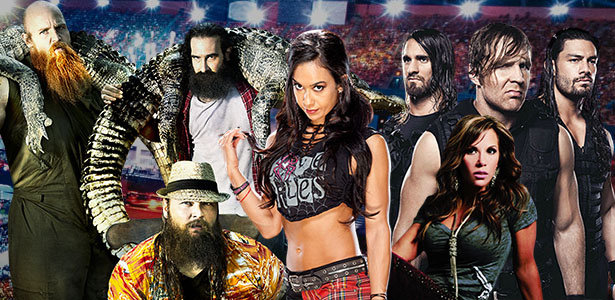 This week on Raw we got more matches for Survivor Series, but no elimination tags that made the long-running event special. I'm hoping they make some soon with a little over a week until the pay-per-view. It's funny I think WWE did a better job building Survivor Series in the months leading up to the event than they have the last few weeks.
    I was really intrigued by the interaction between the Wyatt Family and the Shield. At first I thought Dean Ambrose, Roman Reigns and Seth Rollins were turning face. I think there is huge potential between these two trios. The end of Raw was the best part of the show and made me excited for Survivor Series. Then they disappointed me by making it just CM Punk and Daniel Bryan versus Erick Rowan and Luke Harper. WWE had a prime opportunity of making an awesome traditional five-on-five main event caliber match. There is still time to make this happen. After all, card subject to change.
    Mickie James created a buzz this week by serving as guest trainer at the WWE Performance Center in Orlando. Given her success, the up-and-comers could learn a lot from the veteran diva alum. I wouldn't mind seeing "Hardcore Country" on Raw or SmackDown again. AJ Lee could use some fresh completion. There are only so many times she can face the Bell Twins.
    Speaking of the diva's champion, news broke of Lee collapsing during a match at a live event on the European tour. The initial word is she blacked out and was helped to the back. What exactly happened to cause the scary ordeal remains in question, but this is a reminder how rough the life of a WWE performer is. They are constantly on the road, probably on little to no sleep. Maybe the grind has taken in its toll. We send our thoughts and prayers to Lee.
    You really see the best and worst of social media when these situations happen. The majority are caring and respectful. They know, above all else, these superstars and divas are human beings with families. However, there are a few bad apples looking for attention and don't' care how they get it. The best you can do in those cases is ignore them and feel sorry for them.
    WreslteMania XXX tickets going on sale this week is best for business, but not the wallet. Talk about a wide range of prices, from $25-$2,000. I bet 25 bucks could get you pretty good seats 30 years ago during WrestleMania I. Now that amount will get you nosebleeds. For me, the stress isn't buying WrestleMania tickets. Although it was this time around considering how long it took for the page (20-30 minutes!) and order to process. The Hall of Fame and Raw tickets are the ones I make sure to get during the presale. Those events are not held in stadiums and sell out quickly, especially if they name one of the Hall of Fame inductee in advance. The road to WrestleMania has officially begun in my book.
    TNA loves stipulation matches. The "Wheel of Dixie" is certainly giving us those on a consistent basis. I think a problem when the company had pay-per-views every month was they gave pretty much everything away on free TV. If I'm going to see a cage or Ultimate X match on Spike TV, why should I pay for it? What is different about the paid shows than the ones I can get on cable? That has been an issue TNA has had during most of its time in business. That said I've enjoyed the tournament matches so far. Austin Aries and Kurt Angle delivered a great wrestling match. I would love to see those two hook up again.
    The company has a few shining stars who have the potential to make an impact in the next few months. I have always thought Magnus had all the tools to be a TNA headliner, and I think we are headed that way in 2014. He is my favorite in the tournament, especially if a heel turn is in the works. Ethan Carter III has the look and presence of a superstar. The company is building him the old fashioned way with enhancement talent. I can't wait until he faces someone of substance.
    Check out my interview with the "Million Dollar Man" Ted DiBiase talking WrestleMania, his son leaving WWE and who he would make a million dollar champion at http://www.miamiherald.com/2013/11/14/3754011/wrestlemania-30-has-special-meaning.html .
I also have some new columns up on John "Bradshaw" Layfield's Layfield Report up at http://www.layfieldreport.com/Scott-Fishman-Blogs_.html.
Follow me on Twitter @smFISHMAN (https://twitter.com/smFISHMAN).