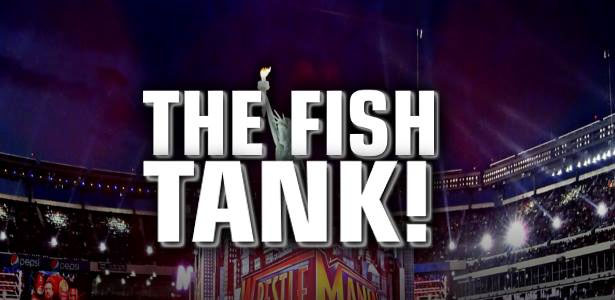 Survivor Series has always been one of my favorite events of the year, a Thanksgiving time tradition to signal in the holidays. This year I think WWE dropped the ball when it came to generating excitement for one of the company's longest-running events. They did a better job building toward Survivor Series in the months prior than the final weeks leading up to the big event. I think if they went through with the 12-man main event on Raw for Survivor Series, it would make the PPV more of a must-watch. Don't get me wrong. I know the traditional tag match they have booked will be good, but could have been so much better. Speaking of Survivor Series, I'm sensing some sort of controversial decision regarding the world championship or WWE title. This is the same event of the Montreal Screwjob. Perhaps, they will relive Survivor Series 1994 with Nikki Bella throwing in the towel as Alberto Del Rio has a submission hold on John Cena. The card itself looks pretty lackluster, but that doesn't mean it won't be a solid show.
The diva's musical chairs segment was one of the worst segments on Raw in a long time. For all the mainstream exposure the "Total Divas' show is getting for the female talent on the roster and some strides made in the past year with AJ Lee as champion, it all took a step back in a few minutes. There are better ways to lead to a Survivor Series tag match. Speaking of Lee, having Vickie Guerrero mock AJ's fainting in the ring during a match on the European tour was not cool. At first I thought Vickie was doing a tribute to Eddie Guerrero, but then they talked about dehydration and such. Even if AJ was okay with it, the company is just as bad in this case as those people on Twitter making jokes about serious situations. I'm not surprised and know this is the entertainment business, but I'm a little disappointed in WWE for that.
One of the bright spots of Raw on Monday was Big E Langston capturing the intercontinental championship. The fans in Nashville really got behind the powerhouse and served as the perfect place for the title change to take place. He has a way of getting the crowd behind him. You could see how much winning the gold meant to Langston. The challenge is making the title win mean something months down the line. I'm looking forward to see how Langston progresses.
It was great to hear about Davey Richards and Eddie Edwards work the NXT tapings. The Ring of Honor duo has all the tools to make a big splash in WWE if given the opportunity. Here's hoping they get signed, as the American Pitbulls, as they were called, could really make the tag team division even more competitive. Can you imagine The Shield versus the American Wolves in a WWE ring? Interesting enough, I remember years ago when I interviewed Richards he was contemplating leaving the pro wrestling business. It's funny how things work out.
TNA held its free-per-view "Turning Point" this week, which I think is a perfect name for the company's first show back in Orlando. The crowd reacted well to the show, but there was really nothing that made it more than another Impact. I enjoyed the James Storm and Bobby Roode match, as well as Mr. Anderson and Bully Ray. However, it didn't have that special feel that shows such as the Clash of the Champions had in WCW. I think it might help if they had these free-per-view events on a different night. That way it appears more special than something that is in the regular timeslot. They could even extend the event an hour if they want to keep it on Thursdays. Either way, I like the idea of having a bigger show every few weeks on TV, but think they should do a better job giving it that "Big Fight" feel.
I'm glad to see the Aces & Eights disband, as it's time for Bully Ray and the rest of the members to move on. Ray really made the most of his opportunity as leader of the faction, so it will be interesting to see where the company goes with him. Sadly, we lost Maurice "Mad Dog" Vachon this week. I can see some of what made "Mad Dog" such a great heel in the Bully of TNA.
I'm pulling for Magnus to win the Wheel of Dixie TNA tournament. He has all the tools to shine and is a fresh face the company can really build a future with. I also think Ethan Carter III can be a star. There are so many talented performers in TNA right now. It's just a matter of using them right and following through on the pushes they are given. Others on the roster who I love watching include Frankie Kazarian and Christopher Daniels. They make something out of nothing more times than not, always managing to be entertaining in the challenging situations they are placed in.
I think it's humorous that Dixie Carter made an elimination match similar to Survivor Series on Thanksgiving days after WWE holds its event. I don't know if all these similar bookings are happening around the same time are coincidence or intentional. If we happen to see a Dixie Carter 29-man elimination battle royal the same week as the Royal Rumble, I guess we will have our answer.
Check out my interview with Booker T. talking WrestleMania, reconciling with his brother and more at: this link.
I also have some new columns up on John "Bradshaw" Layfield's Layfield Report up at this link.
Follow me on Twitter @smFISHMAN (https://twitter.com/smFISHMAN).