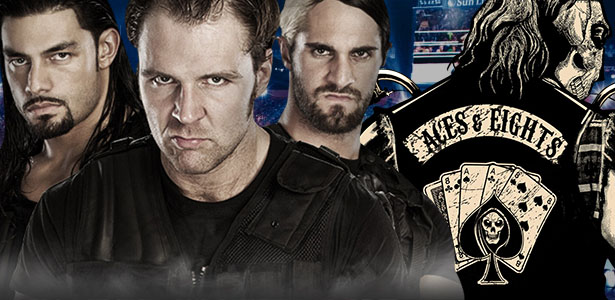 It's easy to see the workhorses of WWE these days are the Shield. They were on almost the entire broadcast of SmackDown last week and have competed in two handicap matches with the last being on Raw. Normally I'm not a fan of these style contests, but can say these in particular were very entertaining and the crowds were involved, which helps. That's a real testament to the athletes who participated. The fact that during each of the matches you believed the trio could win shows how good the Shield are and what an effective job WWE has done in building up the group.
It's basically the opposite for Aces & Eights in TNA. Bully Ray has become the main star to benefit from being the leader of the group, which has some good workers. While it's a nice opportunity for Wes Brisco and Garrett Bischoff, I can't really look back at any real character development from any member of the faction besides the TNA champion. There were some bright spots and interest in the beginning, but it seems the company has realized the faction has run its course and overstayed its welcome.
With constant talk about TNA and its future with many exits this year, it's time for the company, now more than ever, to switch gears to what made them who they are. They need to focus on what separated them from everyone else in the pro wrestling and sports entertainment marketplace. They have a roster filled with some incredible talent, who in TNA's defense has been getting time to have some good matches. There needs to be more of that.
The stop-starts of angles in TNA need to stop. When they are going in one direction with a character or angle, it's best to see it through. How many times did Mr. Anderson turn from face to heel and back to face to turn heel again? He isn't the only one. When talking to Matt Morgan a source of frustration during his time with TNA was the fact he was given an angle or storyline to work with only for it to be changed or stopped all together. It's the inconsistency that can hurt the product and morale.
I also miss Abyss and the six-sided ring (which I know I will probably never get back full-time), but hopefully a more competitive knockouts division is in the cards. Right now there are about four female talents on the roster in what has almost become TNA's version of Survivor. It looks like there are signs of new faces showing up on Impact in the weeks to come with Lei'D Tapa being the first. Gail Kim recently said she sees a ton of potential in the former Gut Check participant. Could we be seeing a new dominant force in the knockouts?
Speaking of women in wrestling I'm all for female authority figures if they are good. Stephanie McMahon has shown she can create captivating TV over the years, but I can't really say the same for Dixie Carter just yet. However, an argument can be made she doesn't have the years of experience of being on TV on a weekly basis like McMahon. However, when you are the boss, an authority figure or a member of the corporate structure behind the scenes, that doesn't guarantee it will work when the cameras are rolling. I think given the success of Eric Bischoff and Vince McMahon back in the 1990s there has always been this perception that if you head up a promotion you should automatically be put on television. With that said, I'm willing to have an open mind. Let's see how Carter's character progresses and storyline with AJ Styles plays out. It's something different and has gotten people talking, which is a plus. Here's hoping it results in good business for TNA and an upswing for the company. As fans, we should want them to succeed because it means an alternative of what to watch and employment for many hardworking and talented people.
Speaking of hardworking and talented people, the Rhodes family has become one of the most interesting stories in WWE this year. Goldust has proven he can great matches and connect with the audience. When this angle has reached its conclusion, I hope Dustin sticks around, as he has so much to offer a young locker room. Cody Rhodes has never been more interesting, and it's always a delight to see the "American Dream" Dusty Rhodes. There is some sort of tag match involving this family and Triple H's group in the future, which should be fun to watch. I am still holding the candle that War Games will one day come out of retirement sooner or later and refuse to let it go.
Right now on the Miami Herald pro wrestling section I have a story featuring Matt Morgan, who opens up about having children, why he left TNA, the potential for a WWE return and more: www.miamiherald.com/sports/wrestling.
I also have some great columns up on John "Bradshaw" Layfield's Layfield Report, which you can read at www.layfieldreport.com/Scott-Fishman-Blogs_.html. You can also follow me on Twitter @smFISHMAN (twitter.com/smFISHMAN), where I enjoy receiving feedback and tweeting during shows.