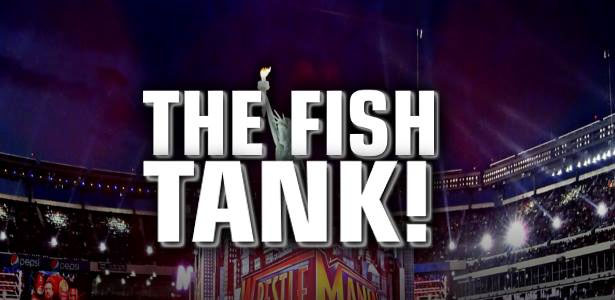 I think in many ways WWE has lost its mojo compared to the roll its shows were on just a few months ago. I don't know what it is, but Raw seems longer than normal. I like the idea of a unification match for the WWE and world title. I believe it should have happened a while back, considering the brand extension has been gone for years now. However, I'm kind of bummed they didn't do the unification bout when it was Daniel Bryan and CM Punk as champions. I can see why they want John Cena and Randy Orton to be the guys in the historic contest, considering how their careers have intertwined for more than 10 years. I just think it would be a more interesting match with Bryan and Punk because we've seen Cena and Orton so many times with various stipulations.
I do give Orton and Cena credit as they did sell the TLC match well at the end of Raw. Cena is really at his best on the microphone when he is deadly serious and not messing around. Its fine to kid once in a while, but it gets a little old and cheesy. Although I could be feeling that way because I'm not really the targeted demographic I guess. There is no doubt Orton and Cena will give it their all and work hard to give the fans a show in Houston, but I would have wanted Punk and Bryan in that position.
Speaking of those two, the Shield and Wyatt family will be battling them in separate contests. I can't stand handicap matches, as I don't think they draw as well on pay-per-view. That said and given the great performers in the ring, it should be entertaining to watch. Let it be known I think Paul Heyman is involved somehow in this plan with one or both of those factions.
I found it laughable to see Damien Sandow and Dolph Ziggler going after an intercontinental title shot on Raw. It wasn't long ago Ziggler was world champion and Damien Sandow was Mr. Money in the Bank. Now the two have been put into gimmick matches week after week. Just goes to show you that if you are a superstar and diva getting a push, enjoy it while it lasts. You never know when the ride at the top will end.
I've been enjoying the world title tournament matches on TNA the last few weeks. There is more focus in recent episodes. I feel they are doing a better job promoting their free-per-views than they did when they had monthly pay-per-views. It's not shock to see Magnus in the finals of the tournament facing Jeff Hardy. If anyone could use the big win in the tournament it's the breakout performer from the UK. I don't read spoilers, but this would top off a great 2013 for Magnus and take him to the next level.
Despite the comparisons to WWE, I'm happy to see Rockstar Spud in such a high profile role in TNA. He has much to offer in the ring and seems to be making the most of his opportunity thus far. TNA is smart to continue to feature those from Europe because that is where they are most popular. It's where they draw good ratings and nice sized crowds. It's time to reward that dedicated fan base. With TNA going on that European tour, now is the time to have Magnus as world champion and Rockstar Spud used regularly. I would even say maybe bring in the Blossom Twins fulltime. Wrestling twins have been doing well these days. Just look at the Nikki and Brie Bella.
Check out my story on Big E Langston on the Miami Herald site. He discusses what it meant to him to be included in the WWE 2K14 DLC pack, working with AJ Lee and Ziggler, becoming intercontinental champion and more here. Be on the lookout for my interview with The Miz coming soon.
I also contribute regularly to John "Bradshaw" Layfield's Layfield Report. This week I go into reasons I believe Goldust should win the "Comeback of the Year" Slammy (here). For more stories, visit this link.
Follow me on Twitter @smFISHMAN (https://twitter.com/smFISHMAN).