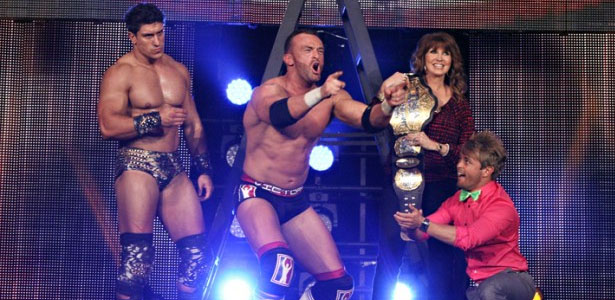 There are so many occasions TNA Impact Wrestling gets picked apart to pieces by fans. Many times it's for good reason and other times it's unwarranted. I wanted to use this space to give credit where credit is due. Final Resolution, the Impact free-per-view, this week was one of the company's strongest shows in quite some time. I don't know if it's because I was watching late at night after a holiday party, but I truly enjoyed it.
There was a focus, and the company did a great job in building up the matches. Kurt Angle and Bobby Roode has been among my favorite parts of TNA the last few weeks. They have delivered entertaining matches and television consistently. They aren't reinventing the wheel, but keeping it simple. It has an old school feel to it. Roode is being taken to the next level with one of the best the industry has to offer and Angle is getting some worthy competition. I'm looking forward to seeing what happens next in this rivalry.
However, the big moment of the night was Magnus defeating Jeff Hardy in the first ever Dixieland match. The hybrid cage and ladder main event was given an adequate amount of time with a good story told leading up to the bout. It had the usual shenanigans you can expect, but gave Magnus his career milestone as TNA world heavyweight champion. He has all the tools and look a company can really build around. Magnus screams mainstream appeal. I believe the talented performer is also the first ever European world champion in the promotion's history.
It's nice to have some new blood in the picture. It is refreshing and shows TNA is heading in a new direction and era as we close 2013. The company has a huge fan base in the United Kingdom and other places in Europe, so it makes sense to throw them a bone. They are the most dedicated fans TNA has got. They are loyal and should be rewarded for their loyalty. They just got it this week not only with Magnus standing at the top of the TNA mountain, but Rockstar Spud as a featured star on the show. He was instrumental in Magnus winning the gold.
Rounding out Dixie's group is Ethan Carter III, who TNA has portrayed as a star since he debuted at Bound for Glory. I'm not a fan of squash matches, but it helped with the persona. Now he seems to be entering into a program with the legendary Sting, which can only mean good things for him. He has a prime chance to prove himself. Now he has a tag team championship opportunity. Will he chose Magnus? Will he chose Spud? Is Magnus really on Team Dixie? These are just some questions that TNA left the audience with, and that is a good thing.
Gunner is another who won big in Feast or Fired, earning a TNA title shot. There seems to be problems with his tag partner James Storm. Is this is a sign the emerging star is breaking out on his own? Zema Ion is another winner of a briefcase. He received an X Division championship opportunity. I've liked how his character has evolved as well. The former champ works well with Robbie E and Jessie Godderz. They have grown on me and have a fun dynamic.
I'm also happy to see Abyss slowly coming back. Joseph Park was good while it lasted, but now it's time to fully unleash the monster. Park has outstayed his welcome and I think fans are ready for Abyss to return full-time.
Crazy to think TNA delivered such a strong show without Bully Ray, but I think they took some big steps in the right direction. They should have a strong start to the year with their UK tour getting underway. TNA always looks big-time in venues there with packed houses. I'm actually excited and hopeful the young guns of the company will turn things around for them. The future looks bright.
Feel free to post your thoughts, opinions, feedback and comments below.
Follow me on Twitter @smFISHMAN.
Check out my work on the Miami Herald website at this link and John Layfield's Layfield Report at this link.