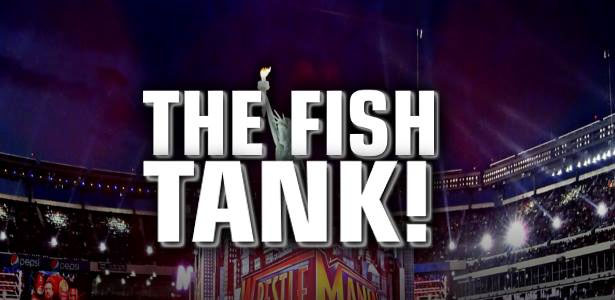 It's a fun time a year in WWE with Royal Rumble and WrestleMania season fast approaching. We learned officially the Ultimate Warrior was being inducted into the Hall of Fame 2014 class. This isn't surprising since he was a featured part of WWE 2K14. It remains one of the greatest entrance and theme music combinations in history. He was great during his appearance in Los Angeles during SummerSlam weekend for the videogame. His speech is sure to be one to remember. Although, the verdict is out if we will need a translator or subtitles. It would be cool to see the Hall of Fame broadcasted on the WWE Network. I think the USA Network doesn't really capture the ceremony, cutting the speeches and editing everything. A lot of people are saying Hulk Hogan would be ideal to be the one to induct Warrior. However, what about Zeb Colter? He was influential in the Warrior's career early on in his career. It's just a thought.
Daniel Bryan broke free from the Wyatt Family on Raw. He got a great reaction from the crowd. I think it just made the Bray and Bryan feud that much better. Given his concussion, here's hoping this doesn't affect things too much. I would have thought this match would be good to see at the Royal Rumble, but they may decide to stretch it out further.
Raw was also a big night for the Uso's and Kofi Kingston. It was a big week for the Uso's in general, as they got the big win in the cage match main event and Jimmy married Naomi. I wonder if this nuptial was captured by the "Total Divas" cameras or not. Rikishi's sons have done well in evolving and developing a solid fan following. It wouldn't shock me to see them win the tag team titles. Kofi seems to have the number on Randy Orton given their history dating back to 2009. It was a big win for Kingston over the WWE world heavyweight champion. Hopefully, this brings some much-needed intensity out of the performer.
There is lots of buzz concerning Hulk Hogan and Roddy Piper's possible involvement in WrestleMania festivities. They should be there, as it's a milestone 30th anniversary of the first event. The two were influential in making the biggest spectacle in sports entertainment what it is today. It's always interesting to see a fan's tune change after talking bad about Hogan until he returns and then they are his loudest supporters. It happened in 2002, and I think it will happen again. WrestleMania XXX should have a heavy emphasis on nostalgia.
TNA has made some strides in recent weeks in developing new talent, but the biggest push they are giving is Dixie Carter. She was heavily involved on Genesis, billed as a free pay-per-view caliber event. I would have been very angry had I paid for a show where the majority of the first hour was talking. I get there needs to be storyline development and work on the microphone is a necessity, but not to such a degree. At least all at once, maybe if it was spread out it would be different.
If it was a pay-per-view, I wouldn't enjoy the constant screwjob finishes. This has become a regular occurrence. They are trying to generate heat for Team Dixie, but it's getting out of hand. I also think its humorous they are having a sequel to Genesis. Shouldn't it be called TNA Saturn? They also moved the promoted cage match between Kurt Angle and Bobby Roode a week. That was a big drawing point in building the show, leaving fans disappointed. It's something you don't want to do. I like the concept of having bigger shows once a month on Spike TV, but the problem is they are basically the same old Impact. A suggestion is adding an hour for these events and doing PPV style matches. This will give it that feel.
They did book a big match with highs stakes concerning Sting and TNA champion Magnus for Genesis part deux. The stipulation involving Sting's contract adds more fuel to yearly rumors the Icon is going to WWE. Who knows if that's the case? Sting has been loyal to a fault much of his career. He deserves one more big run and match. WWE and WrestleMania is the ideal platform for that. I hope it happens before it's all said and done. However, what if Sting ends up being the investor they were speaking of on the show. Then it would be a battle for power with Team Sting versus Team Dixie leading into Lockdown, taking place…right here in Miami, Florida (cheap Foley pop).
If you need a reason to watch TNA going forward, you don't have to go far with Eddie Edwards and Davey Richards looking to make an immediate impact (pun intended). The talented duo will be great additions to the roster in the singles and tag team ranks. They would have been tremendous in WWE's own division, but TNA has the opportunity to really build around theses stellar athletes. I'm really looking forward to seeing how the Wolves shape up in the company.
Check out my work on the Miami Herald pro wrestling section online at this link and on John "Bradshaw" Layfield's Layfield Report at this link. Follow me on Twitter: smFISHMAN (https://twitter.com/smFISHMAN).