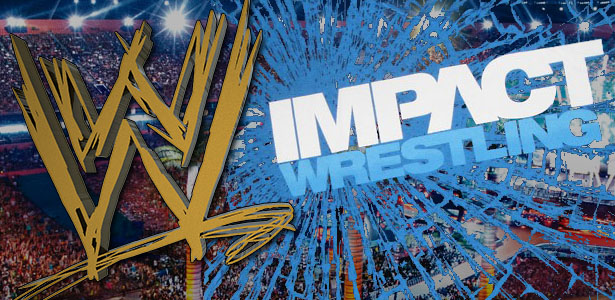 TNA hosted it's Bound for Glory pay-per-view this past Sunday, which has gotten mixed reviews. I enjoyed Kurt Angle versus Bobby Roode and the effort from a few other matches. However, I can't wrap my head around why the company would think it would be a good idea to put a squash match on its "biggest show of the year". I feel that would have been better suited for an Impact show where I'm not shelling out my hard earned money (Yes, I pay for all of the pay-per-views I watch by splitting the cost with friends). Ethan Carter III deserved a big debut against a worthy opponent. It was nice to see AJ Styles win the TNA championship, no matter how predictable. Sometimes predictable is a good thing.
That said, I think Bully Ray made a great title holder and represented the company well. The two had a rematch on Spike TV a few days later. I can't stand when companies do this. Once again it makes myself, the consumer, look stupid for buying a pay-per-view when I can just get it on cable a few days later. It's a mentality that turns fans off when it comes to purchasing shows. I think it wouldn't bother me as much if it wasn't the main event of the card. It's supposed to be the reason people are going to tune in to watch. It goes back to the old saying of, "Why buy a cow when you can get milk for free?" Or something like that.
People give Dixie Carter in front of the camera a hard time, myself included. However, we may forget she doesn't have the experience of being on TV as a full-on character on a weekly basis. This is out of wheelhouse, and she is still learning. Though it's interesting to think that if she was an everyday performer would she be on the shows? I would think no.
There are so many similarities between WWE storylines and TNA's current ones. It may be a matter of coincidence, but since the bigger company did it or is doing it first, makes them look like copycats. There isn't much that hasn't been done already, which is why you see so many sequels and reboots in the theater. It's interesting to compare and think how much of an influence WWE has on TNA's product. You certainly see it with Stephanie McMahon/Dixie Carter, Gail Kim and Lei'D Tapa/AJ Lee and Tamina and the AJ Styles storyline, which has elements in a number of WWE programs including CM Punk and Daniel Bryan. Maybe creative should be barred from watching other programming in the same marketplace the same way a jury is forbidden to watch television news during a trial. This way they don't have to worry about being influenced by it.
TNA announced its official move back to Universal Orlando and 24/7 programming initiative. It's another direction and one I hope sticks for their sake. They have gone through so many changes and identity shifts over the years it can make your head spin. However, I give them credit for recognizing a problem or plan that isn't working and not being afraid adjust. So many times companies in the business world will continue doing things the same way when it's clearly hurting them, and that's why they go out of business. TNA is hoping to be around for the long-term and taking proactive measures to ensure it with its programming. I like the idea of doing one venue and then doing a few bigger tapings on the road, but was hoping it wouldn't be Orlando, which already has WWE's NXT.
Hell in Cell is happening right here in Miami, Florida (cheap pop). I think they did a better job of making me excited about this show than Battleground, and it's not only because I'm attending. They have created interest with Shawn Michaels as special referee and wondering how things are going to happen. Then you have the Big Show in the mix. Whatever the conclusion, I hope there is a clear one. Another thing I can't stand as a consumer is a PPV main event or WWE title match without a conclusion, and we've been getting that. I'm expecting some shenanigans though, whether it's Big Show on wheels or Michaels super-kicking someone.
Halloween week is a good one for WWE with not only the PPV, but the release of WWE 2K14. I don't know about you, but I'm thinking of booking Antonio Cesaro as my face of the company, but not before giving Dolph Ziggler a lengthy WWE title reign. The Great Khali is also banned from competing in my ring. That's what's so great about these videogames. Even though it's not happening on TV, I can make it a reality in the world I create thanks to this successful game franchise.
Follow me during Hell in a Cell @smFISHMAN (https://twitter.com/smFISHMAN) and visit www.miamiherald.com/sports/wrestling for stories regarding the event. That interview with a big WWE name I promised has been pushed back next week, so hopefully it happens.
In the mean time I have some new columns up on John "Bradshaw" Layfield's Layfield Report regarding Triple H's controversial promo, Hell in a Cell predictions and my push to see Emma and Paige called up to freshen up the diva's division, which you can read at this link.