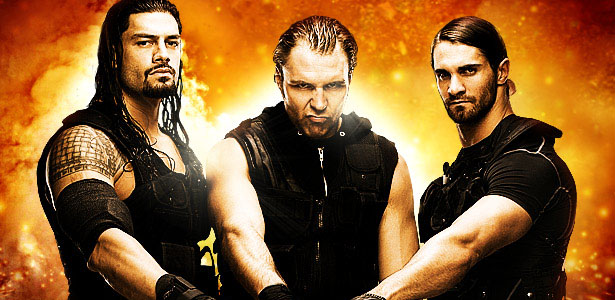 Once upon a time, there was the NWA Six-Man tag team championship. It was a title that was created in the Seventies, and existed in and out of time for the next 18 years. It would be considered a prize, then disappear for a two-three year period. It saw its heyday during the Eighties, when the Road Warriors & Dusty Rhodes would trade it with the "Soviet" faction of Ivan Koloff, Nikita Koloff, and Krusher Kruschchev. In World Class Championship Wrestling, the Freebirds and Von Erich family feuded famously, to the point where the Freebirds faced death threats for going after the local boys with such bloodlust, and where the "Freebird rule" came into effect, as two of the three would defend the belt at any given time. In a bit of irony, the NWA/WCW Six-Man Championship was the last title the Freebirds would hold, as Michael Hayes, Jimmy Garvin, and Badstreet won it in 1991, soon before it was retired for good.
In the modern era, six-man tag matches are used to build feuds, teaming up wrestlers against their upcoming PPV opponents, leading to some very odd tag teams, such as Randy Orton, Sheamus, and the Big Show at last year's Wrestlemania. Or, extrapolating out to eight-man tag matches, Steve Austin teaming up with the man who broke his neck, Owen Hart, along with Terry Funk and Cactus Jack, at No Way Out 1998. Those are just a couple of examples of how these bouts have been utilized.
However, about a year and a half ago, three wrestlers from NXT were teamed together and came out of nowhere, quite literally, to attack John Cena at Survivor Series 2012. Seth Rollins, Dean Ambrose, and Roman Reigns soon announced themselves as The Shield, a group dedicated to eradicating injustice wherever they found it. For a while, this meant attacking fan favorites and defending CM Punk, the WWE champion, from his challengers. At TLC 2012, they saw their first action in a TLC match against Ryback, Kane, and Daniel Bryan, and it was one of the best, most entertaining matches of the year. It was pretty obvious that The Shield were going to be a force for years to come.
Over the subsequent year, The Shield won the tag team titles and the U.S. Title (Dean Ambrose), beat an increasingly tougher list of opponents, and, despite some heinous actions, built a fan base because they were just AWESOME. It was undeniable, and it grew over the course of 2013. Ambrose's wild brawling style and Jake Roberts manner of speaking, Seth Rollins' insane risk-taking, and Reigns as a beast, someone who would tag in and just destroy opponents. All three of them got better, too. Reigns and Rollins got better on the mic and expanded their in-ring repertoires, and Ambrose refined his wildness, changing it from angry to dangerous, starting quietly and then raising his voice to emphasize his points.
And then, because every action must have an equal and opposite reaction, the Wyatt Family came to WWE, and they raised the stakes. Although rarely seen in six-man tag matches for the first few months, their presence and actions made them a threat to The Shield's dominance, and, sure enough, we saw them butt heads several times, teasing a larger fight. In a manner we've seen more over the past two years, WWE has been thinking long ball, even without us seeing it, doing slow builds, sending people down paths, and then bringing them back around where fans wanted them: facing each other. We saw it with Daniel Bryan's eight month path to the WWE World Heavyweight Championship, and we saw it with The Shield and the Wyatt Family. And it most certainly paid off at Elimination Chamber this year. Easily a match of the year candidate, these teams went for a half hour, and could've gone longer. Fans were on their feet, screaming for both teams even before the match began.
In that moment, the ascendance of the six-man tag match was finalized, and over the past two months, it has become the focal point of WWE programming, as The Shield is feuding with a reformed Evolution, and the Wyatts are feuding with John Cena and whatever two partners he can find in a given week. No matter how you cut it, the fact is that six-man tag matches or feuds are occupying a significant portion of airtime each week, and the unique chemistry of teams who primarily wrestle in such matches will help to ensure fans continue to be highly entertained.
What do you think? Comment below with your thoughts, opinions, feedback and anything else that was raised.