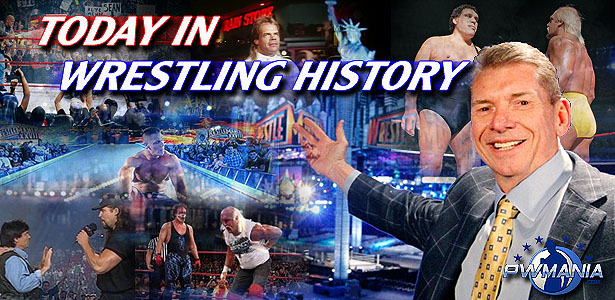 Trivia
1972 – Andre the Giant made his Canadian debut in Montreal, Quebec
1998 – The Monday Night War continued: WWF Raw defeated WCW Monday Nitro: 4.4 to 3.7 in the ratings
2010 – Wade Barrett wins WWE NXT season one
2010 – SpikeTV debuts Half Pint Brawlers, a reality series focusing on midget wrestling.  The series runs for 1 season
2011 – The trailer is released for "Back Door to Chyna", the first adult film from Vivid Video starring former WWF Intercontinental champion Chyna
Events
In 2008, the 4th & final WWE One Night Stand was held at the San Diego Sports Arena, in San Diego, California. The event would be replaced by Extreme Rules for 2009. With an attendance of 9,961:
Dark Match:
– Matt Hardy defeated Shelton Benjamin
PPV:
– Jeff Hardy defeated Umaga in a Falls Count Anywhere Match
– The Big Show defeated CM Punk, John Morrison, Tommy Dreamer, & Chavo Guerrero in a Singapore Cane Match to earn an ECW Title Match against Kane at WWE Night of Champions
– John Cena defeated JBL in a First Blood Match
– Beth Phoenix defeated Melina in an I Quit Match
– Batista defeated Shawn Michaels in a Stretcher Match
– Triple H defeated Randy Orton in a Last Man Standing Match to retain the WWE Title
– Edge defeated The Undertaker in a TLC Match to win the vacant World Heavyweight Title, & banish The Undertaker from the WWE
In 2013, Ring of Honor Honor In The Heart of Texas was held at the San Antonio Shrine Auditorium, in San Antonio, Texas:
Dark Match:
– Rudy Russo & AJ Summers defeated Ricky Starks & Carson
Show:
– Kyle O'Reilly defeated Mike Sydal
– Bobby Fish defeated Raymond Rowe
– Mark Briscoe defeated Steve Corino via DQ
– Athena defeated Barbi Hayden
– Roderick Strong defeated Adam Cole
– Eddie Edwards defeated Matt Taven in a Proving Ground Match
– Jay Lethal defeated ACH
– SCUM (Jimmy Jacobs & Rhett Titus) defeated Michael Elgin & BJ Whitmer in a Texas Tornado Tag Team Match
– Jay Briscoe defeated Davey Richards to retain the ROH World Title
Title Changes
1945 – Bobby Bonales defeated El Santo to win the Mexican National Middleweight Title
1948 – Sandor Szabo defeated Bronko Nagurski to win the Minneapolis World Heavyweight Title in Minneapolis, Minnesota
1948 – The Green Shadow defeated Herb Welch to win the Tennessee World Junior Heavyweight Title in Nashville, Tennessee
1956 – Buddy Rogers defeated Pepper Gomez to win the NWA Texas Heavyweight Title in Houston, Texas
1966 – Rene Goulet & Pepper Martin defeated Tony Borne & Prof. Hiro to win the NWA Pacific Northwest Tag Team Title
1971 – Brian Maxine defeated Clayton Thomson to win the British Middleweight Title in Croydon, England
1978 – Tor Kamata defeated Giant Baba to win the AJPW PWF Heavyweight Title in Akita, Japan
1979 – Jose Lothario & El Halcon defeated The Spoiler & Mark Lewin to win the WCCW American Tag Team Titles
1981 – Bill Dundee defeated Stan Lane to win the Mid-America NWA United States Junior Heavyweight Title in Memphis, Tennessee.
1981 – Jimmy Golden defeated Ken Lucas to win the  NWA Southeastern Heavyweight Title in Birmingham, Alabama
1986 – Marty Jannetty defeated The Shadow (Jaymie Knight) to win the NWA Central States Heavyweight Title in Marshalltown, Iowa
1987 – Jeff Jarrett defeated Moondog Spot to win the NWA Mid-America Heavyweight Title for the second time in Memphis, Tennessee
1990 – Kerry Von Erich defeated Matt Borne to win the NWA Texas Heavyweight Title in Dallas, Texas
1991 – TNT (Savio Vega) defeated King Kong to win the WWC Television Title in Bayamón, Puerto Rico
1996 – ECW Fight The Power, Pitbull #2 defeated Shane Douglas to win the ECW World Television Title
1996 – Brian Christopher defeated Jerry Lawler to win the  USWA Heavyweight Titles in Memphis, Tennessee
2001 – The Island Boyz (Ekmo & Kimo) (WWE's Rosey & Umaga) defeated The Haas Brothers (Charlie & Russ) to win the Memphis Championship Wrestling Southern Tag Team Title in Marmaduke, Arkansas
2002 – Chris Sabin defeated Gutter to win the NWA Great Lakes Heavyweight Title in Sterling Heights, Michigan
2006 – Mr. Excellent defeated Andres Diamond to win the Italian Championship Wrestling Interregional Heavyweight Title in Vigvevano, Italy
2009 – on Raw, Kofi Kingston defeated MVP to win the WWE United States Title
Birthdays
Happy birthday to one-time World Class Heavyweight Champion Black Bart (66), former SMW & All Japan Tag Team Champion Jackie Fulton (51), IWA-MS founder Ian Rotten (44), & one-time TNA World Champion James Storm (37)