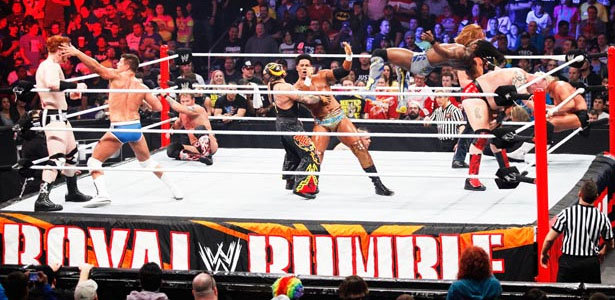 Ladies and gentlemen, boys and girls, children of all ages, the Internet Wrestling Community proudly brings to you its best writing duo in the wooooooooooooooooooooooooooooooooorld, the hard hitting Joe Thunder, the always kickass Mike Lightning, the Perfect F'N Storm!
Despite not being thrilled with some of WWE's booking decisions, the 2014 Royal Rumble has a solid card on paper. Here's our take on how things will go down.
Kickoff Match: WWE Tag Team Champions Cody Rhodes and Goldust vs The New Age Outlaws
JT: The kickoff match? Wow. Yeah, I'm predicting Rhodes and Goldy to retain here. I do think they'll eventually split, but what would be the logic to it? The obvious answer is that Goldust will become jealous of his little brother's success with the Rhodes name, and thus we have a WrestleMania battle, but I'd be just as content seeing them remain as a tag team for the next several months. Cody is going to be a singles star one day, but with the roster depth being what it is right now, what's the hurry?
ML: I've been fighting with the idea of the NAO being involved in this match for the titles. On one hand, you could make an argument that it's good for the tag team division. On the other, you can list about four or five tag teams that probably deserve this shot over them. Either way, I expect this match to go under 10 minutes and be nothing special. Prediction: Cody Rhodes & Goldust to retain. How I would book it: I would have Goldust turn on Cody during the match revealing that he is the newest member of The Authority – leading to Cody vs. DUSTIN RUNNELS at WM XXX. Let the NAO have a short Championship run and elevate another tag team at WM XXX.
Brock Lesnar vs The Big Show
JT: These two have had matches in the past(Rumble 03, Survivor Series 02, Smackdown, etc) and they were fairly short. I don't expect this one to be quite as a short. I see the match going between 12 and 16 minutes with a really nice story told. I think you'll see Show do some dominating, and then you'll see Lesnar bounce back and slay the giant. Brock will most certainly win here, but it will be one helluva fight between two big men. I can't wait!
ML: I have to admit. I don't care. Though, the WWE has done a solid job at building this match for the PPV. The biggest reason I don't care is because the outcome is inevitable. There's no suspense or mystery surrounding this match. I'm just hoping for a solid amount of brute force and an entertaining brawl.
Prediction: Brock Lesnar
How I would book it: If the WWE is really dead set on allowing Lesnar to compete for the WWE World Championship in the near future, I would have Lesnar dominate a majority of the match. It does nothing for Show's character but judging from the lack of direction Show has had lately, there doesn't seem to much in the works for Show in the coming months, anyways. I would have Lesnar dominate to make seem like even more of a dangerous threat for the Title.
Daniel Bryan vs Bray Wyatt
JT: Logic dictates that Daniel Bryan win this match and end their rivalry, but I don't know what direction WWE is headed with for Dbry. It's not the direction you would expect for the top performer and most popular talent in the company. I'm picking Dbry because it would be the smarter booking choice. Bray doesn't need to win to have a dominating effect and deliver a good performance.
ML: There hasn't been a better built feud on this card, in my opinion. Bray Wyatt and Bryan's interactions have been spectacular and has elevated this feud to new heights. Bray Wyatt has slowly become one the biggest heels in the company and Daniel Bryan's popularity has helped him achieve that status. I expect this match could steal the show.
Prediction: Daniel Bryan
How I would book it: Since I don't dabble in DQ or countout finishes, I book this match similar to how Taker lost a majority of his early matches. The unique thing about Wyatt is you don't have to book a clean finish for him to have a feud conclude. I would have Bray get DQ'd here to lose by not responding to a referees five count. And have the Family beat DBry down after the match, again.
WWE World Champion Randy Orton vs John Cena
JT: I'm not going to bitch and moan about this. I don't care for it, but their TLC Match wasn't horrible and this one won't be either. The problem here is that people aren't happy with the title scene, but that doesn't mean we can't enjoy the matches put in front of us. I'd be surprised to see Cena win the title here, but I suppose anything is possible(I would LOVE to see Cena win the gold and have Bray Wyatt win the Rumble, but that doesn't seem to be the WWE direction right now). It won't be a bad match.
~WWE World Heavyweight Championship Match~ Randy Orton (c) v. John Cena
ML: I've received some interests remarks regarding this feud over the past few months pertaining to my opinion that I actually LIKE thia feud. Yeah, it's Orton and Cena getting shoved down our throats again and that's always boring but it's not secret I like Orton and have a lot of respect for Cena. Plus, Orton and Cena matches are generally entertaining. I'm hoping for somrthing new from these two but I'm not holding my breath. I still expect an rKo "from outta nowhere" and the "five moves of doom" but everything else in between can be fresh. I would love that. Hopefully they're able to tell a great story.
Prediction: Randy Orton to retain
How I would book it: I would actually book this the other way if I was the booker. I would book Cena to win(no, not because I want him to beat Ric Flair's record, though it's inevitable that it will happen). I would book it that way because I would book Bray Wyatt to win the Rumble that way. If the WWE isn't going to give me Bray Wyatt vs. The Undertaker at WM XXX – I would want him involved against Cena for the Championship.
The 2014 Royal Rumble Match
JT: Talk about mixed feelings. Daniel Bryan NEEDS to be in this match to make it exciting. CM Punk can't do it alone. Punk will get screwed by someone close to Triple H and the Authority(Kane, Kevin Nash as a surprise entrant, etc). Chris Jericho will likely pop in. Sheamus could return. Cody and Goldust could have some issues if/when one brother eliminates the other. Roman Reigns will have a dominant performance and eliminate a lot of guys. Batista will win the match. It won't be the most memorable Rumble match in WWE history, but it has the potential to be very exciting if Daniel Bryan is involved.
ML: There is a lot for me to say here. First, in November of 2013 if was reported that the WWE was toying with the idea of CM Punk winning the Rumble. Then, in December, Roman Reigns' name was rumored based on his Survivor Series performance. Then a flurry of names were rumors to close out the 2013 calender year: Sheamus, Bray Wyatt, Daniel Bryan and Batista were all names we were reading as potential Rumble winners. Then the vignettes of Batista's return started and everyone seemed to settle on Batista. There are "reports" out there that Daniel Bryan won't be in the Rumble. Reigns is on a path of a split with his Shield counterparts. Wyatt may not be involved but Rowan and Harper will be. And CM Punk looks to be a lock for a WrestleMania XXX match with Triple H. That leaves Batista. The underwhelming and predictable…and terrible, in my opinion, winner of the Rumble. Or does it? In 2012, Chris Jericho was supposedly the "lock" to win the Royal Rumble – NOBODY thought otherwise. But during that year before everyone settled on Jericho, there was a slew of names that were thrown at us. The WWE settled on Sheamus. Of course that was when there was two World Championships – but could the WWE be prepared to give someone else the ball? Have they done an excellent job at swerving everyone? It's yet to be seen.
Prediction: Daniel Bryan
How I would book it: If the WWE is hell bent on keeping Daniel Bryan from the Rumble match but wants to a book a surprise winner – Damien Sandow is the PERFECT choice. Sandow's booking has rivaled that of Sheamus' prior to when Sheamus won. He's been stuck in the irrelevant hell and has had nothing major to do. Plus, Sandow isn't THAT outrageous of a pick. If the WWE wants to do something different, Sandow winning the Rumble WOULD work. He's had two AMAZING matches with John Cena – I would book Cena to win the Championship and have thrown into a feud with Sandow for two months. (Remember the time when Sandow proclaimed that he was going to use every bit of living, breathing life until the Cena Era ended in the WWE? I do). Sandow v. Cena at WM XXX would be the PERFECT and most brilliant ending to their feud. And it would catapult Sandow into super stardom and create a new main event player.
*Note* I know I said Bray Wyatt v Cena at WM XXX earlier – I was basing that off the potential rumored match between them at WM XXX. My Rumble Match booking is how I would build it instead.
The card will deliver us some good wrestling and hopefully a surprise Rumble winner, but regardless, the road to WrestleMania will be started! Thanks for reading!