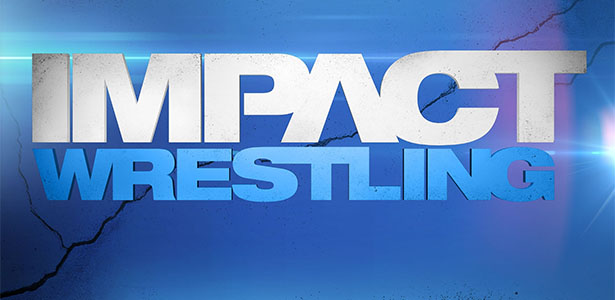 TNA Impact Wrestling Results – May 29, 2014
TNA Impact opened with a video package on MVP.
Inside the Impact Zone, Bully Ray's music played to bring out Bully on-stage with a mic. TNA quickly cut to Bully delivering a promo about being motivated and obsessed. Bully said he is obsessed with six people in TNA – and each one of them is going through tables. To accentuate the point, six covered tables were assembled on-stage.
Bully limped toward the stage to reveal one table with Bobby Lashley's name on it. Then, Ethan Carter III. Then, down the stage to Kenny King and MVP. Rockstar Spud was the fifth person on his list. Which left one person, which Bully asked the crowd who they want to see go through a table. Who? (mumbling from the crowd.) Who?! Bully revealed Dixie Carter as the sixth target.
Bully stormed the ring and vowed to send every last one of them through a table whether this week, this month, or this year. MVP's music interrupted to bring out MVP dressed to wrestle. MVP surveyed the table with his name on it, smirked toward Bully in the ring, and addressed Bully. He said he doesn't respond well to threats, so Bully should re-think his position.
MVP said this isn't happening tonight. He then brought out his friends to help fight Bully. Out came Kenny King and Bobby Lashley also dressed to wrestle. Suddenly, ECIII attacked Bully from behind with a chopblock. Rockstar Spud, sporting a neckbrace with his crazy blue suit, encouraged ECIII to take it to Bully, who took a five-on-one beating. On commentary, Mike Tenay called this a replay from last week.
As the crowd sat quietly, Spud and ECIII retrieved a table from the stage. The duo set up the table as Team MVP continued to beat down Bully. After a long pause, Eric Young's music played to bring out Young, Aries, and TNA tag champs The Wolves. A big brawl broke out as Spud hid underneath the table. The heels cleared out of the ring, leaving Spud sticking out like a sore thumb in his blue suit.
The faces held Spud in the ring while Aries proposed a six-man tag match for tonight. Bully then took the mic and told MVP to have the six-man tag next. And he can shove his chain up his ass. Bully told MVP to take a good look as the faces set up Spud to take a top-rope powerbomb through a table. ECIII sold fake tears on the stage as MVP, Lashley, and King no-sold Bully's demonstration with casual, unimpressed smiles. Tenay sent Impact to break with a question of whether MVP's team will accept the match.
[Commercial Break at 9:11]
[Q2] Back from break, a bell sounded and men were brawling ringside. Tenay filled in the blanks that a six-man tag match was accepted during the break. But, no one was in the ring and the ref called for the bell anyways.
1 — MVP & BOBBY LASHLEY & KENNY KING vs. AUSTIN ARIES & TNA tag champs THE WOLVES (DAVEY RICHARDS & EDDIE EDWARDS) — six-man tag match
Two men – Lashley and Aries – eventually made it into the ring to battle while the other four men battled on the floor. The others entered the ring, then the Wolves low-bridged the heels individually over the top rope. This set up the Wolves and Aries with consecutive splashes to the heels on the floor heading to a break.
[Commercial Break at 9:19]
Back from break, Davey executed a slow-motion monkey flip into Aries for a strike to the mid-section. Aries entered the ring and worked on King, then Eddie tagged in and continued to wear down King. But, MVP cut off Davey from behind on a double-team attempt. This led to King coming back with a kick to Eddie's head. The heels then began working on Eddie.
Aries tagged in at 11:30 and cleaned house. MVP ate the floor, then King threw himself to the mat, but Lashley cut off Aries with an illegal attack. Aries ducked a corner charge, but ran into a powerslam from Lashley. MVP then re-entered and ate a discus forearm from Aries.
Chaos in the ring, then King took a discus forearm from Aries. Aries followed with a Brainbuster suplex, then tagged in Davey, who howled before coming off the top with a double stomp to King. Davey didn't cover King, though, and Lashley kind of knocked over Davey with a tackle. MVP then re-entered and attempted a kick to Davey's head. It was good for the pin and the win. Post-match, Tenay stressed the possibility of this being Eric Young's fate at Slammiversary.
WINNERS: MVP at 13:44. At times, a sloppy tag match. Several missed or mis-timed moves that added up over the course of 15 minutes.
Locker Room: Bram had a one-sided conversation with Magnus, who continued to act annoyed by Bram's presence.
[Q3] [Commercial Break at 9:30]
Backstage: Ethan Carter III found Dixie Carter. ECIII said he had a perfectly good attack on Bully Ray, but everyone ruined everything. And they put Rockstar Spud through a table. Dixie offered a uncaring heel line, "Poor Spud," then moved on to more important matters for dealing with Bully tonight.
Impact Zone: Tigre Uno was introduced for the next match. Clashing noises then brought out Bram for his TV singles debut. Magnus followed behind.
2 — BRAM (w/Magnus) vs. TIGRE UNO
Tigre ducked early clotheslines as Bram kind of shook around the ring. Bram then shouted at Magnus to watch him as he picked Tigre apart. "Watch!" Bram shouted again and again toward Magnus. Bram delivered repeated knee strikes while contemplating another move, then choked Tigre as Tenay hyped riding a roller-coaster with a TNA star at Six Flags over Slammiversary weekend. Bram delivered a lift-up suplex/DDT for a pin and the win.
Post-match: Magnus nodded to the back that it's time to go, but Bram inflicted more punishment to Tigre. Bram then went under the ring and retrieved a weapon. Magnus grabbed a mic to calm down Bram, who did crazy bug-eyes toward Magnus. He asked Bram what's wrong with him. Bram then sounded drunk as he responded that the old Magnus would have ripped Tigre's mask off. Is that right? Magnus said maybe Bram needs to prove himself against a more worthy opponent. Against Willow. It didn't seem to register with Bram, who kept freaking out and making bug eyes.
WINNER: Bram at 2:08.
Locker Room: Gunner and Mr. Anderson talked about Sam Shaw, who Anderson had committed and who Gunner visited in the looney bin to try to talk to. Anderson ended up just wanting to make sure they have each other's backs tonight in tag action.
[Commercial Break at 9:42]
[Q4] Locker Room: Brittany approached Madison Rayne to discuss a tag match against the Beautiful People. Madison slowed down Brittany to tell her she's not ready for the BP. She said it took her years to figure out how to deal with them, and they will find a way to embarrass her. Rayne asked Britt to promise her not to have the match tonight. "Fine," Britt relented.
Impact Zone: Clashing noises were heard back in the arena. Already in the ring were the Bro-Mans while Gunner's music was playing out. Mr. Anderson then received a full standard ring introduction before joining Gunner for tag action.
3 — MR. ANDERSON & GUNNER vs. BRO-MANS (ROBBIE E. & JESSIE w/D.J. Zema)
D.J. Zema provided a verbal distraction from the d.j. booth right as the bell sounded to give the heels the advantage. Bro-Mans continued to work on Gunner as Anderson protested the situation. Meanwhile, Tenay relayed word that Dixie Carter will speak after this match.
Anderson got tired of waiting on the ring apron, so he entered the ring without a tag and delivered a Mic Check to Robbie. Gunner then came off the top with a dive to Robbie for the pin and the win.
WINNERS: Anderson & Gunner at 3:14.
Post-match, The Menagerie's music played. A carnie voice was heard over the p.a. system announcing freaks, showmen, and showwomen. Out came Rebel paving the way for Crazy Steve as the Bro-Mans remained frozen in the ring. The Freak then showed up, followed by Knux. Knux led the group down to the ring as Bro-Mans continued to figure out what to do. The Menagerie took their time entering the ring as Bro-Mans remained frozen in the ring. The Menagerie eventually circled Bro-Mans, then Freak grabbed D.J. Zema around the throat, bounced him off the ropes, and threw him down to the mat. Menagerie celebrated, then Crazy Steve leaned into the camera doing a knock-off Nakamura poses and body contortions before Impact cut backstage.
Backstage: Dixie Carter and ECIII were shown walking down the hallway.
[Commercial Break at 9:55]
Backstage: Brittany, ignoring Madison Rayne's advice, approached Gail Kim to see if she wants to team with her against Beautiful People tonight. Gail said it's game on, then Brittany hugged her new bestie.
[Q5 — second hour]
Dixie-MVP Summit Week 2
Impact Zone: Dixie Carter and ECIII marched down to the ring at the top of the hour. Dixie looked into the hard camera and said she wants to continue the conversation with MVP from last week. MVP's music played, then MVP, Kenny King, and Bobby Lashley bounced out on-stage dressed in regular clothes.
MVP led his group down to the ring with a condescending tone toward Dixie, who resented the response. MVP and Co. entered the ring to hear out Dixie, who said she thinks MVP needs her. MVP said he doesn't agree on the whole "us needing you" thing. He noted he's in charge, they have the power, people respect them (unlike Dixie), and he faces Eric Young for the TNA World Title at Slammiversary in two weeks. So, how could Dixie help them?
Dixie said she could head back to Nashville. Or, she could get on her jet and take a meeting with the Board of Directors in Dallas about the new Director of Wrestling Operations abusing power. MVP sold not caring, then told Dixie they have a different vision about reality because he has access to a lot more money than Dixie knows about. MVP repeated himself as he tried to get the lines right. "Dirty money," Dixie said. MVP said it doesn't matter if it's dirty money or inherited money (Dixie), but if she wants to play a game of chicken, then let the games begin.
Eric Young's music interrupted to bring out EY and Bully Ray ringside. Young said he would love to see every person in the ring right now go through a table. MVP noted Young has a pipe in his hand, and that would be the crazy thing to do right now. He moved on to vowing to win the TNA Title at Slammiversary before discarding EY to doing something he's good at – fishing. Young tried to charge the ring, but Bully held him back and told him there's a time and a place.
MVP then ran down Bully for being a fake tough-guy. He called him another New Yorker with a loud mouth, which was enough for Bully, but EY played peacemaker. "Time and place, man," EY said. "Where were you a couple seconds ago?" Young added to laughs. MVP noted time and place is good, so he is putting them in a match against each other tonight with ECIII as special referee. Carter didn't like the assignment. Neither did Bully. MVP vowed to fire Bully if he doesn't wrestle him tonight. "Go ahead, fire me," Bully said.
MVP asked Bully if that's what he wants. Dixie spoke up that he should quit. Dixie cut down Bully for being over-paid, then asked who is going to pick up the pieces and fight them. Will it be Eric Young? No. Because he doesn't have the ego or the stomach to get in the gutter where this fight is going to be fought. Dixie told Ray that New Yorkers don't quit. "Lady," Bully replied. "I will not quit until I give every wrestling fan in the world what they want to see."
Bully told Dixie that these people actually want him here, while the people never want to see Dixie set foot in the Impact Zone again. Ray then named every person in the ring, vowing to put every one of them through a table. "One day or another, you will go through a table," he said. They avoided saying if Bully vs. Young is official, but Tenay filled in the blanks that the match is on.
Backstage: Beautiful People ran down Brittany and Gail Kim before their tag match up next.
[Commercial Break at 10:11]
[Q6] Video Package: Kurt Angle injury situation.
Earlier Today: TNA aired grainy handheld footage of Angle sitting at home updating the audience on his surgery recovery. Angle thanked everyone for their support.
In-ring: Beautiful People were introduced to the ring for the next match. Brittany was out first for the babyface duo as Tenay noted Britt ignored Madison's advice earlier in the show. Gail Kim came out next to back up Brittany.
4 — BEAUTIFUL PEOPLE (KO champion ANGELINA LOVE & VELVET SKY) vs. GAIL KIM & BRITTANY
The BP isolated an over-zealous Brittany early on. Naturally, ref Stiffler has been given the BP match assignment. Brittany made a comeback as TNA cut to fans in the Impact Zone wearing paper bags over their heads. No, it was not like a 2-14 NFL team's fans wearing paper bags to remain anonymous, but to show support for the heel BP duo.
BP went back to dominating Brittany as Gail tried to get a tag. Gail finally got the tag, but couldn't score a three count. Brittany then tagged back in and took a kick from Angelina behind Stiffler's back. Velvet covered for the win just before Gail broke it up.
WINNERS: BP at 5:30.
Backstage: Eric Young and Bully Ray chatted about being forced to wrestle each other tonight. Bully said he just wants a good match and he'll become #1 contender if he beats Young. Young said he's cool with a good, clean match.
[Commercial Break at 10:28]
[Q7] Back from break, Brittany was in the ring. She refused to leave during the commercial and said she needs to talk to Madison Rayne right now. Madison walked down to the ring shaking her head over Britt going against her advice. Britt demanded to know why Madison turned down her match request. Madison made it pretty clear backstage, but Madison repeated herself that she has some issues with the BP that run too deep for her. Madison said she doesn't want to involve Brittany in the issues. "I just want to be with you," Brittany said. Madison asked her to repeat herself. "I said I just want to be with you," Brittany said. Madison said this just went a little bit too far. She told Britt to keep her distance. Britt freaked out about liking Madison and the people liking her. She just wanted acceptance and flailed her arms wildly.
The BP interrupted on-stage running down the two Knockouts in the ring. From in the ring, Madison changed the subject to the Knockouts Title. Madison said she's cashing in her KO Title re-match next week on Impact. On commentary, Tenay called that a bit awkward.
Locker Room: ECIII laced up his boots and dressed to be a referee. MVP, Lashley, and King then walked in to try to talk to Carter about working together tonight, even if they don't see eye-to-eye with Dixie. King said they're going to be a whole lot closer to him than they even know. ECIII sold uncomfortableness heading to break.
[Commercial Break at 10:38]
Impact Zone: Kenny King interrupted Christy Hemme attempting to introduce the main event. King played the role of ring announcer introducing Bully Ray from "Hell's Toilet, New York" and weighing 720 pounds. Bully hit the ring, then chased down King, who introduced Eric Young from a safe distance away from Bully. King hopped the guardrail to avoid EY, then he introduced ECIII as special referee.
[Q8] Before the match started, King introduced Bobby Lashley as ringside enforcer. Lashley kind of stood there, then King announced MVP as guest timekeeper. MVP strutted out to ringside pointing to his watch, then glared at Bully Ray. MVP's crew surrounded the ring, then ECIII eventually entered the ring to call for the bell.
5 — TNA World Hvt. champion ERIC YOUNG vs. BULLY RAY — non-title match — Ethan Carter III special referee — Bobby Lashley ringside enforcer — MVP guest timekeeper — Kenny King guest ring announcer
Armdrag to start. Clean babyface vs. babyface lock-up and bodyslam, then a stalemate. Circle the ring. Clean lock-up. Armdrag for the champ. And a dropkick. Bully decided to leave the ring to yell at the heels, then Young followed him out. EY followed Bully back in and Impact casually cut to break.
[Commercial Break at 10:51]
Back from break, Bully and Young were standing around in the ring. "This is our main event," Tenay said as the two men in the ring just stood there looking around ringside. No action, so TNA cut to a replay of what happened before the break. Lock-up. Clean break. Bully then knocked down Young, who rolled to the outside. MVP cheap-shotted Young, which drew over Bully to get in MVP's face. Bully and Young then kind of walked around each other before both re-entered the ring together. Tenay tried to sell this as "unique circumstances."
Back in the ring, both men stood around in the ring again. Go-behind. Standing switch. Flying forearm from Young. Young strutted on the ring apron, then Bully slingshot Young back into the ring. Dusty Elbows, then ECIII waved off the finale elbow. So, Bully smashed ECIII out of the ring.
Suddenly, Bobby and King hit the ring to beat down the competitors. MVP joined the party, then targeted Young with right hand strikes. Taz asked how you stop these guys. Suddenly, Samoa Joe's music played. Joe resurfaced for the first time in weeks and lit up the heels, exciting the barren Impact Zone for one of the few times tonight. Heels started bailing, but King was left alone to take a Musclebuster. "Samoa Joe is back!" Taz declared. Joe glared at MVP through the ring ropes, then posed with Bully and EY, who Joe had issues with when he left.
WINNER: ??? in 11:00ish.
Next Thursday: TNA already had footage cued up of next week, revealing these shows as taped well in advance. Samoa Joe is back and out for blood. But, what does MVP have up his sleeve? Plus, Bram vs. Willow.
(Report by James Caldwell, PWTorch.com)