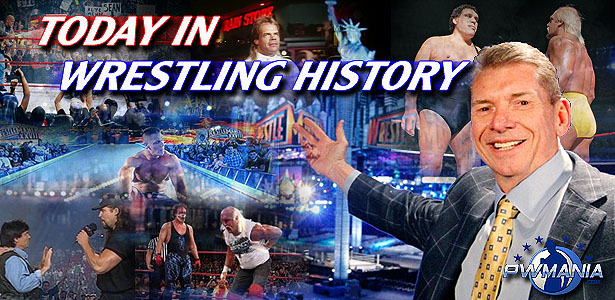 Trivia
1992 – The AJPW Champion's Carnival is won by Stan Hansen, who defeated Mitsuharu Misawa in the final
2000 – The Monday Night War continued: WWF Raw defeated WCW Monday Nitro: 6.7 to 2.5 in the ratings
Events
In 1994, the 1st WCW Spring Stampede was held at the Rosemont Horizon, in Chicago, Illinois. With an attendance of 12,200:
Dark Matches:
– Danny Bonaduce defeated Christopher Knight in a battle of the child actor stars. Bonaduce was on the "Patridge Family," while Knight was Peter Brady on the "Brady Bunch"
– Haito (Paul Diamond) & Pat Tanaka defeated Kevin & Dave Sullivan
PPV:
– Johnny B. Badd defeated Diamond Dallas Page (with The Diamond Doll)
– Lord Steven Regal (with Sir William (Bill Dundee) fought Brian Pillman to a time-limit draw to retain the WCW Television Title
– The Nasty Boys (Brian Knobbs & Jerry Sags) defeated Cactus Jack & Maxx Payne in a Chicago Street Fight to retain the WCW World Tag Team Titles
– Steve Austin (with Col. Robert Parker) defeated The Great Muta via DQ to retain the WCW United States Title
– Sting defeated Rick Rude to win the WCW International World Title
– Bunkhouse Buck (with Col. Robert Parker) defeated Dustin Rhodes in a Bunkhouse Match
– Vader (with Harley Race) defeated The Boss (Ray Traylor), After the match Nick Bockwinkel announced that The Boss could no longer use the name The Boss (In reality the WWF  threatened to sue WCW because The Boss character was similar to Big Bossman)
– Ric Flair fought Ricky Steamboat to a no-contest due to a double pinfall. The WCW World Title was originally handed back to Flair, but was later vacated
In 2011, TNA Lockdown was held at the U.S. Bank Arena, in Cincinnati, Ohio. As usual with Lockdown events at that time, all matches were held inside a cage. With an attendance of 4,000:
Pre-Show:
– Brother Devon defeated Anarquia
PPV:
– Max Buck wins an 8-Man Xscape Match defeated Suicide, Robbie E. (with Cookie), Jay Lethal, Chris Sabin, Amazing Red, Jeremy Buck, & Brian Kendrick
– Ink Inc. (Shannon Moore & Jesse Neal) defeated The British Invasion (Douglas Williams & Magnus), Crimson & Scott Steiner, and Orlando Jordan & Eric Young in a 4-way Tornado Tag Team match
– Mickie James defeated Madison Rayne in a Title vs Hair Match to win the TNA Knockouts Title. With the win, she became the 1st ever triple crown champion of women's wrestling. Having held the TNA Knockouts title, & the WWE Women's & WWE Diva's titles
– Samoa Joe defeated "The Pope" D'Angelo Dinero
– Matt Morgan defeated Hernandez (Sarita, Rosita, & Anarquia)
– Jeff Jarrett (with Karen Jarrett) defeated Kurt Angle in an 'Ultra Male Rules' 2-out-of 3 Falls Match (Angle won the submissions-only 1st fall, with Jarrett winning the following pinfalls only & escape the cage falls)
– Sting defeated Rob Van Dam & Mr Anderson in a 3-Way Match to retain the TNA World Title
– Fortune (James Storm, Robert Roode, Kazarian & Christopher Daniels) defeated Immortal (Ric Flair, Abyss, Bully Ray & Matt Hardy) in a Lethal Lockdown Match
Title Changes
1938 – Dientes Hernandez defeated Jack O'Brien to win the Mexican National Lightweight Title in Mexico City, Mexico
1941 – Lee Wyckoff defeated Orville Brown to win the Midwest Wrestling Association World Heavyweight Title in Kansas City, Kansas
1952 – Golden Hawk & Johnny Kostas defeated Henry Harrell & Rex Mobley to win the Mid-America NWA Southern Tag Team Title in Chattanooga, Tennessee
1959 – Gene Kiniski defeated Whipper Billy Watson to win the Toronto NWA British Empire Heavyweight Title in Toronto, Ontario
1959 – Dick Gunkel (Dick Steinborn) defeats Fred Blassie to win the Georgia NWA Southern Heavyweight Title in Atlanta, Georgia
1965 – Pat Patterson & Ray Stevens defeated The Destroyer & Billy Red Lyons to win the American Wrestling Alliance World Tag Team Title in San Francisco, California
1969 – Boris Malenko defeats The Gladiator (Rick Hunter) for the NWA Florida Brass Knuckles Title in Jacksonville, Florida
1970 – Nick Bockwinkel defeated Assassin #1 (Tom Renesto) to win the NWA Georgia Heavyweight Title in Atlanta, Georgia
1976 – Jack Brisco defeated Pak Song to win the NWA Florida Heavyweight Title in St. Petersburg, Florida
1984 – Gran Hamada defeated Perro Aguayo to win  the WWF World Light Heavyweight Title in Tokyo, Japan
1984 – The North-South Connection (Adrian Adonis & Dick Murdoch) defeated Tony Atlas & Rocky Johnson to win the WWF Tag Team Titles
1987 – Owen Hart defeated Mahkan Singh (Mike Shaw) to win the Stampede North American Heavyweight Title in Calgary, Alberta
1992 – The Natural Disasters (Earthquake & Typhoon) defeated George & Shunji Takano to win the Super World of Sports Tag Team Title in Yokohama, Japan
1995 – Brian Lee defeated Brian Christopher to win the USWA Heavyweight Title in Memphis, Tennessee
1999 – D-Von Dudley defeated Rob Van Dam to win the ECW Tag Team Titles for The Dudley Boyz (himself & Buh Buh Ray Dudley)
2000 – on Raw, Scotty 2 Hotty defeated Dean Malenko to win the WWF Light Heavyweight Title
2000 – Big Bubba Bain & L.A. Stephens defeated The Rock 'n' Roll Express (Robert Gibson & Ricky Morton) to win the NWA World Tag Team Title in Osan, South Korea
2001 – on Smackdown, The Brothers of Destruction (Kane & The Undertaker) defeated Edge & Christian to win the WWF Tag Team Titles.
Also, Rhyno defeated Kane to win the WWF Hardcore Title
2007 – on Smackdown, Deuce n Domino defeated Paul London & Brian Kendrick to win the WWE Tag Team Titles
Birthdays
Happy birthday to former WWF and AWA star Kevin Wacholz who is perhaps best known as Nailz (56), & WWE Hall of Famer
'Rowdy' Roddy Piper (60)
In Memoriam
On this day in 1989, the wrestling world lost Mexican regular Villano II aged just 39. Like his brothers, Villano II was initially discouraged from a career in wrestling by his father, famed luchador Ray Mendoza, who preferred them to receive a proper education. Despite this, all 5 brothers would go on to in-ring careers, with Villano I & II being the 1st to debut in 1969, originally competing as Los Bestia Negras (The Black Beasts). In 1970, the brothers coined the Villano personae and began their rise to stardom. They won the Arena Coliseo Tag Titles whilst working for EMLL, but failed to make an overall impression in the promotion before joining their father's UWA in 1975. Villano II failed to find success in the promotion before inexplicably ceasing to compete by the later part of the decade. I have no information as to the reason for this sudden apparent retirement. The only thing I can be sure of is that it was not a happy retirement for Villano II, who committed suicide following a battle with depression around a decade after his retirement. Villano II's death so rocked the family that it is said to have quickened the retirement of
Villano I & triggered Ray Mendoza's own health problems.
In 1997, Mitsu Arakawa, former AWA World Tag Team Title holder with Tor Kamata, died at age 69