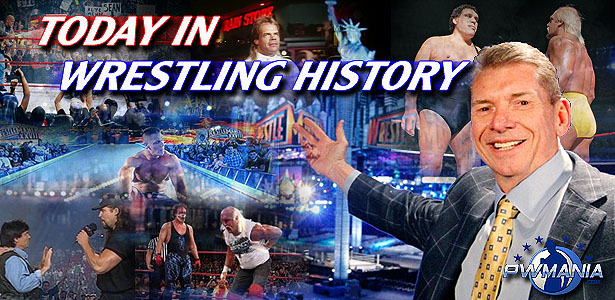 Trivia
1987 – Ken Patera wrestled his 1st match following his prison term for the infamous "McDonald's incident" at a WWF television taping in New Haven, Connecticut.  Patera defeated Hercules Hernandez via DQ
2005 – Hiroshi Tanahashi won the New Japan Cup, defeating Manabu Nakanishi in the tournament final
2006 – WWE & Brock Lesnar settled a lawsuit brought by Lesnar against the company.  Lesnar had signed a no-compete when he left in 2004 to pursue an NFL career and later went to New Japan and MMA, both of which were against the no-compete.  Terms of the lawsuit settlement were not made public, although it would open the doors for Lesnar to make his UFC debut and eventually, return to WWE in 2012
2011 – Jesus Luna Pozos aka Charly Manson (Charly Malice in Lucha Libre USA) was arrested early in the morning in Zapotitla, Mexico after assaulting two police officers as they were trying to arrest him for being drunk. Manson and his friend Adrian Lopez Reyes who is also a juvenile were looking for Charly's car and couldn't find it so they found the officers to help them because they thought that they had been carjacked.  The cops wanted to bring them in for being drunk so a huge argument ensued. Another police officer showed up as backup and in the excitement of the situation, he shot Reyes in the leg before an ambulance showed up to pick up Reyes and the officers. Charly & Reyes were both taken to jail then Reyes was sent to a hospital while the officers were sent to another one with one of the officers having some serious head injuries
Events– 
In 1983, the AWA held Super Sunday at the St. Paul Civic Center, in St. Paul, Minnesota. With an attendance of 20,000:
– Buck Zumhofe defeated Steve Regal
– Jerry Lawler defeated John Tolos
– Joyce Grable & Wendi Richter defeated Judy Martin & Velvet McIntyre to retain the AWA Women's Tag Team Titles
– Wahoo McDaniel defeated Eddie Boulder (Brutus Beefcake)
– Rick Martel, Greg Gagne, & Jim Brunzell defeated Jesse Ventura, Blackjack Lanza, & Ken Patera
– Nick Bockwinkel defeated Hulk Hogan to retain the AWA World Heavyweight Title
– Verne Gagne & Mad Dog Vachon defeated Jerry Blackwell & Sheik Adnan Al-Kaissy
In 1991, WWF held their UK-only PPV event, UK Rampage, at the London Arena in England:
– Jim Neidhart defeated The Warlord
– Greg Valentine defeated Haku
– Ted DiBiase (with Sherri Martel) defeated Kerry Von Erich via countout
– The Rockers (with Andre The Giant) defeated The Orient Express (with Mr. Fuji)
– Jimmy Snuka defeated The Barbarian
– Davey Boy Smith defeated The Bezerker
– Earthquake defeated Jake Roberts via countout
– WWF World Heavyweight Champion Hulk Hogan defeated Sgt. Slaughter to retain the title
In 2005, TNA Lockdown was held at the Impact Zone, in Orlando, Florida. As with all Lockdown events of this time, all matches were held in a cage. This event saw Chris Candido suffer the injury that would indirectly lead to his death 4 days later. With an attendance of 775:
Pre-Show:
– 3Live Kru (Ron Killings & Konnan) defeated Lex Lovett & David Young, & The Naturals (Andy Douglas & Chase Stevens) (with Chris Candido)
PPV:
– Apollo & Sonny Siaki defeated Chris Candido & Lance Hoyt (this would Candido's last match ever)
– Dustin Rhodes defeated Bobby Roode (with A-1 & Coach D'Amore) in a Prince of Darkness match. It was best of 3 falls, with the 3rd & final fall being contested under blindfold match rules
– Shocker defeated Sonjay Dutt, Chris Sabin, & Michael Shane (with Trinity) in a 4-man Xscape Match
– America's Most Wanted (Chris Harris & James Storm) defeated Team Canada (Petey Williams & Eric Young) (with A-1) in a Strap Match to retain the NWA World Tag Team Titles
– Christopher Daniels defeated Elix Skipper to retain the TNA X-Division Title
– Team Nash (Sean Waltman, Diamond Dallas Page, & BG James) defeated Team Jarrett (Jeff Jarrett, The Outlaw (Billy Gunn), & Monty Brown) in a Lethal Lockdown Match
– AJ Styles defeated Abyss
Title Changes
1939 – John Swenski defeated Bob Kenaston to win the World Junior Heavyweight Title (note that wrestling historians debate whether this change may have occurred in January)
1967 – John & Chris Tolos defeated Don Leo Jonathan & Rocky Johnson to win the NWA Canadian Tag Team Title
1989 – Big Van Vader defeated Shinya Hashimoto in the final of a tournament with Lou Thesz as special guest referee to win the vacant IWGP Heavyweight Title
1994 – At a WCW television taping at the Center Stage Theatre in Atlanta, Georgia, Ric Flair defeated Ricky Steamboat to win back the WCW World Title, which had been held up following the double-pin finish of a match between the two at the Spring Stampede Pay-per-view.  This match, which would air on WCW Saturday Night, would be the final bout between Steamboat & Flair
2000 – on Raw, Matt Hardy defeats Crash Holly to win the WWF Hardcore Title
2000 – on Nitro, Diamond Dallas Page defeats Jeff Jarrett in a Cage Match to win the WCW World Title
2001 – on Smackdown, Matt Hardy defeats Eddie Guerrero to win the WWF European Title
2001 – Steve Corino defeats Mike Rapada to win the NWA World Title
2004 – The Second City Saints (CM Punk & Colt Cabana) defeat The Briscoe Brothers (Mark & Jay) to win the ROH Tag Team Titles
2007 – Mickie James defeats Melina, & Victoria in a Triple Threat Match to win the WWE Women's Title, but loses it back to Melina in a singles match later in the night
Birthdays
Happy birthday to 2-time IWGP Heavyweight Champion Yuji Nagata (46)
Also, today would have been the birthday of the legendary Lou Thesz (98), &  3-time Mexican Welterweight Champion Blue Demon (92)
In Memoriam
On this day in 2001, the wrestling world lost NWA Hall of Famer Johnny Valentine aged 72. Debuting in 1947, Valentine quickly ascended the ranks, & was competing for major titles before the turn of the decade. In the early part of his career, he competed primarily in Capitol Wrestling, but made regular appearances all over America and was soon competing and winning titles in Canada as well, primarily in the Toronto territory. He toured Japan in the mid-60′s and is credited with launching the career of Antonio Inoki, putting over the youngster in a fine series of matches, including dropping the NWA Toronto United States Title to him. He competed in the early days of the WWWF promotion, winning their United States Tag Team Titles, but left the promotion soon afterwards, preferring his NWA commitments, finding most success in Florida and Texas. He won his 1 & only NWA World Title in 1973, defeating Harley Race, but would lose the belt to Terry Funk around a month later. Just as Valentine's career seemed to be peaking, he was involved in the infamous plane crash which ended the careers of himself and Bob Bruggers, and caused serious injury to 'Mr Wrestling' Tim Woods, David Crockett, & a young Ric Flair. The crash embedded a bone fragment in Valentine's spine, rendering him paralyzed for life. Despite the severity of the injury, Valentine returned to wrestling as a manager, using his wheelchair to get around the ring area. Following this managerial stint, Valentine stayed away from the wrestling business, living out a quiet life in Texas. He suffered a fall at his home in August, causing the frail man several serious injuries. He was admitted to hospital, but would never leave. In a final sad episode, Valentine's health insurance (bought through an HMO) refused to pay out upon his death. Fortunately, Lou Thesz, a longtime friend of Valentine's, convinced the Cauliflower Alley Club to contribute to the payments.