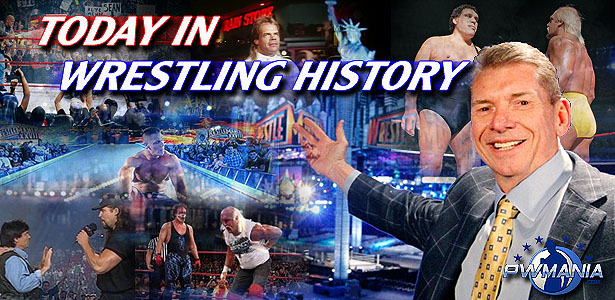 Trivia
2010 – WWE signed the then-reigning ROH champion Tyler Black to a developmental deal.  Black is the current Money In The Bank briefcase holder Seth Rollins
2010 – Jimmy Yang won the AJPW Junior League, defeating KAI in the final
2011 – Ring of Honor announced they had signed Jay Lethal to a deal
Events
In 1998, WCW Road Wild was held at the motorcycle rally in Sturgis, South Dakota. Once the wrestling was over, country star Travis Tritt performed on the PPV:
– Meng defeated The Barbarian (with Jimmy Hart)
– The Public Enemy (Johnny Grunge & Rocco Rock) defeated The Dancing Fools (Alex Wright & Disco Inferno) (with Tokyo Magnum)
– Saturn defeated Raven (with Lodi) & Chris Kanyon in a Triangle Raven's Rules Match
– Juventud Guerrera defeated Chris Jericho with Dean Malenko as special guest referee to win the WCW Cruiserweight Title
– Goldberg won a Battle Royal also featuring nWo Hollywood (The Giant, Scott Hall, Curt Hennig & Scott Norton), & nWo Wolfpac (Konnan, Lex Luger, Kevin Nash, & Sting) to retain the WCW World Title
– Diamond Dallas Page & Jay Leno defeated Hollywood Hogan & Eric Bischoff
In 2009, CZW A Tangled Web 2 was held at The Arena, in Philadelphia, Pennsylvania:
– Greg Excellent defeated B-Boy, BKNY, Rich Swann, Mike Sydal, Ryan McBride, & Devon Moore in a 8-way Aerial Assault Match
– Drew Gulak defeated Jon Dahmer
– Tyler Veritas & Adam Cole defeated BLKOUT (Ruckus & Sabian), Team Macktion (TJ Mack & Kirby Mack), & The Spanish Armada (Alex Colon & LJ Cruz) in a 4-way tag team match
– Joe Gacy defeated xOMGx
– The Best Around (Bruce Maxwell & TJ Cannon) defeated The H8 Club (Nick Gage & Nate Hatred) to retain the CZW Tag Team Titles
– Danny Havoc defeated Masada to retain the CZW Ultraviolent Underground Title in a Panes Of Glass & Barbed Wire Boards Match
– Egotistico Fantastico defeated Drew Blood to retain the CZW Junior Heavyweight Title in a Ladder Match
– The Switchblade Conspiracy (Jon Moxley & Sami Callihan) defeated The Naptown Dragons (Drake Younger & Scotty Vortekz) in A Tangled Web Death Match
In 2010, TNA HardCORE Justice was a one-off ECW reunion event held at the Impact Zone, in Orlando, Florida. With an attendance of 1,100. Tommy Dreamer was the man behind the idea, having just signed with the company. Jerry Lynn was supposed to face RVD in the main event, but was forced to pull out due to injury:
– The FBI (Guido Maritato, Tracey Smothers, & Tony Luke) (with Sal E. Graziano) defeated Kid Kash, Simon Diamond, & Johnny Swinger
– Too Cold Scorpio defeated CW Anderson
– Stevie Richards (with Hollywood Nova & The Blue Tilly) defeated PJ Polaco (aka Justin Credible)
– Rhino defeated Brother Runt & Al Snow in a 3-Way Dance Elimination Match
– Team 3D (Brother Ray & Brother Devon) (with Joel Gertner) defeated Axl Rotten & Kahoneys (Balls Mahoney) in a South Philadelphia Street Fight
– Raven defeated Tommy Dreamer in a Final Showdown Match with Mick Foley as special guest referee
– Rob Van Dam (with Bill Alfonso) defeated Sabu (also with Bill Alfonso) in a Hardcore Rules Match (Alfonso basically managed both guys. First he escorted RVD to the ring, then ran to the back, & then escorted Sabu to the ring also)
Title Changes
1960 – Red & Lou Bastien defeated The Fabulous Kangaroos (Al Costello & Roy Heffernan) to win the NWA Northeast United States Tag Team Titles
1961 – Verne Gagne defeated Gene Kiniski to win the AWA World Title
1963 – Verne Gagne defeated Fritz von Erich to win the AWA World Title
1966 – Waldo von Erich defeated Tony Borne to win the Texas Brass Knuckles Title
1969 – The Medics (1 & 2) defeated Ramon & Alberto Torres to win the TSW United States Tag Team Titles
1981 – Wahoo McDaniel defeated Roddy Piper to win the NWA United States Title
1992 – The Dirty White Boy defeated Brian Lee to win the SMW Heavyweight Title. Also, The Fantastics (Bobby & Jackie Fulton) defeated The Heavenly Bodies (Stan Lane & Tom Prichard) with Bob Armstrong as special guest referee to win the SMW Tag Team Titles
1993 – Tito Santana defeated Don Muraco to win the NWA-ECW Title. Also, The Dark Patriot & Eddie Gilbert win a tournament to win the vacant ECW Tag Team Titles
1994 – Lance Storm defeated Chris Candido to win the SMW Television Title. Also, The Rock n Roll Express (Ricky Morton & Robert Gibson) defeated Chris Candido & Brian Lee to win the SMW Tag Team Titles.
1997 – Dutch Mantel defeated Jerry Lawler to win the USWA Unified World Heavyweight Title. This would be the final reign before the promotion closed in November. On the same show, Steven Dunn & Flash Flanagan defeated PG-13 to win the USWA Tag Team Title
1998 – Masahiro Chono defeated Tatsumi Fujinami to win the IWGP Heavyweight Title. Also, Shinjiro Otani & Tatsuhito Takaiwa defeated Dr. Wagner Jr. & Koji Kanemoto in the final of a tournament to become the first IWGP Junior Heavyweight Tag Team Champions
Birthdays
Happy birthday to former WWE wrestler Eric Angle (47), former TNA personality Scott D'Amore (40), CMLL regular Angel de Oro (26), & one-time WWF Women's Champion Sable (47)
Also, today would have been the birthday of former WWF manager and announcer Lord Alfred Hayes (86)
In Memoriam
On this day in 1966, the wrestling world lost 4-time World Heavyweight Champion Ed 'Strangler' Lewis at the age of 75. Lewis began wrestling at the age of 14, adopting the 'Strangler' moniker as a tribute to late-19th century star Evan Lewis. Lewis soon became a member of the famous 'Gold Dust Trio' who revolutionized wrestling by promoting undercards and creating storylines, safe in the knowledge that should anyone deviate from the script, Lewis would be able to legitimately defeat them. Lewis won his first World Heavyweight Championship in 1920, defeating the man who would go on to become his greatest rival, Joe Stecher. Stecher began promoting his own shows, creating what is credited to be the first cross-promotional rivalry within wrestling, a rivalry that came to a head in April 1925. Famed grappler Stanislaus Zbyszko was asked by the Trio to lose to football star Wayne Munn in an attempt to give the popular-but-unskilled Munn credibility as a wrestler. Zbyszko hated the idea and secretly defected to Stecher's camp, later going on to defeat & humiliate Munn with his superior wrestling ability. Despite this, Lewis' career continued to flourish both in and out of the ring. In 1934, his match against Jim Londos set a wrestling gate record that would stand for nearly 20 years. Even as his career wound down, he still managed to make a major contribution to the business, training the art of submission holds (hooking) to a youngster named Lou Thesz. Lewis had originally retired in 1935, but returned 7 years later despite suffering from trachoma, which caused him to be legally blind. He retired for good in 1948, but lost his sight completely soon after and became entirely reliant on carers for the rest of his life. He died of natural causes in New York