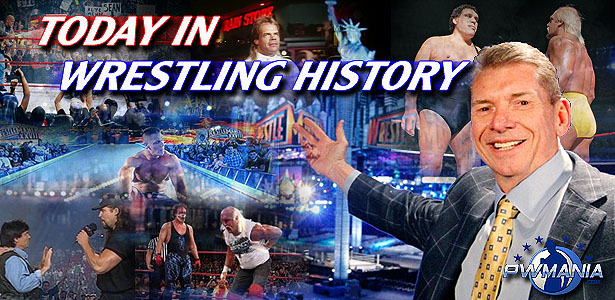 Trivia
1993 – Ric Flair makes his last WWF appearance for nearly nine years, at a WWF event in Dortmund, Germany. WWF Champion Bret Hart defeated Flair to retain the title at the show. On the January 25 edition of Monday Night RAW, taped on January 18, Flair lost a match to Mr. Perfect, in which the loser had to leave the WWF. Flair would only work house shows until this show. Then he left to return to WCW
2010 – TNA released former X-Division champion Petey Williams, who has since worked for Lucha Libre USA, & Lance Hoyt, who went on to work in Japan & for WWE
2011 – Former WWF & WCW star Pierre-Carl Oulette announced his retirement
Events
In 1985, The WWF held an event at Maple Leaf Gardens in Toronto, Ontario:
– The Tiger defeated Neilson the Newt
– Brutus Beefcake defeated Special Delivery Jones
– Dick Murdoch defeated Nick DeCarlo
– Blackjack Mulligan defeated Goldie Rogers
– Bob Orton defeated George Wells
– Hillbilly Jim defeated Moondog Rex
– The Haiti Kid defeated Sky Low Low
– WWF Tag Team Champions The U.S. Express (Mike Rotundo & Barry Windham) fought The Iron Sheik & Nikolai Volkoff to a double-disqualification to retain the title
– Jimmy Snuka defeated Roddy Piper
In 1997, WCW Monday Nitro was live from the Veterans Memorial Coliseum in Jacksonville, Florida (WWF Raw didn't air due to the dog show):
– WCW Cruiserweight Champion Dean Malenko defeated WCW United States Heavyweight Champion Eddie Guerrero by countout, after Syxx distracted Guerrero
– The Giant defeated Ron Powers
– The Steiner Brothers (Rick & Scott) defeated High Voltage (Kaos & Rage)
– WCW World Tag Team Champions The Outsiders (Scott Hall & Kevin Nash) defeated The Extreme (Ace Darling & Devon Storm)
– WCW World Television Champion Lord Steven Regal fought Rey Misterio, Jr. to a 15-minute time-limit draw to retain the title
– Kevin Sullivan pinned Maverick Wild
– Hugh Morrus pinned Alex Wright
In 2008, TNA Against All Odds was held in Greenville, South Carolina:
– AJ Styles &  Tomko defeated BG James & Bob Armstrong to retain the TNA Tag Team Titles
– Traci Brooks defeated Payton Banks
– Scott Steiner defeated Petey Williams to retain his Feast or Fired briefcase & win that of Williams
– Eric Young defeated James Storm
– Awesome Kong defeated ODB to retain the TNA Knockouts Title
– Abyss defeated Judas Mesias in a Barbed Wire Massacre
– Booker T & Bobby Roode (with Payton Banks) fought to a double count out
– Jay Lethal & The Motor City Machine Guns (Chris Sabin & Alex Shelley) defeated Johnny Devine & Team 3D (Brother Ray & Brother Devon) in a Street Fight. Lethal pinned Devine to win the TNA X-Division Title
– Kurt Angle defeated Christian Cage with Samoa Joe as special guest enforcer to retain the TNA World Title
In 2009, WWE broadcast ECW on Sci fi from the Save Mart Center in Fresno, Ca. I was at this show live in person:
–Show started off with ECW World Champion Jack Swagger coming out & complaining about his battles with Finlay.  He says he's going to settle it tonight. He calls out Hornswoggle. Instead he gets the returning Christian. Making his return to the WWE after leaving TNA. This was his 1st appearance in WWE since November 2005. The place went absolutely nuts. Christian cut a great promo, & challenged Swagger for later tonight
– The Miz (with John Morrison) defeated Tommy Dreamer. In a decent match
– Tyson Kidd (with Natalya) defeated Bao Nguyen (this was Tyson Kidd's WWE television debut)
– Christian defeated Jack Swagger in the main event
Title Changes
1926 – Ted Thye defeated Clarence Eklund to win the World Light Heavyweight Title in Columbus, Ohio
1947 – Martino Angelo defeated Danny McShain to win the World Light Heavyweight Title in Hollywood, California
1956 – Danny McShain defeats Bull Curry to win the Texas Brass Knuckles Title
1961 – Pepper Gomez defeated Dan Manoukian to win the NWA Texas Heavyweight Title in Houston, Texas
1965 – Johnny Valentine defeated Dory Funk Sr. to win the Amarillo NWA North American Heavyweight Title in Lubbock, Texas
1969 – Bobo Brazil defeats The Sheik in a Texas Death Match to win the WWWF United States Title
1970 – Jack Brisco defeated Mr. Saito to win the NWA Florida Heavyweight Title in Orlando, Florida
1978 – Hector Guerrero defeated The Canadian (Roddy Piper) to win the NWA Americas Heavyweight Title in Los Angeles, California
1979 – Giant Baba defeated Abdullah the Butcher to win the AJPW PWF Heavyweight Title in Chicago, Illinois
1990 – Mr Saito defeats Larry Zbyszko to win the AWA World Title
1992 – Kamala defeats Koko B Ware to win the vacant USWA Unified World Heavyweight Title. Incidentally, this is the 1st title change in the history of the belt that did not involve Jerry Lawler
1996 – Abdullah the Butcher defeated Mabel to win the WWC Universal Heavyweight Title, in Caguas, Puerto Rico
2001 – The WWF Hardcore Title's 24/7 Rule sees Hardcore Holly defeat Raven for the belt, but lose it back to Raven before the end of the night
2001 – Ricky Banderas defeated Glamour Boy Shane to win the IWA World Heavyweight Title in Bayamon, Puerto Rico
2002 – Johnny Moss defeated Gary Steele to win the NWA United Kingdom Heavyweight Title in Herne Bay, England
2007 – Fire Blaze defeated Alex Montalvo to win the WWC Puerto Rico Heavyweight Title in Manata, Puerto Rico
Birthdays
Happy birthday to former WWE Women's & TNA Knockouts Champion Lisa "Tara/Victoria" Varon (43), & former GHC Junior Heavyweight Champion Taiji Ishimori (31)
Also, today would have been the birthday of 1-time World Class Heavyweight Champion 'Gentleman' Chris Adams (59), & former WWF, WCW & ECW wrestler Louie Spicolli (43)
In Memoriam
The wrestling world has lost two personalities on this date:
Firstly, in 1984, WWE Hall of Famer David Von Erich died aged just 25. David showed athletic prowess from an early age, starring in his high school basketball and football teams, later winning a scholarship to North Texas State University to play both sports. He dropped out of university in 1977 to follow his father & brothers into the wrestling business. David became arguably the most talented member of the Von Erich family, earning an NWA World Title opportunity just 2 months after debuting, in which he wrestled the champion Harley Race to a time-limit draw. By 1982, he was also working behind the scenes of WCCW, proving himself to be a talented booker as well. After notable feuds with Race, Jimmy Garvin and the Freebirds, David turned his attention to NWA World Champion Ric Flair. The pair first battled on Christmas Day 1983, when Flair was able to retain his title. Flair then gave an interview claiming that David's brother Mike was not a good wrestler, and that Flair 'could beat Mike in 60 seconds with one hand tied behind his back'. David responded to Flair's comments in what is now considered a classic promo. David challenged Flair to beat Mike in 10 minutes, if Flair succeeded, David would never challenge for the NWA World Title again, but if he failed, David could choose the time, place & stipulations of their title match. Needless to say, Flair failed to beat Mike in 10 minutes, though David would not live to receive his title shot. Whilst competing for All Japan Pro Wrestling, David succumbed to a heart attack, brought on by enteritis. In a manner of tribute, Kerry Von Erich took his brother's place in the NWA Title Match against Flair and won the match, though would lose the belt back to Flair just 18 days later.
Also, in 2003, fellow WWE Hall of Famer 'Mr Perfect' Curt Hennig died at the age of 44. Hennig began his career in the AWA, wrestling as Cool Curt Hennig. After a brief spell with the WWF, he returned to the AWA and began to prove himself as a top contender. He won his only AWA World Title in 1987, holding the belt for over a year, but would leave for the WWF shortly after dropping the title, complaining the AWA was holding down it's young talent (a claim also made by Hulk Hogan, Rick Martel & Bobby Heenan, who had left the promotion in previous years). It was the WWF return that saw the creation of Mr Perfect, the character which Hennig would become best remembered for. He would go undefeated on television right up to WrestleMania VI, when he was beaten by Brutus Beefcake. This run would see him feud with Hulk Hogan over the WWF Title, though he would fall short of capturing the belt (though he did once steal and destroy the title). In April 1990, he won his first Intercontinental Title, but was forced to drop the belt months later after suffering serious back injuries in a match. He took much of 1992 off to recover, though stayed on television as a color commentator. His in-ring return came in November 1992, but his back injuries flared up again and he was forced to take more time off in 1993, and wouldn't return to the WWF in a wrestling capacity. After more stints as a manager and commentator, he jumped to WCW in 1997, where he took to active competition once more. After yet more injury problems, he left WCW in 2000, having won the United States and Tag Team Titles during his tenure. After a brief stint in the XWF, Hennig returned to the WWF, though was quickly released for his part in the infamous 'Plane Ride From Hell'. His last major run saw him challenge Jeff Jarrett for the NWA World Title in the young TNA promotion. He was found dead in a Florida hotel room of a cocaine overdose. Both WWE & TNA aired tributes, &  several notable figures in the wrestling world praised Hennig's ring abilities. He would be inducted into the WWE Hall of Fame in 2007 by his longtime friend Wade Boggs. Curt's widow, Leonice, accepted the award on his behalf.